BUSINESS EDUCATION WORKSHOPS AND SOLUTION STATION CONSULTATIONS AT CITY HALL ARE TEMPORARILY CANCELLED
The City of Chicago Department of Business Affairs & Consumer Protection (BACP) free business education workshops and Solution Station consultations at City Hall have been cancelled through March 31, 2020.
As of Monday, March 16th there will be no business education workshops or Solution Station consultations for the remainder of March 2020.
BACP is working with the Chicago Department of Public Health (CDPH) to reduce the impact of the Coronavirus Disease 2019 (COVID-19) by helping to minimize transmission. Everyone has a role to play in getting ready and staying healthy.
Stay informed by visiting www.chicago.gov/coronavirus
Stay updated on BACP services and programs by visiting www.chicago.gov/bacp
---------------------------------------------------------------------------------------------------------------------------------------------
BACP supports the growth of Chicago's small businesses by and hosting events and providing resources to help entrepreneurs respond to the needs of a changing world. Our programs include free business workshops, small business expos, and connecting businesses with important business resources.

Business Education Workshops
BACP offers free Business Education W
orkshops every Wednesday and Friday. The classes are open to the public and hosted at City Hall, 121 N. LaSalle St., in Room 805 and 1103. Class topics focus on start-up operations, financing, marketing, social media and more. Classes are taught by industry professionals, not for profit agencies, and city employees. Business Workshop and additional videos can be found here.
Business Education Workshop Flyer
Advanced Business Education Programs
There are several advanced business education programs in Chicago that provide guidance to existing businesses. These programs help business owners generate job growth and business expansion, and often include mentorship opportunities.
Small Business Center on the Road
BACP invite small business owners and entrepreneurs to a series of free expos offering business resources on financing, licensing process, tax laws and business networking. More information can be found at the Expo Page. Also, you can take a look at the Small Business Center on the Road highlight video.

The Business Start-up Certificate Program
The Business Start-Up Certificate Program is free to all and designed to expose the entrepreneur and veteran business owner to the essential elements of a successful business at any phase of their business idea. If you are thinking about starting a business, if you want to license your business, or if your focus is expanding your business; enroll in the Business Start-Up Certificate Program!

The certificate program's curriculum in conjunction with our free business workshops provides the fundamentals needed to help you get a jump start to success in your business ventures by offering the basics in the following: planning, financing, marketing, legal, licensing, inspection, technology, operations and networking at our City of Chicago small business expos.

The Business Start-up Certificate Program requires the completion of the nine category curriculum within six months of the start date. Completion of the Business Start-Up Certificate Program provides entrepreneurs and the experienced business owners the basic fundamentals for licensing, opening and/or expanding a business.To view a copy of the certificate program enrollment card and the nine categories, click on the image below.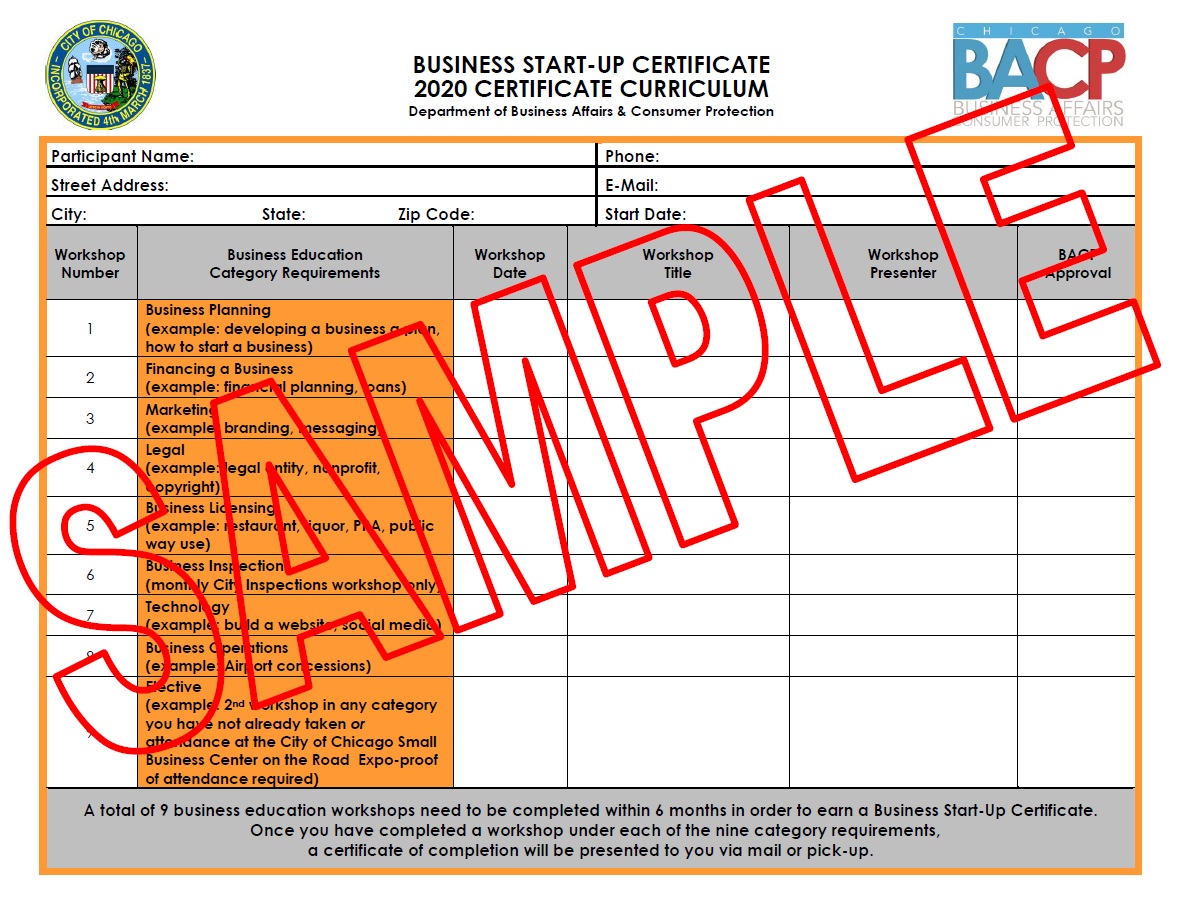 How Do I Enroll and Complete the Business Start-Up Certificate Program?

Attend the free workshops that we offer every Wednesday afternoon and Friday morning and enroll in the certificate program. After each workshop presentation, you will fill in the appropriate category. Each workshop provides information by professionals in one of the following arenas: planning, financing, marketing, legal, licensing, inspections, technology, and business operations. When all nine categories are fulfilled within the six month timeframe, not only will you receive a Certificate, but leave knowledgeable of opening, licensing and growing a business. When you complete the program and receive your certificate of completion, your picture is taken and posted on the SBC's social media sites.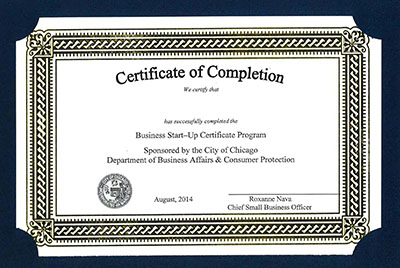 New Incentive For Businesses That Complete Start-Up Certificate Program
The City of Chicago's Small Business Center (SBC) has partnered with Canadian Imperial Bank of Commerce (CIBC) to make entrepreneurs who complete the city's Business Start-Up Certificate Program eligible to apply for low-interest and no-fee loans through the bank's Entrepreneurial Loan Program.

Program participants who complete the curriculum will now qualify to apply for CIBC Entrepreneurial Loan. This low-interest, no-fee loan can range from $1,000 to a maximum of $10,000 for new businesses and $25,000 for businesses with one-year of filed tax returns. All financing decisions are made by the bank.
For more information email BACPoutreach@CityofChicago.org or call 312.744.2086.
One-on-One Business Counseling at the Small Business Center Solution Station
The Small Business Center Solution Station offers free one-on-one business counseling for entrepreneurs. This is where you can talk to a knowledgeable person about planning, legal issues, small business loans, tax matters or just get expert advice. Counseling is offered at City Hall, 121 N. LaSalle St. in Room 800. The Small Business Center Solution Station is open Tuesday, Wednesday, and Thursday from 9:30 a.m. to 3 p.m. Counseling is provided by our partner organizations including SCORE, The Law Project, the Women's Development Center, and ACCION Chicago.
Please note – The Small Business Center Solution Station provides a forum for, but does not endorse or recommend, the participating organizations, and they are solely responsible for any information and advice they may provide. Use your own judgment in evaluating, or acting upon, any such information or advice.
An appointment to visit the Small Business Center Solution Station is not necessary, but can be scheduled by calling 312.744.2086 or emailing BACPoutreach@cityofchicago.org.