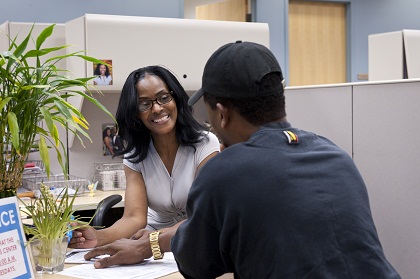 Effective Thursday, March 19, 2020, all Department of Business Affairs and Consumer Protection (BACP) offices will be closed to the public until further notice. This includes the following locations:
· BACP Administrative Offices, 121 N. LaSalle St. Room 805
· Small Business Center, 121 N. LaSalle St. Room 800
· Public Vehicle Licensing Center, 2350 W. Ogden Ave. 1st Floor
· Public Vehicle Inspection Facility, 2420 W. Pershing Ave.
BACP will continue processing business licenses, where applicable, online or over the phone. Please visit www.chicagobusinessdirect.org or call 312-74-GOBIZ. Learn more about how to use Chicago Business Direct. Please allow for extra time as BACP staff are working hard to keep City services going under this disruption.
Our Business Consultants are available to assist you whether you are starting your business, expanding, or have any other business license-related needs. Appointments are strongly recommended, and will reduce potential wait times. You may schedule an appointment by calling our Business Contact Center at 312-74-GOBIZ (744-6249).
______________________________________________________________________________________________________________________
When to Contact A Business Consultant
Business Consultants at the Small Business Center can assist you with:
Business start-up and expansion
Business license applications and changes to renewal
Public Way Use applications and permitting
Zoning information
Guidance and assistance to all City business processes
Assistance to schedule licensing re-inspections

When to Call 74-GOBIZ (312-744-6249)
Call the Small Business Center's hotline to speak with an experienced customer service representative who can:
Schedule appointments to meet with a Business Consultant, Zoning reviewer, or Health Sanitarian
Resolve or answer City issued hold notices (i.e. tax, parking tickets, holds on the business license account)
Provide status on a new license application, including inspections
Provide and/or reset PIN # for renewing a business license or paying taxes online
Provide information on BACP sponsored business workshops

Looking for business planning, legal, financial assistance, or tax advice?
Visit the Small Business Solution Station in the Small Business Center.

Looking for business support services in your neighborhood?
Visit your local Neighborhood Business Development Centers, or check out this map of neighborhood resources.