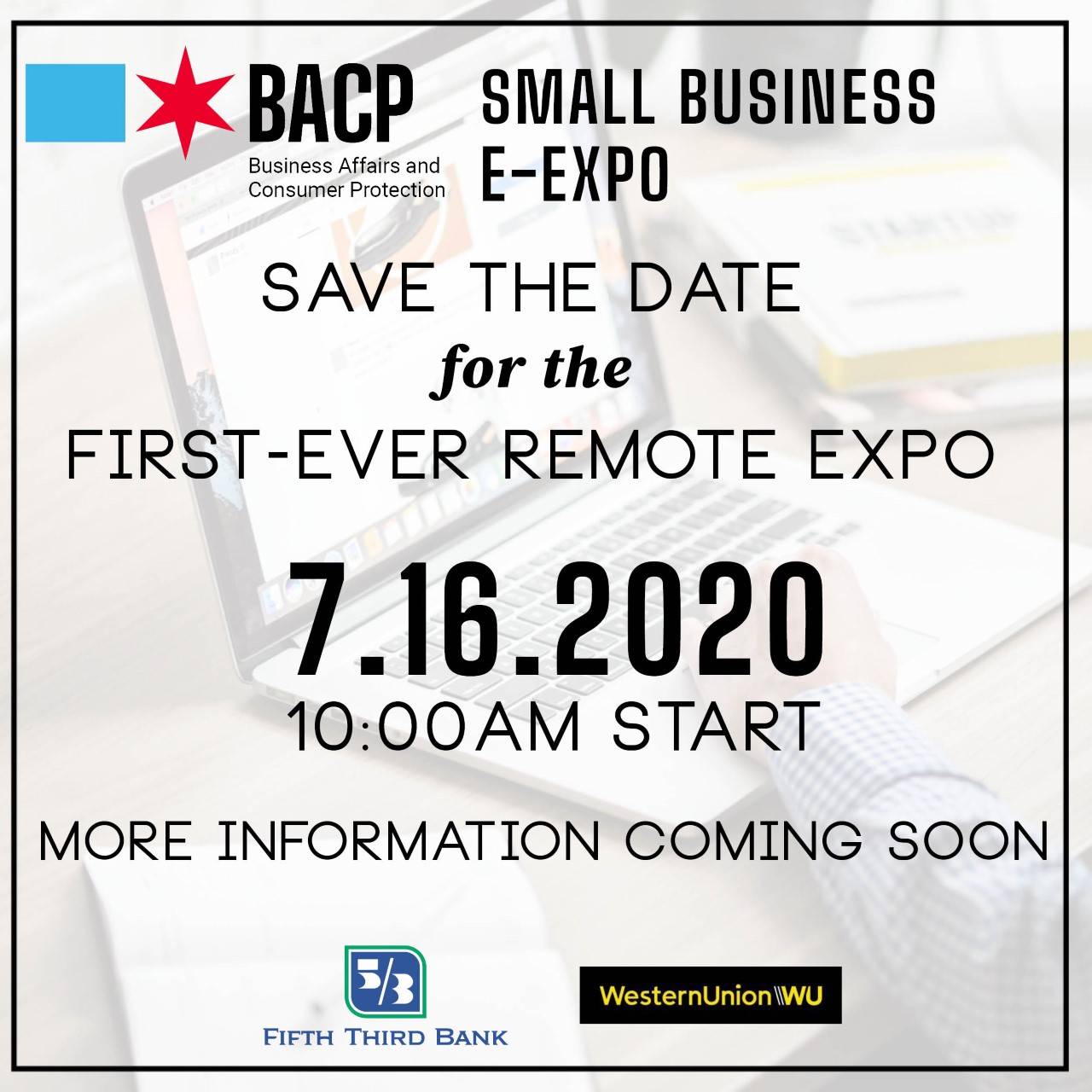 Click here to register.
The first ever Small Business Remote Expo is coming to you live on Thursday, July 16.

The Remote Expo will bring you free small business resources directly to you at your home, office or any location. After you register, you will be sent a link that you can use to join all of the events of the day. You can use that link to sign up for the entire expo and experience all the agenda has to offer. Feel free to log on and off throughout the expo for sessions that interest you, or you can join for just one part. The day is geared to fit your needs, your location and your business.

Small Business Remote Expo Agenda:

10:00 AM – 10:20 AM Opening Program

10:30 AM – 11:30 AM Webinar #1: Making the Switch
Presented by ChiBizHub

11:35 AM – 12:35 PM Webinar #2: Financial Guidance for Small Businesses in a Changing World
Presented by Fifth Third Bank and Accion

12:40 PM – 1:10 PM Lunchtime Chat with Keynote Speaker Chef Cliff Rome
Proprietor of Rome's Joy Companies, Peach's Restaurant, Parkway Ballroom, Rome's Joy Catering and Blanc Gallery.

1:15 PM – 2:15 PM Webinar #3: Digital Marketing – Making Your Business Pop form all the Comforts of Home
Presented by Adam Arcus, Creative Director of 1871

2:20 PM – 2:55 PM Resources Available to Small Businesses
Join this session for information on small business resources, including City of Chicago Reopening plan along with Local , State, and Private Resources Available for Small Businesses

3:00 PM – 4:00 PM Ask BACP
Join this session to ask questions to the Department of Business Affairs and Consumer Protection on licensing, liquor, use of the public way, inspections, labor standards and reopening.

Register for 7/16 Remote Expo.
Sponsored by: