To support businesses and public vehicles during the ongoing pandemic, Business Licenses and Public Passenger Chauffeur and Vehicle Licenses with an expiration date between March 15, 2020 and September 30, 2020 will be considered active until October 30, 2020. Licensees will have until October 30, 2020 to renew without paying a late fee.
The following BACP public vehicle licensing and inspection facilities have reopened to the public with capacity limits and social distancing protocols in place:
Public Vehicle Licensing Facility, 2350 W. Ogden Avenue, 1st Floor
Public Vehicle Inspection Facility, 2430 W. Pershing Avenue
Members of the public that visit BACP's Public Vehicle Licensing Facility at 2350 W. Ogden Avenue will undergo a symptom screening, including a temperature check, before entering the facility. Visitors will also be required to wear face coverings and maintain six feet of social distancing while in the facility and are encouraged to bring their own pen.
Due to COVID-19, BACP continues to encourage the processing of licenses and permits online/remotely.
BACP public vehicle licensing application and processing requests should be e-mailed to bacppv@cityofchicago.org. Public vehicle inspections appointment list is posted on the Public Vehicles page. Requests to change public vehicle inspection dates should be e-mailed to bacppv@cityofchicago.org.
BACP's mission is to ensure Chicago's public passenger vehicles are safe, reliable, and provide residents and visitors positive transportation options.
Click on below image to explore the Guidelines on CAUTIOUSLY REOPEN (Phase III).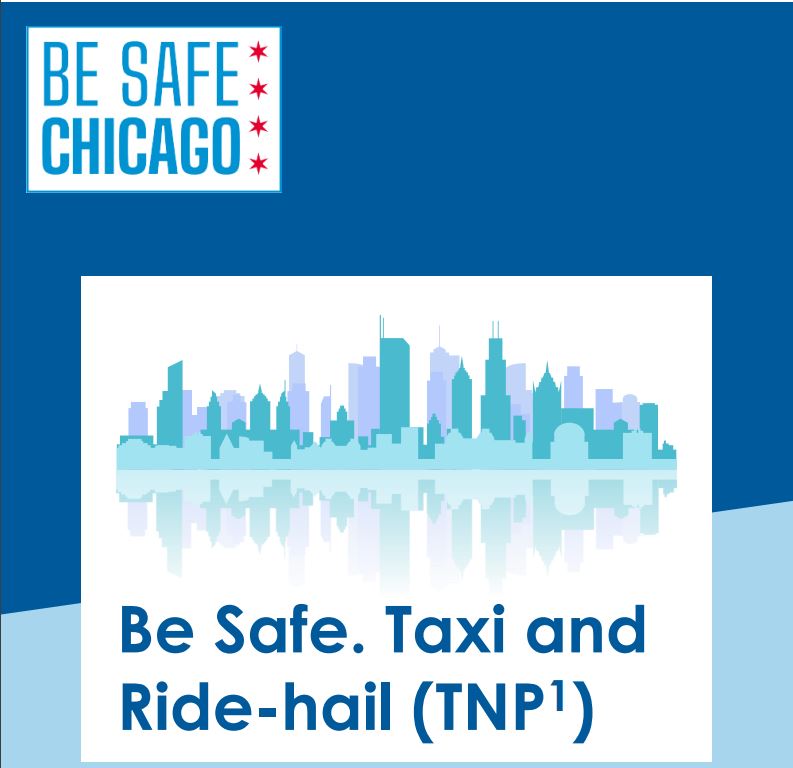 CDC Guidelines On COVID-19 for Rideshare, Taxi, Limo, and other Passenger Drivers-for-Hire
BACP oversees the licensing of Chicago's public chauffeurs and public vehicles including taxicabs, liveries, transportation network providers (ride-hail), charter and sight-seeing buses, horse drawn carriages, ambulances, water taxis and tour boats.
Explore below the BACP Public Vehicle Licensing Guide.
Access the Guide on How to Search For License Information On The City DATAPORTAL
Explore the City of Chicago Data Portal at data.cityofchicago.org for information on BACP licensed public passenger vehicles. Published datasets include, but are not limited to, public passenger vehicles, public chauffeurs, taxi trips, transportation network provider (TNP) vehicles, TNP drivers, and TNP trips.
The Public Vehicle Operations Facility is located at 2350 W. Ogden Ave, 1st Floor, Chicago, IL 60608. See below for hours of operations.
The Public Vehicle Inspections Facility is located at 2420 W. Pershing Rd., Chicago, IL 60632.
Contact BACP Public Vehicle Operations Facility at 312.746.4300 or by BACPPV@cityofchicago.org.
Click on links below for specific information on:
| | | |
| --- | --- | --- |
| | | Click here and find tips on how to Ride Smart Chicago! Passengers should be equipped with important information needed when riding in a taxicab, ride-hail, limousine, charter bus, tour boat or pedicab vehicle. Find contact information for taxi affiliations. |
| | | Connect to licensed taxicab and taxicab drivers using your smartphone. Taxicab Passengers can electronically hail (E-Hail) and pay (E-Pay) for a taxicab throught a mobile app. Download CURB & ARRO to E-Hail your next Taxi. |
| | | This WAV information page is for passengers and for the taxicab industry. Passengers can request a WAV taxicab ride by calling 1-888-WAV-CABS (1-888-928-2227) or by downloading the CURB app. Passengers will also be able to make in-app electronic payments for their rides via the CURB app. For more information, including steps on how to download the CURB app, visit gocurb.com/ChicagoWAV. |
| | | Public Chauffeurs are licensed drivers of taxicabs or liveries. Are you interested in becoming a Public Chauffeur? Find information on new driver training and application forms. |
| | | Do you own a taxicab medallion? Taxicab medallions are the right to own and operate a taxicab. This page will point you to approved vehicle lists, forms and information about security cameras. Visit the City of Chicago Data Portal for all Public Passenger Vehicle licenses. Find Public Vehicle Industry Notices. |
| | | Liveries are licensed public vehicles that charge a fare which is not based on a meter. Find livery and limousine applications and forms along with approved vehicle list. |
| | | |
| | | |
| | | Voice a complaint with BACP under the following categories or to report a Business Operating Without a License call 311: |
---
Public Vehicle Operations Facility
2350 W. Ogden Avenue, First Floor, Chicago, IL
Monday to Friday: 8:30 am to 4:30 pm.
Public Chauffeur Licensing Section & Cashiering: 8:30 am – 4:30 pm.
Public Vehicle/Medallion Licensing Section: 8:30 am – 4:30 pm.
Please be advised, due to high volume and necessary processing time, to ensure that everyone is serviced before the facility closes at 4:30 pm:
Chauffeur licensees must check-in at the reception desk before 2:00 pm
Public Vehicle / Medallion licensees must check-in at the reception desk before 3:00 pm
For public safety and security, if building capacity has reached maximum allowable, the front door may be locked to prevent more people from entering the building.