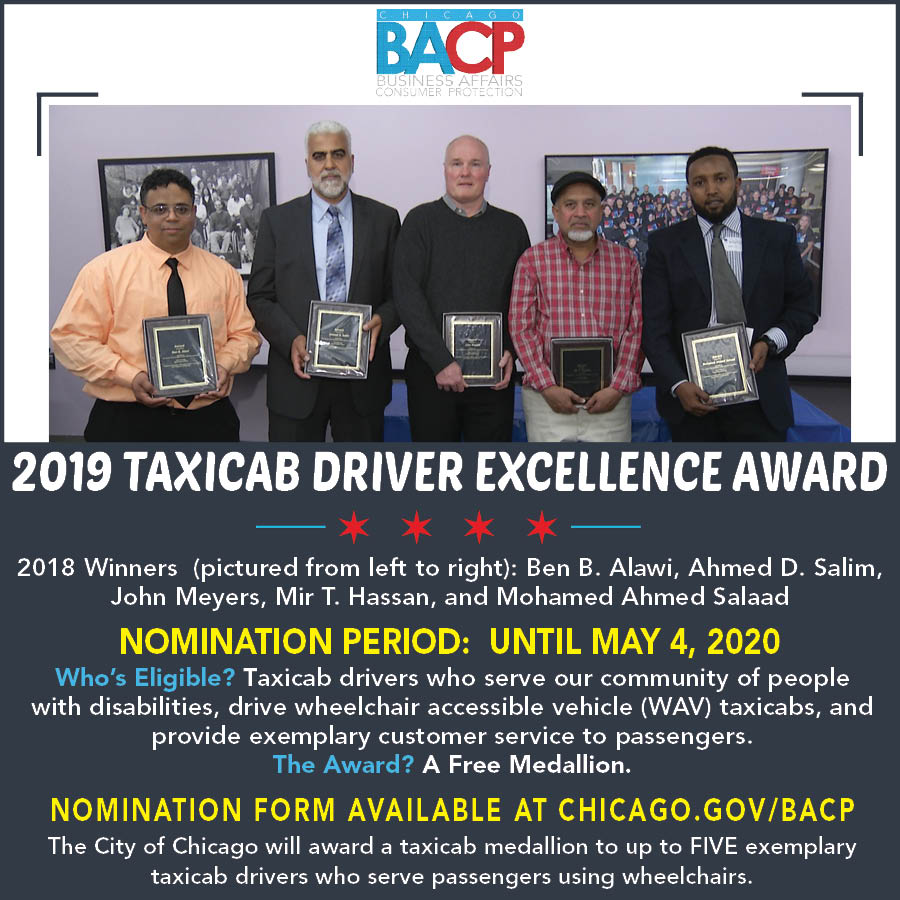 The City of Chicago is committed to providing efficient taxicab service to those individuals requiring a wheelchair accessible taxicab.
The City's Centralized Wheelchair Taxicab Dispatch Service is provided by Open Doors Organization, a Chicago-based company. The service is known as "Open Taxis". Open Doors Organization was selected through a request for proposal open bidding process.
Whether you need an immediate pickup or to schedule a ride in advance, you can contact Open Taxis 24/7 by calling their toll-free phone number at 1-855-WAV-1010 or 1-855-928-1010.
Visit Open Taxi's Web site at www.opentaxis.com to explore all the options available to request a Wheelchair Accessible Taxicab, including text, email and mobile phone applications.
REQUEST FOR PROPOSAL FOR

THE CENTRALIZED WAV TAXICAB DISPATCH SERVICE
The City of Chicago Department of Business Affairs and Consumer Protection (BACP) invite the submission of proposals in response to a Request for Proposals (RFP) for the operation of a centralized dispatch service for City of Chicago licensed wheelchair accessible vehicle (WAV) taxicabs. BACP is seeking an interested and eligible vendor to operate the City of Chicago's Centralized Dispatch Service for Wheelchair Accessible Vehicle (WAV) Taxicabs.
Wheelchair Accessible Vehicles - Information for Owners
Wheelchair Accessible Vehicles (WAVs) are required for certain licensees. Please refer to Section VII of the Taxi Medallion License Holder Rules and Regulations and Section 9-112-570 of the Municipal Code of Chicago for guidance.
For a list of Wheelchairs Accessible Vehicles (WAVs), click here to visit Public Vehicles data portal
Wheelchair Accessible Vehicles Incentives Forms