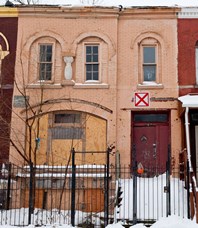 The Chicago Fire Department is the Administrator of the City of Chicago Red X Program. The Red X is a warning placard affixed to a vacant building structure alerting first responders to the existence of structural or interior hazards in the building that warrant extreme caution when conducting interior firefighting or rescue operations with entry occurring only for known life hazards.
It is illegal for any person including, but not limited to, any owner, government inspector or repair person, to enter any building marked by a first responder warning placard unless such person notifies the fire commissioner in advance of his or her intent to enter the building.
It is illegal for any person, other than authorized city officials, to cover, obliterate, deface, damage or remove any first responder warning placard unless written permission to engage in such activity has first been obtained from the Fire Commissioner.
Please note, the Red X is not an indicator of demolition and/or the property is for sale.
To find more information about a specific property, you may may link to the Buildings Data Portal or contact the Cook County Recorder of Deeds or Cook County Clerk of the Circuit Court.
For more information on the Red X program, call the Chicago Fire Department, Fire Prevention Bureau at 312-744-4723.

Related Links – Codes and Ordinances:
Related Code Ordinance (13-12-148)