Animal Control and Rescue
The City of Chicago receives over 40,000 calls a year to the 311 center from the general public regarding animal related inquires and service requests. These calls include:
Animal Cruelty & Abuse
Animal Fighting
Wildlife Nuisances
Other City of Chicago agencies, including the Chicago Police and Fire Departments, also call Animal Care & Control for assistance with animals.
Multiple shifts of Animal Control Officers are available to respond and resolve the issues at hand for the callers.
If you witness an animal fighting incident in progress you should call 911 immediately.
Temporary Animal Exhibition Permits
Effective January 1, 2013, all Animal Exhibitions, 30 days or less, will no longer require an Animal Care License issued by the Department of Business Affairs and Consumer Protection. Instead, Temporary Animal Exhibitions will require a permit issued by the Chicago Commission on Animal Care and Control (CACC)
Wildlife Issues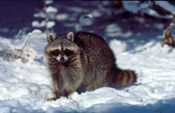 As people develop land, wildlife habitat is diminished and the potential for human and animal encounters increases. Wildlife can be a health or safety threat if they show aggression or are inside of a home. In limited emergency circumstances Animal Care and Control may provide traps and pick up the captured animals. Call 311 for assistance or check online at Living with Wildlife for more tips.
You may also visit our Homeward Bound Wildlife Partner Flint Creek Wildlife website.
Wildlife Management & Coexistence Plan
Chicago Animal Care and Control (CACC) provides assistance when wildlife is considered to be a threat to safety and/or a nuisance. CACC receives approximately 450 service requests annually involving coyotes. Requests for service involving coyotes must be handled in accordance with Illinois Law and in line with best practices. CACC partners with wildlife rehabilitation groups that provide assistance when relocating wildlife and CACC provides education to the public on how to live with wildlife. This plan outlines feasible strategies and tactics to prevent potential coyote encounters in the City of Chicago. Coyotes in Illinois are not considered to be a public health concern and there have been no reported coyote attacks on humans in Illinois in the last 30 years. As populations continue to grow, however, the possibility for human-coyote conflicts continues to increase.
For more information - Wildlife Management & Coexistence Plan Information
Coyotes
Coyote are becoming increasingly common in cities. Even in densely populated areas, coyotes maintain an
avoidance of humans and potential for human-coyote interaction is low. To maintain a safe distance,
homeowners are instructed to limit availability of food on their property and haze individual coyotes in the
case of direct encounters. These techniques are outlined below. If followed by residents, the likelihood of
coyote-human interactions or pet attacks is low and coexistence is possible.
For more information - Coyote Management & Coexistence Plan Information
Chicago Coyote Research: A Resource for Coyote Questions and Answers
File a coyote complaint with CHI 311
---
Health Info - Bat Safety
Bats in and around Chicago have been found to carry rabies. Rabies is a rare but fatal disease caused by the bite of an infected (rabid) animal. Not all bats carry rabies; however, it is important to be aware of this risk and to take precautions to protect yourself and your family from possible exposure. Click here for more information.