Information on Bicycling and Commuting in Chicago.
All links to external websites open in a new window.
Commuting
Shops and Rentals
Publications
Benefits of Biking
Bike Messengers
Mayor's Bicycle Advisory Council
The Mayor's Bicycle Advisory Council (MBAC) meets four times per year to discuss issues and progress in implementing the strategies of the Bike 2015 Plan.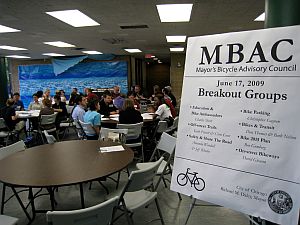 Chicago bicyclists participate in the first MBAC public meeting, learning about and discussing one of seven topics on June 17, 2009. Photo by CDOT.