A photo of an on-street bike parking corral, which provides parking for 10 or more bicycles in the same space typically occupied by a car. Photo by CDOT.
The Chicago Department of Transportation's Bicycle Program installs and maintains bike racks and bike corrals in Chicago and provides free consulting services to building owners. Learn more about the Program here.
Make a request
Indoor Bike Parking
McDonald's Cycle Center - @ Millennium Park an indoor facility in Millennium Park that provides secure, heated, indoor bike parking for 300 bikes during the day, and giving 24/7 access to members.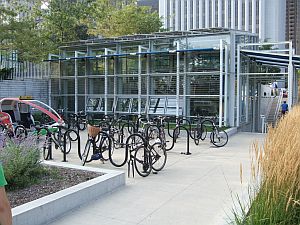 A photo of the McDonald's Cycle Center in Millennium Park, downtown Chicago. Photo by CDOT.
Theft prevention
The best way to get your bike back if it's stolen is to never let it go in the first place. Use good locking techniques and lock only to high-quality bike racks (like the ones CDOT installs) or parking meters (where they exist).
Guides for Establishing Bike Parking
Service Facts
Department:
People We Serve:
Programs & Initiatives: