Parking or Driving Cars in Bike Lanes
Motorists are reminded that parking, idling or driving in bike lanes is illegal in the city of Chicago.
Motorists parking in bike lanes endanger bicyclists by forcing them to merge unexpectedly with faster moving motor vehicle traffic.
With more than 280 miles of bike lanes, marked-shared lanes, and signed bike routes installed throughout Chicago, motorists should remember that parking, driving, or idling in a bike lane or marked-shared lane is not only dangerous to cyclists - it's illegal. Read more about Chicago and Illinois bicycle laws.
Motorists found parking or idling in a bike lane or marked-shared lane will be issued $150 tickets — and may have their vehicles towed.
The same penalty applies to motorists driving in bike lanes.
To report areas with problematic bike lane and marked-shared lane parking, call 311, the City of Chicago's non-emergency services number, or report online via CHI 311.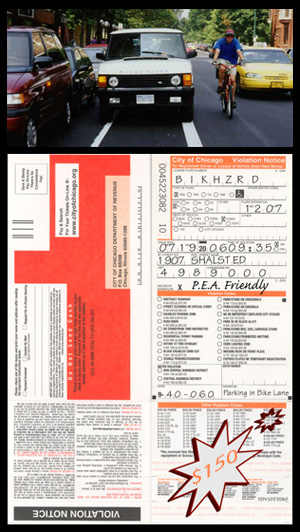 Additional Media