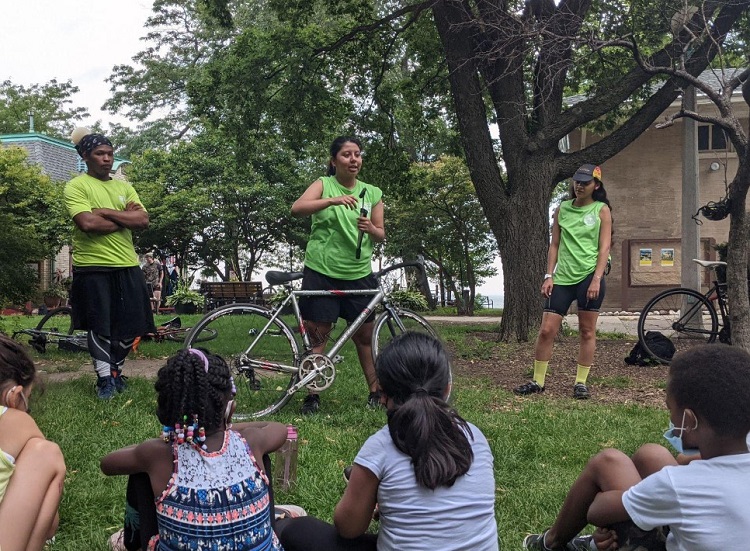 The SAFE Ambassadors work to help Chicagoans envision and achieve a safe, comfortable and healthy public transportation space—no matter how they get around. Our motto: Streets Are For Everybody. We promote traffic safety for students and community members year-round, shifting focus with the seasons. In the summer, we provide free biking lessons, and during the school year we offer pedestrian, cyclist, and motorist safety education for all levels.
Services offered by the SAFE Ambassadors:
Class Presentations
The SAFE Ambassadors teach pedestrian safety to second-graders and bicycle safety to fifth-graders using an interactive, skills-based method. Lessons are based on Illinois State Learning Standards and encourage students to share the road with others and realize the many benefits of active transportation.
Typically, the Ambassadors make two visits to each classroom. The first is an in-class or video presentation to introduce key safety concepts and behaviors; the second engages the children with outdoor practice of walking safety skills. Second grade workshops involve outdoor practice of street-crossing skills, building on concepts learned in the first lesson. Fifth grade workshops include a speed experiment and guided observation of neighborhood traffic to showcase the importance of making safe choices on the street.
High School Mobility Education Program
The SAFE Ambassadors offer 45-minute presentations to driver's education classes in Chicago. These presentations focus on the laws related to sharing the road with pedestrians and bicyclists, and include discussion about the benefits of active forms of transportation.
Teacher Resources
Visit the Lesson Plans page for downloadable lesson plans, educational videos, worksheets, games, and ideas on how to incorporate transportation, health, and environmental issues into classroom instruction.
Click below to get in touch with us!
Contact Information:
City of Chicago's SAFE Ambassadors
Angel Montalvo
2 N. LaSalle Street, Suite 950
Chicago, IL 60602
312-744-8251
Angel@chicagocompletestreets.org