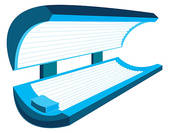 On July 7, 2012, a new ordinance goes into effect in Chicago prohibiting the use of tanning equipment by a minor (under 18 years of age), regardless of whether the minor has the permission of a parent or guardian. This ordinance applies to all tanning facilities that charge a fee and to health clubs that provide tanning equipment for use by their members.
For the purpose of this ordinance, tanning equipment includes sunlamp products and ultraviolet lamps intended to induce tanning through irradiation of any part of the body. It does not include spray-on, mist-on, or sunless tans.
To help facilitate compliance with this ordinance, tanning facilities are encouraged to properly identify the ages of persons before allowing them to use your tanning equipment. Additionally, we encourage you to post signage to educate your patrons.
Sample signs are available for free download here. Any person who violates this ordinance can be fined between $100 and $250.
If you have questions about this ordinance, please contact: Dr. Cortland Lohff by email CDPHHealthCode@cityofchicago.org or call 312.746.4056.