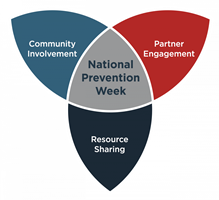 Click here to take the National Prevention Week Lottery.
NATIONAL PREVENTION WEEK (NPW) is a SAMHSA – sponsored campaign dedicated to increasing the prevention of substance use and promotion of mental health by promoting prevention year-round.
NPW is an annual health observance that brings individuals, health professionals, organizations, coalitions, states, businesses, and communities together through local activities to strategize around preventing substance misuse and promoting mental health.
Theme: "Inspiring Action, Changing Lives"
The three primary goals of National Prevention Week are to:
Involve communities in raising awareness about behavioral health issues and implementing prevention strategies, and showcasing effectiveness of evidence-based prevention programs;
Foster partnerships and collaboration with federal agencies and national organizations dedicated to behavioral and public health; and
Promote and disseminate quality behavioral health resources and publications.
The Chicago Department of Public Health requests that individuals and behavioral health providers support this observance and appreciate all efforts taken to bring awareness and help educate the youth and adults on improving their health and well-being in the area of substance use and mental health.
Select #NPWChicago actions that align with the national NPW theme days (see below). You can choose based on your personal and agency's experience and population focus.
| | |
| --- | --- |
| MONDAY – May 13, 2019 | Preventing Prescription and Opioid Drug Misuse |
| TUESDAY – MAY 14, 2019 | Preventing Underage Drinking and Alcohol Misuse |
| WEDNESDAY – MAY 15, 2019 | Preventing Illicit Drug Use and Youth Marijuana Use |
| THURSDAY – MAY 16, 2019 | Preventing Youth Tobacco Use (includes e-cigarettes and vaping) |
| FRIDAY – MAY 17, 2019 | Preventing Suicide |
How to Participate:
You can take action as a client/community/employee/organizational group in the NPW Challenge, which is an interactive social media activity.
ACTION: Decide on a prevention action and post your message or photo on social media (Facebook, Instagram, or Twitter) and tag #NPWChicago2019 #SAMHSA
ACTION: Participate in one of the webinars hosted by SAMHSA
ACTION: Take the Challenge, in one word, nominate your #PREVENTIONCHAMPION
ACTION: Go to https://overcomeopioids.org and print out free materials for use with your group or event.
ACTION: Inform the public about our www.Chicagoconnects.org website for obtaining information and resources. Note: Put your zip code in to learn about resources that are close to your community. Help yourself and help a friend.
ACTION: Email: CommunityEventsCDPH@cityofchicago.org and let us know about any NPW events you host.
ACTION: Enter our National Prevention Week Lottery for a chance to win a small prize!
ACTION: Use the NPW Banner on your materials & tag #NPWChicago2019 #SAMHSA

ACTION: Use the NPW Banner on your materials.
https://www.samhsa.gov/prevention-week/toolkit
ACTION: Contact Chicago Department of Public Health, Joan Weaver, joan.weaver@cityofchicago.org, 312-747-8818 to inquire about any available products.
Note: Limit your supply to those who actively participate.
Privacy alert: Remember when submitting photos for social media, be vigilant as to privacy, confidentiality and your agency's policy on posting photos of youth under 18 years of age. We recommend that you obtain consents for photos or allow persons to post their own selfies.
Thank you for your dedicated commitment to National Prevention Week!!!!