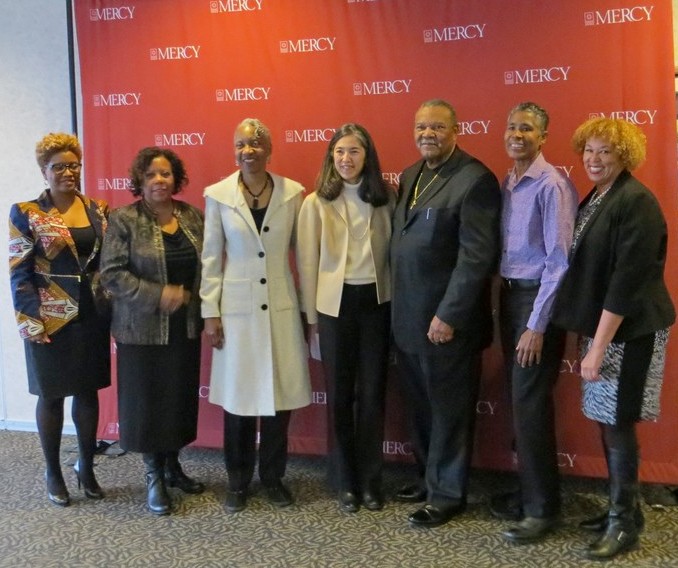 FOR IMMEDIATE RELEASE
CONTACT: Tracy Lytwyn Fischer, American Cancer Society Cancer Action Network
Email: tracy.lytwyn@cancer.org
Phone: 317-344-7803
Cell: 630-452-6656
CHICAGO, Ill. – March 1, 2016 – Today, national and local leaders from the African-American community gathered at Mercy Hospital in Chicago's Bronzeville neighborhood to announce their support for a tobacco-control ordinance. The proposal is eligible for vote at the next Chicago City Council meeting on Wednesday, March 16.
Noting that African-Americans in Chicago face disproportionately high rates of lung cancer, heart disease and other conditions, the leaders called on the city to stand up to the tobacco industry and put the health of young people first.
"Tobacco companies have lured far too many young African-Americans into a lifetime of addiction to their deadly products," said Carol McGruder, co-chair of the African American Tobacco Control Leadership Council. "Enough is enough. Chicago's tobacco-prevention ordinance would show that youth health and saving lives matter more than tobacco industry profits."
The ordinance would protect young people by 1) raising the age of sale for tobacco products from 18 to 21, 2) taxing other tobacco products like cigars and chewing tobacco and 3) prohibiting the use of coupons and other discounts.
"Standing up for youth and health is a moral imperative in Chicago, now more than ever," said Rev. B. Herbert Martin, pastor of Progressive Community Church. "Our kids deserve to grow up healthy — not addicted to a product that kills them slowly."
African-Americans would see the greatest gains. In Chicago, African-Americans' rate of death from stroke is now 61 percent higher than whites, and their rate of death from heart disease is 23 percent higher. Moreover, African-Americans in the city are 23 percent more likely to get lung cancer than whites. Predominantly African-American neighborhoods such as West Garfield Park and Englewood have the highest lung cancer rates in Chicago.
"As a physician, I am all too familiar with the devastating toll of tobacco on the health of my patients, especially in the African-American community. I see it day in, day out," said Dr. Javette Orgain, associate professor of family medicine at the University of Illinois at Chicago and past president of the Illinois Academy of Family Physicians. "Too many lives are cut short by preventable diseases caused by tobacco."
The announcement by African-American leaders comes from a collaboration of numerous organizations, including Mercy Hospital, Trinity Health System, African-American Tobacco Control Leadership Council, Illinois African-American Coalition for Prevention, Progressive Community Church, American Cancer Society Cancer Action Network (ACS CAN) and others.
"At Mercy, we strive to support the community in efforts to achieve health equity," said Jameika Sampson, director of Community Benefit Integration at Mercy Hospital. "Support for initiatives that promote tobacco prevention and cessation is consistent with our mission to care for the health of the community."
"This coalition illustrates the importance of tobacco control to our communities in Chicago," said Nico Probst, Chicago government relations director for ACS CAN. "Tobacco use is the number-one preventable cause of death nationwide. By supporting policies that help prevent our young people from becoming addicted to tobacco, our decision-makers can save lives. Kids' health must come first, period."