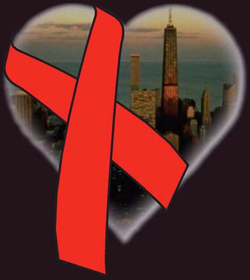 The Ryan White HIV/AIDS Program is a Federal program that provides HIV-related health services. The program works with cities, states, and local community-based organization to provide services to more than half a million people each year. The program is for those who do not have sufficient health care coverage or financial resources for coping with HIV disease. Ryan White fills gaps in care not covered by these other sources.
In Chicago, the Ryan White Part A Program is administered by the Chicago Department of Public Health (CDPH) which provides HIV/AIDS care services to over 30,000 people living with HIV/AIDS in the Chicago Eligible Metropolitan Area (EMA). The Chicago EMA consists of nine counties which is approximately two-thirds of the State of Illinois. These counties include Cook, DeKalb, DuPage, Will, Grundy, McHenry, Lake, Kane, and Kendall. CDPH's contracts with 44 agencies located throughout the EMA to provide core medical and support services.
In addition, CDPH works collaboratively with the Chicago Area HIV Planning Council (CAHISC) to determine needs and set funding priorities. The Planning Council consists of 52 members who are community members, provider representatives, and consumers. Each year the Planning Council conducts a needs assessment to identify unmet needs, gaps in services, and barriers to care. The recommendations from the needs assessment process is used to inform the priority setting process which is also conducted on an annual basis.
Services Provided by the Ryan White Part A & MAI Program
The following services are funded by the Ryan White Part A & MAI program. At least 75% of the funding for direct services are allocated for Core Medical services and 25% for support services.
Core Medical Services
Ambulatory/Outpatient Care
Mental Health
Oral Health
Substance Abuse/Outpatient
Medical Case Management
Support Services
Non medical Case Management
Emergency Financial Assistance
Food Bank/Home Delivered Meals
Housing services
Legal services
Medical Transportation services
Psychosocial Support services
Substance Abuse Residential services
Who is eligible to Receive Services?
You are eligible to receive assistance under the Ryan White Program, if:
You have a diagnosis of HIV or AIDS
You lived in the Chicago EMA (Cook, DeKalb, DuPage, Will, Grundy, McHenry, Lake, Kane, Kendall counties)
You are uninsured and/or underinsured