Time Sensitive Submission: New Educational Providers / Previous Grandfathered Educational Providers
Beginning July 1, 2017, pharmaceutical representatives who market or promote pharmaceuticals within the City of Chicago for more than fifteen (15) calendar days per year are required to obtain a license, under an ordinance (see page 95) passed by City Council in the fall of 2016. The license application fee is $750 per individual for a one-year licensing term and may be renewed annually. Pharmaceutical representatives must complete an online education session at the time of initial application and then complete at least five hours per year of approved continuing education thereafter. When requested by the Commissioner of the Chicago Department of Public Health, pharmaceutical representatives also must disclose information related to the marketing or promotion of the pharmaceuticals, pharmacological classes, or categories of pharmaceuticals listed on the Chicago Department of Public Health website.
Apply for an initial pharmaceutical representative license (beginning July 1, 2017)
A pharmaceutical representative who does business with health care professionals while both are within the City must acquire a license from the Department of Business Affairs and Consumer Protection prior to doing business in the City on 15 or more days in a calendar year.
Pharmaceutical representatives should click here to begin the licensing process. For additional information, click here: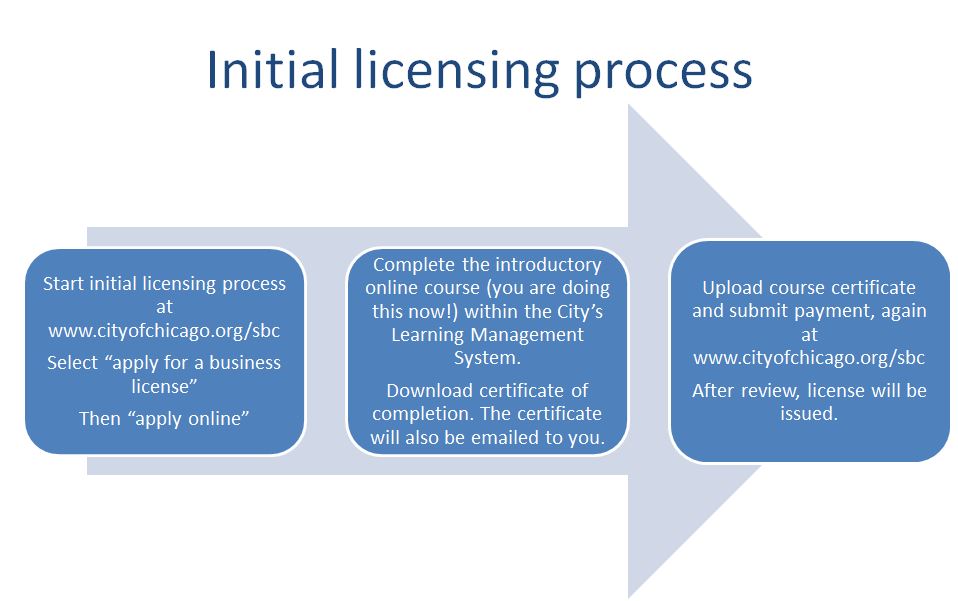 Apply for a renewal pharmaceutical representative license throughout the year. Renewal is annual and based upon your expiration date.
Pharmaceutical representative licenses are valid for 1 year.


Learn about approved pharmaceutical representative continuing education
For pharmaceutical representatives: To qualify for license renewal, you must complete five hours of approved continuing education annually, by an institution or organization approved by the Chicago Department of Public Health (CDPH).
Allowed course content includes:
General medical and pharmaceutical terminology and abbreviations
Food and Drug Administration laws and regulations pertaining to drug marketing, labeling, and clinical trials
Comparative cost effectiveness of pharmacological treatments
Therapeutic drug classes and categories
Professional ethics
Properties and actions of drugs and drug delivery mechanisms
Etiologies, characteristics and therapeutics of disease states
Pharmacology
Anatomical and physiological effect of pharmaceuticals
Comparative effectiveness of pharmacological treatments
How to read and analyze peer-reviewed literature on pharmacological treatments
Safe prescribing practices to prevent abuse
Visit https://www.chicago.gov/city/en/depts/cdph/supp_info/healthy-living/approved-continuing-education-courses.html
Review the list of approved courses; listed in sections by Education Provider
Note: Each Education Provider has an email listed for any problems or questions with specific courses
Select your course(s) and the follow the course link to access selected course(s) with cost and delivery details (as applicable)
Take the course(s).
Make sure you obtain your certificate of completion for each course taken (contact the provider immediately with problems)
Keep this certificatein your records (for at least 5 years) in the event that your education record is audited by the Pharma Rep Education team, in the future
Auditing: You will not have to submit the certificates as part of the license renewal process, but you will need to retain them. Upon renewing the license, applicants will affirm that 5 hours of approved continuing education have been completed in the preceding year. Each year, CDPH will audit a subset of renewal applications to confirm that applicants have completed this continuing education requirement.
Upon request, applicants must provide information on courses completed, including
The title and date of the course (s)
Number of credit hours completed
Name of the education provider (s)
Signed certificate (s) of completion
CDPH may confirm this education with the continuing education provider.
For educational providers:
If your organization is interested in providing continuing education coursework that can be used toward the Pharmaceutical Representative license requirement, you must apply to CDPH during our application cycle.

The next application period for new courses will open in the winter, 2019.

Eligible organizations should follow the application link (APPLICATION LINK: IS NOW OPEN) to access the application and related forms and instructions.
Once a course is submitted via the online application, CDPH will send an initial email confirming our receipt of the course. If the application is determined to be complete, we will review the course content and support documents. After each course is reviewed, CDPH will send a final email notice regarding the status of each Education application.
Note: We held an abbreviated application cycle for 2019 courses May 2019. Our application process is now reopened.
Disclosure list



Beginning October 15, 2017: "any Schedule II medications, as defined by the Title 21 United States Code Controlled Substance Act."

Click here for the disclosure log spreadsheet to track your interactions with health care professionals.
Read the ordinance and rules
Ordinance (See Page 95)
Pharmaceutical representatives who violate the Ordinance or Rules may face
– suspension or revocation of the license
– inclusion in a public list of pharmaceutical representatives whose licenses have been revoked
– a fine of no less than $1,000 and no more than $3,000 per day of violation

Review Ethical Standards
A pharmaceutical representative shall not engage in any illegal, fraudulent, or other deceptive marketing of a pharmaceutical product, including the knowing concealment, suppression, omission, misleading representation, or misstatement of any material fact.
A pharmaceutical representative shall not use a title or designation that could reasonably lead a licensed health professional, or an employee or representative of a licensed health professional, to believe that the pharmaceutical representative is licensed to practice medicine, nursing, dentistry, optometry, pharmacy, or any other similar health occupation, unless the pharmaceutical representative holds an active license to practice that health occupation.
A pharmaceutical representative shall not attend patient examinations without the express, written consent of the patient. The representatives also shall not enter an area meant primarily for healthcare providers and patients, other than a designated waiting area, unless invited in by a health care provider working on site.
A pharmaceutical representative shall comply with the applicable policies and procedures of the health care facilities and health care professionals' offices he or she visits.
A pharmaceutical representative shall not harass, intimidate, or coerce a licensed health professional, or an employee or representative of a licensed health professional, through any form of communication.
A pharmaceutical representative shall cease making sales calls to a health care professional, or an employee or representative of a health care professional, if the health care professional requests it in writing or verbally to the pharmaceutical representative or the representative's employer.
A pharmaceutical representative shall not make any misleading statements to gain access to a health care professional.
A pharmaceutical representative shall provide health care professionals with information that is truthful, accurate, and non-misleading, compliant with Food and Drug Administration laws and regulations.