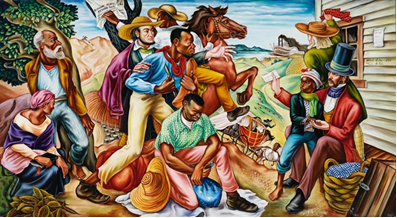 "Rising Up: Hale Woodruff's Murals at Talladega College," which features six monumentally-scaled murals – two at 6 by 20 feet, four at 6 by 10 feet – painted 1939-42 by African American artist Hale Woodruff, opens March 23 at the Chicago Cultural Center (78 E. Washington Street, 4th Floor Exhibit Hall) and runs through June 16. Never before seen outside of Alabama, the murals depict the 1839 African slave revolt on the Spanish ship La Amistad and other key moments in African American history including The Trail of the Amistad Captives, The Repatriation of the Freed Captives, The Underground Railroad, The Building of Savery Library [at Talladega College], and Opening Day at Talladega College.
Founded in 1867, Talladega College was one of the nation's first all-black colleges. Commissioned in 1938, Woodruff's murals have been on continuous view at the college since their installation in the lobby of Savery Library.
Newly restored to their original, vibrant colors, the murals are accompanied by 30 paintings and prints that document Woodruff's work from the 1920s to the 1940s, making the exhibition a rare opportunity to see this important Harlem Renaissance artist's work in depth.
Hale Aspacio Woodruff (1900-1980) was born in Cairo, Illinois, spent time in Chicago and was part of an historic show at The Art Institute of Chicago in 1927. He studied art at both the John Herron Art Institute in Indianapolis and the Fogg Museum of Harvard University. In 1935, Woodruff worked on Works Progress Administration (WPA) murals for the Atlanta School of Social Work. Between 1931 and 1946, he served as the first chair of the newly established art department of Atlanta University. During the summer of 1936, Woodruff studied mural painting in Mexico under the mentorship of Diego Rivera. In 1946, he became a teacher at New York University, where he taught art for more than 20 years until his retirement in 1968.
"Rising Up" is organized by the High Museum of Art, Atlanta, in collaboration with Talladega College, Talladega, Alabama. The exhibition is made possible through support from the Terra Foundation for American Art. Admission is FREE.
Related Programs:
Lecture: "Painting Through the Past: The Amistad Murals and the Crux of Slavery in Hale Woodruff's Artistic Practice" | Nicholas Miller, PhD Candidate, Department of Art History, Northwestern University
Thursday, April 25, 5 pm
Chicago Cultural Center, 1st Floor Garland Room
Gallery Talks | Daniel Schulman, Program Director/Visual Art, Department of Cultural Affairs and Special Events
Thursday, April 18 and Thursday, May 16, 12:15 pm
Chicago Cultural Center, 4th Floor Exhibit Hall
Drawn by its beauty and the fabulous free public events, hundreds of thousands of visitors come to the Chicago Cultural Center every year, making it one of the most visited attractions in Chicago. The stunning landmark building is home to two magnificent stained-glass domes, as well as free music, dance and theater events, films, lectures, art exhibitions and family events.
For the latest Chicago Cultural Center news and events, visit chicagoculturalcenter.org, like us on Facebook and follow us on Twitter, @ChiCulturCenter.
The Department of Cultural Affairs and Special Events (DCASE) is dedicated to enriching Chicago's artistic vitality and cultural vibrancy. This includes fostering the development of Chicago's non-profit arts sector, independent working artists and for-profit arts businesses; providing a framework to guide the City's future cultural and economic growth, via the 2012 Chicago Cultural Plan; marketing the City's cultural assets to a worldwide audience; and presenting high-quality, free and affordable cultural programs for residents and visitors.
For the latest DCASE news and events, visit cityofchicago.org/dcase, like us on Facebook and follow us on Twitter, @ChicagoDCASE.
# # #
DON'T MISS: "They Seek a City: Chicago and the Art of Migration, 1910-1950," on view at The Art Institute of Chicago through June 2, which includes many of the same themes and issues explored by Hale Woodruff in "Rising Up." For more information, visit artic.edu/exhibitions.