New DCASE Studio Artist and Curatorial Residency Awards Encourage Development of Diverse Arts Projects
October 28, 2014
Six Studio Artists and Two Curatorial Fellows will Engage Visitors to the Chicago Cultural Center in Open Studio Demonstrations and Public Talks
Christine Carrino 312.744.0573 christine.carrino@cityofchicago.org
The Department of Cultural Affairs and Special Events (DCASE) and The Joyce Foundation are pleased to announce the inaugural recipients of the 2014-2015 DCASE Studio Artist and Curatorial Residency Awards. Following a competitive review of over 200 qualified applicants, a panel of esteemed jurors selected six Studio Artists in Residence and two Curatorial Fellows. Each recipient will be awarded a stipend to develop their proposed creative project and engage with the public. Additionally, the Artists in Residence will be provided with three months of studio space, either private or public, at the Chicago Cultural Center, 78 E. Washington Street, where they will engage visitors in public programs and talks to be announced. These awards are provided through a generous grant of $50,000 from The Joyce Foundation to support underrepresented artists and curators who demonstrate a strong level of commitment to diversity and community and whose work shows promise or is on the brink of advancement.
"Congratulations to the inaugural Studio Artist and Curatorial Residency award recipients," said Mayor Rahm Emanuel. "The residency project at the Chicago Cultural Center will recognize and support talented local artists who contribute so much to the fabric of our city."
"We are proud to present the artist and curatorial residencies at the Chicago Cultural Center," said DCASE Commissioner Michelle T. Boone. "True to goals of the Chicago Cultural Plan, this program provides space and funding to Chicago community artists while also giving the public opportunities to see artists at work."
"When DCASE came to the Joyce Foundation and proposed the Studio Artists and Curatorial Residency Awards, we recognized the program's potential to nurture local talent and provide a platform for arts leaders to catalyze change within the city," Ellen Alberding, president of the Joyce Foundation, said. "The program provides critical support to these extremely talented artists and curators who are working with the community and taking on some of Chicago's most pressing issues. This first class of fellows has the potential to transform the city and the city's art organizations."
During the Fall season (October–December, 2014), Alexandria Eregbu explores her Nigerian heritage as the Public Studio Artist in Residence. This Winter (January–April, 2015), Mahwish Chishty and Adebukola Bodunrin will each work as Private Studio Artists in Residence while Faheem Majeed and Jeremiah Hulsebos-Spofford will share their practice in the Public Studio Artist in Residence space. Following in the Spring through Summer (May–August, 2015), the Private Studio Artist in Residence will be Cecil McDonald and the Public Studio Artist in Residence will be Cheryl Pope. Curatorial Fellows for the 2014-2015 season are Allison Glenn and Ross Jordan.
Public Studio Artists in Residence each receive a $6,000 stipend and a dedicated studio space on the first floor of the Chicago Cultural Center. The Garland Gallery studio (first floor north) is a hub of creative activity, which provides ongoing opportunities for artists and public to interact over the course of three months.

Alexandria Eregbu (Fall, 2014) is an interdisciplinary artist, curator and arts administrator whose concerns lie primarily in performance and community engagement. A recent graduate of the School of the Art Institute of Chicago, Eregbu's artwork focuses on institutionalized and public visibility of black bodies through a contemporary art lens. The artist plans to engage with the public through workshops on traditional Nigerian textiles, paper-making and collage building.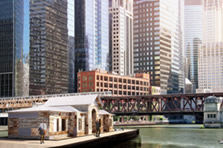 Faheem Majeed and Jeremiah Hulsebos-Spofford (Winter, 2015) both have backgrounds in sculpture but individually their work has evolved into performance, installation and structural interventions. The artists each pursue their dedication to education as well. Majeed is associate director and faculty at University of Illinois at Chicago, Art & Art History. Jeremiah teaches sculpture at the Chicago High School for the Arts and in the School of the Art Institute of Chicago's Contemporary Practices department. Majeed and Hulsebos-Spofford have worked in many shared spaces as well as on collaborative projects since they met while pursuing their MFA degrees in the same cohort at UIC. The Garland Studio will become a laboratory, test site and play space for a large-scale multifaceted project titled "Floating Museum" that promises to engage a wide variety of community partners.

Cheryl Pope (Spring/Summer, 2015) is deeply engaged in issues of gun violence and its impact on teens. She works with youth to develop new ways to break the silence through public events and performances that incorporate video, sculpture and installation. She will collaborate with curator Ionit Behar and young Chicago poet Shaquita Reed as a researcher and production assistant to design participatory interactions, conversations and tours that invite the public behind the scenes of performances that develop a deeper understanding of issues in order make the invisible visible.
Private Studio Artists in Residence each receive a $6,000 stipend and a dedicated studio space in an area of the Chicago Cultural Center that is not accessible to the public. Artists in Residence will have access to the studio for a period of three months during which time they will have at least three opportunities for engagement with the public.

Mahwish Chishty (Winter, 2015) trained as a miniature painter at the National College of Arts, Lahore, Pakistan. Recent trips to Pakistan have revived her interest in an unlikely pairing of two images – the omnipresent and colorful truck art and the not-so-visible presence of drones in the region. The artist plans to explore this subject matter through different materials and to expand to a larger scale.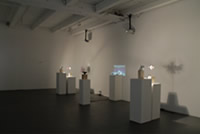 Adebukola Bodunrin (Winter, 2015) uses film, video and installation to explore the intersections of race, language, culture and media. She is fascinated with culturally shared media experiences and the way in which the moving image is intrinsically narrative. The private studio space will allow the artist to create 3D models and focus on her installations.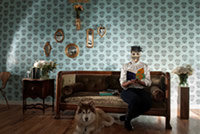 Cecil McDonald (Spring/Summer, 2015) focuses on the intersections of masculinity, familial relations and the artistic and intellectual pursuits of black culture through the lens of photography, video and performance. He is currently adjunct professor at Columbia College Chicago, and he plans to dedicate his private studio time to photographing spaces and people in the Chicago Cultural Center, collage and working on a short film.
Curatorial Fellows are awarded $2,500 to support the research and development of a curatorial project. The focus is on supporting local emerging artists and providing a platform for underrepresented artists.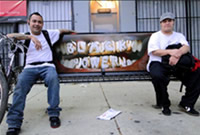 Allison Glenn is a curator, writer and Director of Monique Meloche Gallery. Her passion for developing a space for artists and ideas to thrive is evident in her work as former Program Manager and Exhibitions Curator at the Arts Incubator in Washington Park as well as in her proposal for this residency. Allison will develop a public art project in multiple locations that usurps the space of advertising and replaces it with visual images by Chicago-based artists.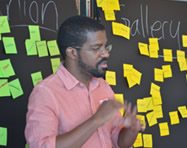 Ross Jordan is an art historian and curator with an artist's perspective. He earned dual masters in Art History, Theory and Criticism as well as in Arts Administration and Policy from The School of The Art Institute of Chicago, where he is currently a Curatorial Fellow. Jordan is interested in how artistic production and objects define or shape power. His curatorial project will invite artists to engage in the issues pertaining to the Obama Presidency and its legacy.
The 2014-2015 DCASE Studio Artist and Curatorial Residency Awards were selected by an esteemed panel of multi-talented jurors that included Tempest Hazel, Co-founder and Executive Director of Sixty Inches from Center and Arts Program Manager at the Arts Incubator in Washington Park; Regin Igloria, Director and Founder of North Branch Projects and Director of the Artists in Residence program at The Ragdale Foundation; Megha Ralapati, Residency and Special Projects Manager at the Hyde Park Art Center; Tricia Van Eck, Curator, Founder and Artistic Director of 6018North; and Ian Weaver, artist and Visiting Assistant Professor at Saint Mary's College in Notre Dame, Indiana.
Chicago Department of Cultural Affairs and Special Events
The Department of Cultural Affairs and Special Events (DCASE) is dedicated to enriching Chicago's artistic vitality and cultural vibrancy. This includes fostering the development of Chicago's non-profit arts sector, independent working artists and for-profit arts businesses; providing a framework to guide the City's future cultural and economic growth, via the 2012 Chicago Cultural Plan; marketing the City's cultural assets to a worldwide audience; and presenting high-quality, free and affordable cultural programs for residents and visitors. More information at cityofchicago.org/dcase.
The Joyce Foundation
The Joyce Foundation supports the development of policies that both improve the quality of life for people in the Great Lakes region and serve as models for the rest of the country. We focus on today's most pressing problems while also informing the public policy decisions critical to creating opportunity and achieving long-term solutions. The Culture Program focuses on strengthening and diversifying arts organizations, building capacity within the arts sector and investing in the creative capital of artists of color through the Joyce Awards, an annual competition that has spawned almost 40 new major works and aims to change the canon of art history. Learn more at joycefdn.org.
# # #
Images, from top to bottom:
Image 1: Photo of Alexandria Eregbu. Courtesy of the artist.
Image 2: Jeremiah Hulsebos-Spofford, Rendering of Floating Museum, 2014
Image 3: Image of Cheryl Pope, Too Young To Die, 2014. Courtesy of the artist and Mark Moore Gallery, Photo James Prinz Photography.
Image 4: Courtesy of the artist.
Image 5: Image of Cecil McDonald, Jr. in collaboration with Krista Franklin, My Life in the Bush of Ghosts, pigment print, 2014, 40 x 30 limited edition.
Image 6: Image of Hank Willis Thomas, Black Power, 2014, off the wall at moniquemeloche, supported by the Wicker Park Bucktown SSA #33. Courtesy of the artist and Monique Meloche Gallery, Chicago.
Image 7: Photo of Ross Jordan. Courtesy of the artist.