Clarke House Museum Mission, Purpose, and Vision
DCASE Homepage > Clarke House Museum > Mission, Purpose, and Vision
Mission
Clarke House Museum, historic home of the Henry Brown Clarke Family, seeks to engage diverse audiences by exploring family life in pre-Civil War Chicago.
Purpose
Our purpose is to inspire an appreciation for early Chicago history and architectural history, and to advance an understanding of social history through our period decorative and fine arts collection. Clarke House Museum accomplishes these goals through the continued preservation and interpretation of Clarke House (c.1836), the oldest building within the original Chicago city limits and its only surviving example of Greek Revival architecture.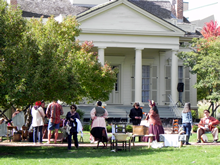 Vision
We envision a community with a deeper understanding of our national identity and early Chicago history—learned through the social and cultural life experiences of the Clarke family, the symbolism of Greek Revival architecture, and the preservation of a local landmark.