Select dates, July 4–October 1
Citywide
Free Admission
DCASE Homepage > Chicago House Music Festival > House City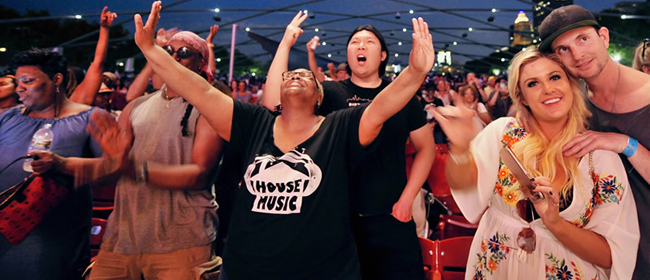 (click on image to enlarge)
House City is a new, 10-part series of free events popping-up throughout the summer in the neighborhoods that helped create the House music genre over 35 years ago.
Sunday, July 4 at Maxwell Street Market (800 S. Desplaines St.)
11am–1pm: El Caveman
1–3pm: DJ Jes
(The Market is open 9am–3pm)
Thursday, July 8 in Austin (Austin Town Hall Park, 5610 W. Lake St.) — presented as part of Taste of Chicago To-Go

3–4pm: DJ Slick Rick da Master
4–5pm: DJ Traxman x HouseofWurkz
5–6pm: DJ Deeon
6–7pm: Dance Down featuring Silent Threat, Bringing Out Talent, Aggression, Final Alert, Geek Skquad, Dance Force and DJ Corey
This Event Has Been Postponed
Friday, July 16 in North Lawndale (Nichols Tower, 906 S. Homan Ave.)
Friday, July 23 in South Shore (Stony Island Arts Bank, 6760 S. Stony Island Ave.) — presented in partnership with Stony Island Arts Bank
3–9pm: DJs Elbert Philips, Duane Powell and Lori Branch
Saturday, July 31 on the Southeast Side (91st - 90th S. Houston Ave.)
2–6pm: House Kidz, hosted by Lizzie G and featuring kid DJ Kobe One Kenobi, House Dance Lesson + more
SkyART will be handing out free art kits and facilitating art activities during the event. SkyART staff will welcome families and children to draw with different materials and also create chalk art on the pavement. SkyART's SkyWAY Program Manager and Youth Support Manager will be on hand to provide more information about our free programs and art therapy services for families, and handing out flyers and promotional materials with the art kits.
Saturday, August 14 in Humboldt Park (National Museum of Puerto Rican Arts and Culture, 3015 W. Division St.) — presented in partnership with Segundo Ruiz Belvis Cultural Center and National Museum of Puerto Rican Arts and Culture
3–9pm: DJs Lugo Rosado, DJ Phatman and Julio Bishop; hosted by Yvette Magallon
Saturday, August 28 in Englewood (Kennedy-King College, 6301 S. Halsted St.) — presented as part of the Protect Chicago Music Series

The show will be open only to Chicago residents age 18 and up who are fully vaccinated by August 14th. Register for a Ticket

Sunday, September 12 in South Shore (Rainbow Beach Park, 3111 E. 77th St.) — presented as part of Chicago SummerDance in the Parks

1–6pm: DJs Torin Edmond, Rae Chardonnay and DJ Kobe One Kenobi; hosted by Ronda Flowers & Dana Divina; dance instruction with Boogie McClarin
Sunday, September 19 in Bronzeville (Martin Luther King Dr. & 46th Place, entrance on 47th) — presented in partnership with Renaissance
12-6pm: DJs Gene Hunt, Daryll Mellowman and JStar; hosted by TheWayWeWere
Friday, October 1 in Lakeview (3737 N. Clark St.) — presented in partnership with SmartBar & Gramaphone Records
3–9pm: DJ's Derrick Carter, DJ Heather, Michael Serafini, Garrett David, Celeste Alexander, and Cratebug
Supporting Information Facts