Millennium Park — About the Artist: Jaume Plensa
DCASE Homepage > Millennium Park > Art & Architecture > Jaume Plensa
Learn about Jaume Plensa, the artist who designed Crown Fountain in Millennium Park, below.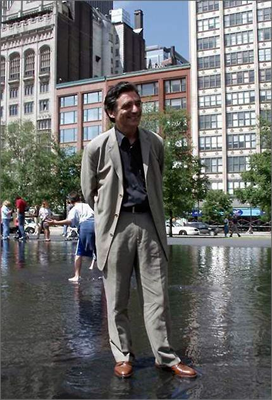 Jaume Plensa (Spain, 1955) is one of the world's foremost sculptors working in the public space, with over 30 projects spanning the globe in cities such as Chicago, Dubai, London, Liverpool, Nice, Tokyo, Toronto and Vancouver.

Over the past 25 years, the artist has produced a rich body of work in the studio and the public realm. By combining conventional sculptural materials (glass, steel, bronze, aluminum) with more unconventional media (water, light, sound, video), and frequently incorporating text, Plensa creates hybrid works of intricate energy and psychology. From his delicately textured, intimate works on paper—like his 2005-06 series of ethnographic portraits that resemble worn, 19th century photographs—to monumental outdoor sculptures like Nomade (2007) and a range of cityscape-altering public projects like the Crown Fountain in Chicago (2000-05), Plensa's work takes many forms.

Plensa's work is invested in evoking emotion and stimulating intellectual engagement. By posing conceptual dualities in his work (inside/outside, front/back, light/dark), Plensa seeks to connect with his viewers on an intuitive level. Often, the viewer participation, or the object/viewer relationship, is what completes Plensa's work.

The winner of many national and international awards, Jaume Plensa has had solo exhibitions at the Nasher Sculpture Center, Dallas; Institut Valencia d'Art Modern, Spain; the Musée Picasso, Antibes, France; the Arts Club of Chicago; Frederik Meijer Gardens and Sculpture Park, Grand Rapids, Michigan; Museo Reina Sofia, Madrid and Galerie National du Jeu de Paume, Paris among many others. He lives and works in Barcelona.

More information about Jaume Plensa.