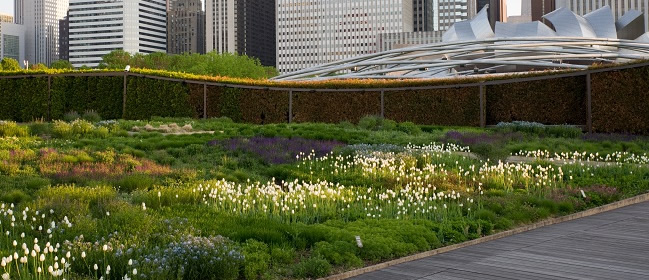 (click on images to enlarge)
Designed by Gustafson Guthrie Nichol Ltd and Piet Oudolf, this 3.5 acre garden pays homage to the City's motto, "Urbs in Horto" (City in a Garden), which refers to Chicago's transformation from its flat and marshy origins to a bold and powerful city.
Highlights of the garden include the dramatically lit, 15-foot-high "shoulder" hedge. This physical representation of Carl Sandburg's famous description of the "City of Big Shoulders" encloses the garden on two sides and protects the delicate perennial garden. A graceful hardwood footbridge over shallow water divides the garden diagonally between "light" and "dark" plates.
Visit the Lurie Garden's website for detailed information on plant life in the garden, sustainability, and garden events.
For updates, photos, free event announcements and information on responsible horticulture follow Lurie Garden on Facebook, Instagram, and Twitter. Sign up for Lurie Garden's newsletter.
Visiting and Touring the Garden
Anyone may visit the garden free of charge all year round, 6am–11pm. Check the Lurie Garden website for possible closures.

Guided walks in Lurie Garden take place each Thursday, Friday, and Sunday from May-September. Tours highlight elements of the Garden's design, its plant life and how this applies to your home garden. Check the Lurie Garden website for tour times.
Education & Events
Registration for Lurie Garden Programs is now open!

Lurie Garden's unique programs are designed to inspire individuals and families of all ages to learn about and enjoy the natural world. Throughout the year we offer interactive educational programs, presentations, lectures and tours for adults and families. Our garden is a place of exploration, learning and enjoyment through all four seasons, whatever your age or interest. Registration for events is required and space is limited. See this season's list of Lurie Garden Programs.