DCASE Homepage > Millennium Park > History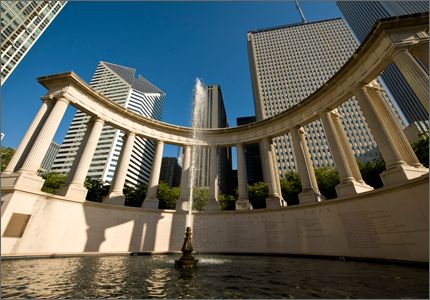 Discover Millennium Park's roots beginning with a transformation from an industrial wasteland to a world-renown public urban park.
You might never guess that Millennium Park, recipient of the 2009 Rudy Bruner Award for Urban Excellence, was once an industrial wasteland transformed into a world-class public park. In fact, from the 1850s until 1997, the land that is now occupied by Millennium Park was controlled by the Illinois Central Railroad. Visionary Chicago leader Daniel Burnham considered the railroad's control of the area to be so untouchable that he developed the Grant Park portion of his 1909 "Plan for Chicago" around it.
Thus, the area, which was covered with unsightly railroad tracks and parking lots, remained blight on Chicago's lakefront throughout the 20th century.
What is now Millennium Park was first conceived in late 1997 with
Mayor Richard M. Daley's
vision of turning the area into a new public space for residents of Chicago. The original plan called for a 16-acre park and outdoor music venue in the traditional Beaux Arts style of Grant Park. Over time, with the commitment of the private sector and the involvement of world-renowned architect
Frank Gehry
, the project evolved into an ambitious undertaking featuring a collection of world-renowned artists, architects, planners, landscape architects and designers.
Today, the 24.5-acre Millennium Park represents an unprecedented public-private partnership, and has become a thoroughly modern achievement for Chicago in the tradition of its original founders.
Learn more about Millennium Park's conversion into a state-of-the-art public space with
Chicago Public Library's
digital photography collection:
Millennium Park
.