History of the Taste of Chicago
Taste of Chicago > History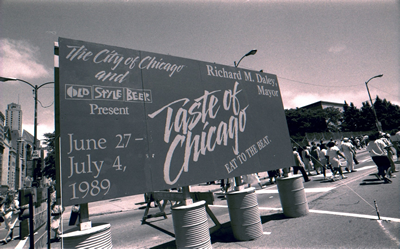 In 1980 a group of restaurateurs approached the Mayor of Chicago with the idea of a food festival on the Fourth
of July, and Taste of Chicago was born. Inspired by a "build it and they will come" attitude, a $150,000 budget, and confidence the event could attract 75,000 people, plans for the one-day food frenzy got under way. The festival was held in a three-block area of Michigan Avenue bordered by the Chicago River and the upscale stores and buildings that were then beginning to grace the Magnificent Mile; and between the architectural wonders of the Wrigley Building and Tribune Tower.
It was a huge success, (250,000 attended the first "Taste," and food and soda sales grossed $330,000).
The Site
Due to the overwhelming response from the people of Chicago, a larger space to accommodate even more people and restaurants was deemed necessary and in 1981, Taste of Chicago was moved to Grant Park (Chicago's "front yard").
Grant Park is centrally located, easily accessible to public transportation and parking, and is identifiable to citizens and visitors as the center of the Grant Park Cultural community which includes the Art Institute, Adler Planetarium and Shedd Oceanarium, Field Museum, Cultural Center, Michigan Avenue and State Street Shopping. The use of Grant Park as a venue would also afford utilization of the Petrillo Music Shell, originally designed for us by the Grant Park Symphony Orchestra. This would handily give access to a stage, dressing rooms and showers for performers, as well as seating for thousands of people.
Download a list of past Petrillo Music Festival Performers (PDF)
Photo Gallery
Description of Taste of Chicago
The Taste of Chicago that evolved from that steamy July 4th in 1980 is one of the largest tourist attractions in Illinois. This free-admission festival, now in its 36th year, is the place to be, infusing the city with a spirit and attracting lead stories each day in newspapers and on television.
It is an impressive scene. Colorfully decorated food booths surround the outside kitchens of more than three dozen restaurants from all over Chicago, which now include Pop-Ups, three booths featuring new restaurants each day, that are also new to Taste. Exotic aromas permeate the air and no visitor leaves a food booth empty handed.
Last year's "Taste" attracted more than one million visitors from all over the city, the suburbs, the Midwest and the country.
Taste underwent a major transformation in 2013 with several new areas that highlight our vast culinary community. In addition to Pop-Ups, the event features Celebrity Chef du Jour, a specially designed air-conditioned dining experience where patrons can receive a sit-down, three-course meal prepared by noted chefs such as Graham Elliot and Stephanie Izard.
The popular Bud Light Stage offers five days of top performances from up-and-coming as well as established Chicago artists.
For festival goers who want to satisfy more than their appetites, a popular attraction is the In The Kitchen with Mariano's where local chefs, guest stars and our celebrity chefs demonstrate their wares and confide the secrets of their culinary success.
A star attraction in addition to Chicago's vast culinary offerings are real stars from the music industry who perform on the main stage at the Petrillo Music Shell. Over the years the lineup has included multiple Grammy winners including such stars as Carlos Santana, Stevie Wonder and Wilco.
Summer in Chicago is built around one event each year, Taste of Chicago, and continues to capture the favorites and the future of Chicago's restaurant and dining community.
The 2020 Taste of Chicago will take place July 8–12.