DCASE Homeage > Christmas Tree Lighting Ceremony > History


Chicago's first municipal Christmas tree was lit in 1913 on Christmas Eve by Mayor Carter H. Harrison in Grant Park. The tree was a 35-foot Douglas Spruce placed on 40-foot poles and studded with smaller trees to give the appearance of a much larger tree. It was decorated with 600 multi-colored lights and topped with the Star of Bethlehem.
The first Christmas tree was a gift of an associate of Captain Herman Scheunemann and was lit in his honor. He was the captain of the Rouse Simmons, known as the "Christmas Tree Ship." The ship was lost in a storm in Lake Michigan on November 23, 1912.
In December 1956, Chicago's Christmas tree was in fact one large tree that had been created from many smaller trees. The tree was 70 feet tall, decorated with about 4,400 lights and more than 2,000 ornaments, and was located in the Grant Park tree platform at Congress Parkway and Michigan Avenue.
The Tree Lighting Ceremony was moved to Civic Center Plaza, known today as Daley
Plaza, in December 1966.
In 1982, the location was changed to State Street and Wacker Drive, but returned to Daley Plaza the following year.
In 1991, Chicago's Mayor asked the Department of Streets and Sanitation to find a large single transplantable tree to be transplanted in a city park after the holidays. The largest they could find was 35 feet tall – deemed not large enough for the plaza open space. The City of Chicago constructed a smaller version using fewer trees – a total of 17 trees standing 50 feet tall. The number of trees used to build the Chicago Christmas tree grew each year with 112 trees used in 2008 to form one large tree.
In 2009, the City of Chicago selected a single tree, the first time since 1955. The tree was donated by the Weivoda family of Palos Heights, Illinois.
In 2010, a contest was held for the first time to select a tree and a 70-foot Spruce from McHenry, Illinois was selected by residents to shine in Daley Plaza.
In 2011, Chicago's Christmas tree was a 55-foot Colorado Spruce donated by the Spangler family of Western Springs, Illinois.
A contest was not held in 2012; submissions were sent directly to DCASE. Barbara Theiszmann and three of her grandchildren from Prospect Heights, Illinois joined Mayor Emanuel on November 20 to light the tree.
On November 4, 2013, Lucy became Chicago's 100th Anniversary Christmas tree, donated by the Moore family from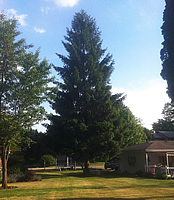 South Holland, Illinois.
The fourth time was the charm for the 57-foot Colorado blue spruce donated by Donna Atkinson from Elgin, Illinois on November 5, 2014. Donna submitted her tree for consideration the last three years before being selected this year.
Chicago's 102nd Christmas Tree was donated by the Voelker family of Northlake, Illinois. Their 63-foot Colorado Blue Spruce was selected out of 130 submissions received by the Department of Cultural Affairs and Special Events.
Chicago's 103rd Christmas Tree was donated by Scholla Family of Wauconda, Illinois, their 69 foot Norway Spruce was selected out of 120 submissions received by the Department of Cultural Affairs and Special Events. Bill Scholla, who nominated the tree, grew up on the North side of Chicago and now lives in Wauconda with his wife Margie.
Chicago's 104th Christmas Tree was donated by Darlene Dorfler of Grayslake,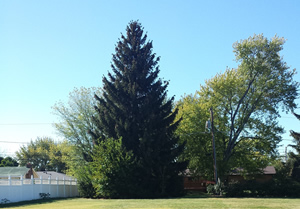 Illinois. The 62-foot Norway Spruce was selected out of 71 submissions received by the Department of Cultural Affairs and Special Events. Darlene Dorfler will join Santa Claus and other guests to light the tree at the annual ceremony.