Year of Chicago Theater Question of the Month: I love Chicago theatre because...
2019 • Citywide
Year of Chicago Theatre > Year of Chicago Theater Question of the Month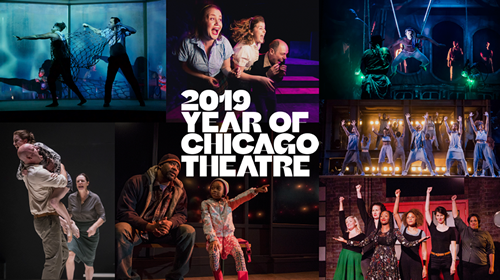 (click on image to enlarge)
The City of Chicago and the League of Chicago Theatres have designated 2019 as the Year of Chicago Theatre. This citywide, year-long focus on theatre is the first of its kind in the U.S. The initiative includes performances and special events throughout the city while also providing financial grants to theatre projects and more! To truly fall in love with Chicago, you must go to our theatres. This is where the city bares its fearless soul. From Broadway musicals to storefront plays and improv, there's a seat waiting for you at one of our 200+ theatres! To learn more about the Year of Chicago Theatre and its upcoming activities, please visit Chicago.gov/Theatre.
Tell us your thoughts about Chicago theatre right now!
Throughout the year, we'll be asking questions related to our local theatre scene, and as patrons and practitioners, you're invited to give us YOUR stories and personal reflections. We've partnered with Gather Voices, Inc. to collect short, public-generated video testimonials as part of our year-long marketing campaign. Simply follow the provided instructions below to record and upload your #ChiTheatre endorsement!
Tips for Recording
Find a place to record that is quiet without background noise and is bright with light illuminating your face.
Speak clearly & loudly.
Try as many times as you like! You'll be able to stop, watch your recorded video and try again as many times as you like before you decide to upload your video to the Gather Voices platform.
Check back in every so often! We'll be asking different questions throughout the year and would love to hear your answers to every one of them!
Supporting Information Facts