Leadership
Sandra Blakemore
Commissioner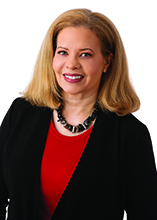 In March 2022 Sandra Blakemore was appointed Acting Commissioner of the Department of Assets, Information & Services (AIS).
Ms. Blakemore most recently worked as the Managing Deputy of AIS responsible for Finance, Energy and Procurement.
Prior to her work at the City of Chicago, she worked as a Director at ConAgra Foods with responsibilities for a $500 million portfolio of businesses. She led the financial management, marketing, and strategic planning for the portfolio.
Ms. Blakemore received her B.A. in Government from Harvard University. After graduation she was a Rotary Fellow in Queensland, Australia where she received a graduate diploma in anthropology from James Cook University. She worked in government consulting before completing her M.B.A at the University of Maryland.
Department Facts
Department: