Mayor's Community Newsletter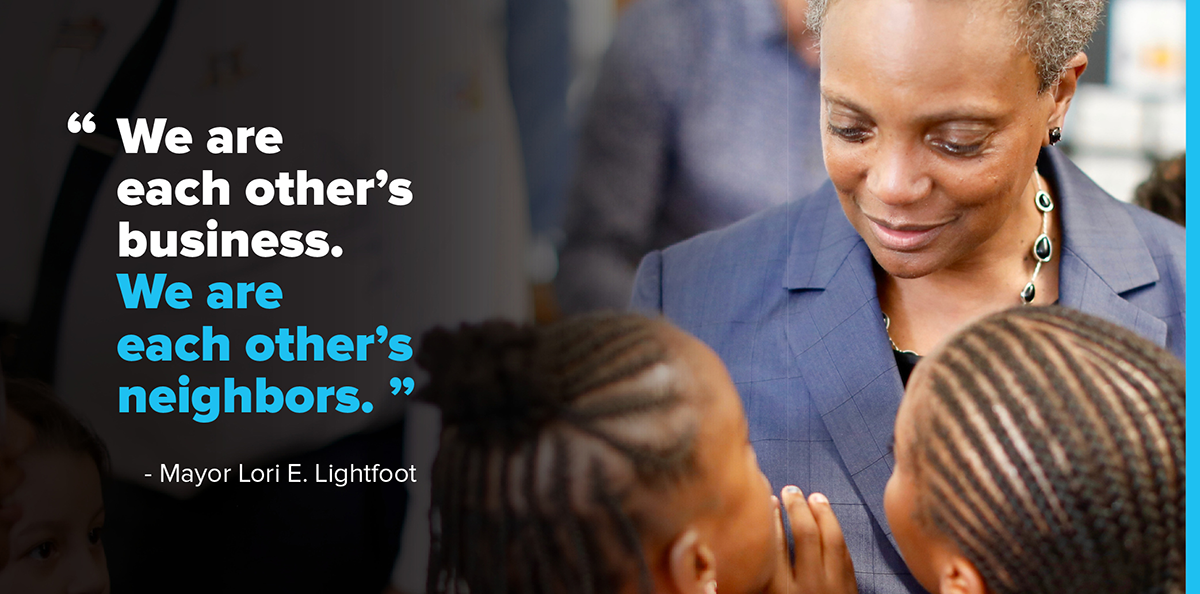 A New Start For Chicago
Tens of thousands of Chicagoans could potentially benefit from our work to tackle regressive fines and fees systems that have plagued communities for too long. Learn more about these reforms and affordable payment plans that are providing Chicago residents a "New Start" and a chance get back on the path to economic opportunity:
24-Hour Extension on Booted Cars: After a car has been booted, an individual has 24 hours to either pay in full or get on a payment plan before their car is towed.
End to Doubling of City Sticker Tickets: Previously, city sticker tickets doubled from $200 to $400 after late fees. Now, city sticker tickets will be lowered to $250 with late fees.
Reinstatement of 15-Day Grace Period for City Sticker Tickets.
No Same-Day or Consecutive-Day Ticketing for Compliance Violations: Residents will have a full day to get into compliance before they are allowed to be ticketed again.

CALL 312.744.7275 (PARK) To Take Advantage Of The Above Benefits.
Ending Driver's License Suspensions for non-moving violations.
Utility Billing Relief: Eligible customers can receive a 50% reduction on their water, sewer and water-sewer tax bills, and those in compliance for one full year will be granted forgiveness for previously incurred debts. Applications will be accepted starting March 1.
To receive updates, text WATERBILL to 313131.
Libraries go Fine Free, and Open on Sundays…so come back to the Library today!
Learn more at www.chicago.gov/newstartchicago.
Recreational Cannabis
Adult-use recreational cannabis is now legal throughout Illinois, and residents 21 and older can purchase it at State-licensed dispensaries throughout Chicago. Here are some tips and facts about cannabis in Chicago:
Consumption and Possession: Cannabis can only be consumed on private property, subject to the discretion of the property owner.
Starting a Cannabis-Related Business: While applications for cannabis dispensing organizations are currently closed, visit the Illinois Department of Financial and Professional Regulation (IDFPR) to apply for a business license - ranging from cultivation centers to dispensing organizations.
Health and Safety Tips: Through the City's new public service awareness campaign, Cannabis Facts Chicago, residents can learn about the potential impact of recreational cannabis as well as tips for adults on how to consume cannabis safely if they choose to do so.
Enforcement: Reformed enforcement policies will ensure public safety while reducing penalties and fines and decriminalizing unlawful possession. The Chicago Police Department has conducted citywide training to ensure officers are equipped to use discretion in enforcing new statewide laws.
Learn more about the legalization of cannabis at www.chicago.gov/cannabis.


Invest South/West
INVEST South/West is an unprecedented community engagement and economic development initiative that will marshal the resources of City departments, community organizations and corporate partners, and align $750 million in public funding as well as additional private funds toward 10 neighborhoods on Chicago's South and West Sides – Austin, Auburn Gresham, Englewood, Humboldt Park, Quad Communities, North Lawndale, New City, Roseland, South Chicago and South Shore.
JOIN US at our last community event in 2020 to learn more about how INVEST South/West will work in and with neighborhoods:
Roseland
Friday, January 31, 2020
5 pm - 8 pm
Pullman Community Center
10355 S. Woodlawn Ave.
Learn more INVEST South/West by visiting www.chicago.gov/investsw.
Census 2020
Chicago is ready for Census 2020! On April 1, all Chicagoans will have the ability to make themselves and their communities count by filling out the census online, via phone, or through the mail. Your information is safe, and answering the census will help bring needed social services - like pre-k resources, neighborhood investments and health programs - to your community. Residents can get prepared by:
Following us on social media (@chicounts2020);
Visiting our community calendar on chicago.gov; and
Emailing census@cityofchicago.org to get involved.
Community organizations interested in applying for the city's community grant should visit census2020.chicago.gov for more information.
ACT With Support of Immigrants
Chicago prides itself on being a welcoming city for all immigrants and refugees. On January 15, Chicago City Council passed the Accountability on Communications and Transparency (ACT) Ordinance, which expands protections available to our immigrant neighbors by:
Prohibiting Chicago Police from collaborating with ICE in any type of immigration enforcement;
Creating more welcoming and protective policies throughout city departments; and
Increasing resources and information available to immigrants living in the city.
Learn more about immigrant rights and resources by visiting www.chicago.gov/newamericans.
Local School Council Elections
In Chicago, Local School Councils (LSCs) serve as the policy-making bodies of each district-managed school in Chicago Public Schools (CPS). Comprising parent, community, education, and student members; LSCs give stakeholders an opportunity to make important decisions about how students in their communities will be educated. Want to get involved? Consider running in your area school's LSC election:
The application window to become a candidate runs until March 2020.
Candidates must complete an application and submit two forms of identification to the CPS Office of Local School Council Relations at 2651 W. Washington Blvd. by February 25, 2020, or to the school for which they intend to run as a candidate by March 5, 2020.
Learn more at cps.edu/lsc.
We want to hear from you about what is happening in your communities! Send us your thoughts, feedback, and questions at communityengagement@cityofchicago.org.