In the wake of Hurricanes Harvey, Irma and Maria and earthquakes in Mexico City, our thoughts are with the victims and families affected by natural disasters. The City of Chicago has offered its support to the impacted regions and is providing resources as needed. Mayor Emanuel encourages Chicagoans to consider supporting organizations assisting with relief efforts and the long recovery ahead in Texas, Florida, Puerto Rico, Mexico, the U.S. Virgin Islands and other affected areas.
Donating in Emergencies
According to FEMA, cash donations are preferred to allow organizations the most flexibility to address needs on the ground. Please do not donate unsolicited goods such as used clothing, miscellaneous household items, medicine, or perishable foodstuffs at this time. If you choose to donate, be sure to contribute funds through a trusted, legitimate organization and website. Check Charity Navigator to determine the best organizations to donate to.
Here is a list of verified charities and organizations assisting with relief efforts where you can donate or volunteer:
Hurricane Maria in Puerto Rico

Earthquake in Mexico
Hurricane Harvey
Hurricane Irma
Volunteering in Emergencies
Volunteers should not self-deploy at this time as this will create an additional burden for first responders. To ensure volunteer safety and the safety of disaster survivors, volunteers should only go to affected areas with a specific volunteer assignment, proper safety gear, and valid identification.
To search for volunteer opportunities, visit National Voluntary Organizations Active in Disaster (NVOAD).
Chicago-Based Efforts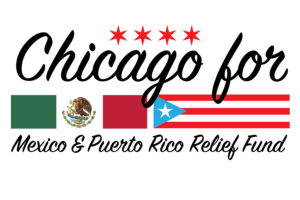 The Puerto Rican Arts Alliance and National Museum of Mexican Art Relief Fund is accepting donations for emergencies in Puerto Rico and Mexico.
The Puerto Rican Agenda of Chicago launched a fundraising campaign, Pallets and Planes, to provide immediate relief to those affected by Hurricane Maria in Puerto Rico with a successful benefit show on Friday, September 22 at Segundo Ruiz Belvis Cultural Center raising nearly $70,000. After sending two planeloads of supplies five days after the hurricane devastated the island, the Puerto Rican Agenda shifted strategy to mobilize resources for purchasing pallets directly on the island to stimulate the local economy and to issue micro-grants to non-profits and municipalities for the rebuilding efforts. The shift in strategy is reflected in the updated campaign name, 3Rs Initiative: Rescue, Relief and Rebuild.
Puerto Rico Rising is working with the Puerto Rico Federal Affairs Administration to coordinate relief efforts. Donate monetary funds here.
Humboldt Park Field House Hurricane Resource Center
The City of Chicago opened a Hurricane Resource Center at the Humboldt Park Fieldhouse (1400 N. Sacramento) on Thursday, November 2nd and has provided essential services to evacuees arriving to Chicago. Services are available every Tuesday through February 27th from 10:00am to 2:00pm. When the Center is closed, evacuees can still access services by calling 311 and / or walk-in at the Trina Davila City Service Center at 4312 West North Ave Monday – Friday from 9:00am – 5:00pm.
City of Chicago Virtual Resource Center
In February, the City of Chicago launched a Virtual Resource Center for evacuees from Puerto Rico. The purpose of the Virtual Resource Center is to ensure anyone coming to Chicago can access services similar to those available at the Resource Center which is open every Tuesday through February 27th from 10:00am – 2:00pm. The information below includes links for access to the map and it is available in English and Spanish.
Reunification
If you are searching for family members or checking on the welfare of relatives in Mexico or Puerto Rico, here are several resources:
In Puerto Rico, emergency management officials recommend:
Only send one email due to high volume. Include your contact info and as many details about your family member or friend as possible.
You can also call the Puerto Rico Washington D.C. Office at 202-800-3133 or 202-778-0710. Staffers are gathering contact information and working to connect with those who remain unreachable or missing as the island begins to recover.
Learn more about the City of Chicago's Office of Emergency Management and Communications.