Welcome to the City of Chicago's one stop shop for information on plug-in electric vehicles!

What are plug-in electric vehicles?
Plug-in electric vehicles (PEVs) are motor vehicles that are powered either entirely or partially by rechargeable batteries. These batteries are recharged when connected to the electric grid, meaning you can charge your car from the comfort of your own home! Depending on the charging station, a full charge can take anywhere from 18 hours to only 30 minutes. When fully charged, a PEV is more than capable of making the average Chicagoan's 22 mile daily commute.

Economic and environmental impacts:
When it comes to fueling cost, PEVs save you money. If you drive 12,000 miles a year, the cost to fuel a PEV is $1,600 less than fueling a gas powered car1 . To calculate annual savings on fuel costs and environmental impacts, try the Electric Drive Cost Calculator. There are also federal and state incentives to make the charger installation process more affordable.
PEVs do not only benefit the driver but also the surrounding community. Being powered by electricity rather than gasoline, PEVs low-emission levels reduce pollution by nearly 75%. This has profound impacts on air quality and human health by limiting respiratory ailments. This is the next step in making Chicago a more sustainable city to live and work.

How to install a charging station:
For single family homes (installations under 400 amps), a licensed electrician can file for the permit online through the Department of Buildings Easy Permit Process and get approved in just one day.
For multi-unit building owner, manager, or tenants, the City has an easy-to-understand set of guidelines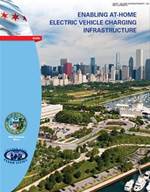 Click on the image to download.
The City also has 2 page quick reference guides specifically for building managers and residents. Click the links below:
Your property (building manager)
Your apartment or condo (tenant)
1 This was found by subtracting the cost of charging a PEV using Level 1 charging at off-peak (at 7₵ per kWh) from the cost for fueling a gas-powered car traveling at 25 miles per gallon (at $4 per gallon).
Locate the closest public charging station to you at: https://chicagocleancities.org/resources-2/station-locator/
Other resources: