Chicago COVID Contact Tracing Corps
Mayor Lori E. Lightfoot and the Chicago Department of Public Health (CDPH) have awarded a $56 million grant to Chicago Cook Workforce Partnership, in collaboration with the University of Illinois at Chicago School of Public Health, NORC at the University of Chicago, Malcolm X College – one of the City Colleges of Chicago – and Sinai Urban Health Institute, to carry out contact tracing services in Chicago, with efforts based out of communities most impacted by the COVID-19 pandemic. These organizations will lead a health-equity based approach to further contain the spread of COVID-19, which will include disbursing 85% of the total grant funding to community organizations in areas of high economic hardship to train and certify a 600-person workforce that will support contact tracing. The 600 newly created jobs will be hired directly from the communities of high economic hardship that have been impacted by COVID-19.

This work will address three goals:
Prevent and mitigate community transmission of COVID-19.
Provide "Earn-as-You-Learn" opportunities for community-based workforce to promote career pathways and long-term sustainable growth.
Invest in our community areas experiencing economic hardship to promote economic recovery by giving our residents the opportunity to invest in themselves and their own skills for a long-term career in health care.
OPPORTUNITIES FOR COMMUNITY-BASED ORGANIZATION
---
As required in CDPH's grant, the Chicago Cook Workforce Partnership will sub-grant 85% of the total funding for the COVID Contact Tracing Corp to community-based organizations (CBOs) which will then recruit and hire individuals who have historically faced barriers to employment. These CBOs will support the contact tracers not only to successfully complete their mission while earning a living wage, but also to pursue continuing education, allowing them to improve their skills and exit the COVID-19 crisis with more marketable skills and connections to upwardly mobile, thriving wage jobs.
The Chicago Cook Workforce Partnership is preparing to launch a second competitive bid process that will invite applications to participate in the contact tracing program.
One of the goals of this project is to build capacity within community-based organizations to support public health. In effort to support this capacity building, the City has partnered with the Chicagoland Workforce Funders Alliance to provide technical assistance consulting for community-based organizations which are applying for this competitive process. AMPT:
Advancing Nonprofits, a new initiative to that will offer capacity building support to non-profits in under-resourced communities, will offer one-on-one technical assistance sessions with community-based organizations interested in applying for this opportunity.
If your community based organization is interested in participating in the second round application, and/or receiving technical assistance to support that application, please email coronavirus@chicago.gov with the following information:
The name of your organization
The name of your organization's point of contact
Contact information for that person (email and phone number)
A statement of your organization's interest in this opportunity
List of the Community Areas your organization currently services
The City will share this information with AMPT and the Chicago Cook Workforce Partnership to reach out to interested organizations.
The Chicago Cook Workforce Partnership (The Partnership) is issuing a Request for Proposals (RFP) for at least 20–23 non-profit community-based organizations (CBOs) to serve as local employers of the City of Chicago COVID-19 Contact Tracing Corps.
This is the second of two RFPs released under the Chicago Contact Tracing Corps grant program.
This RFP is open to all community-based organizations (CBOs).
For purposes of this solicitation: a community-based organization is defined as a non-clinical/medical, not-for-profit organization that has demonstrated service delivery to specific populations and/or community areas. Service delivery includes programming driven by an understanding of, or directed by, community voice.
A note to small and mid-sized CBOs that are new to this type of RFP: AMPT: Advancing Nonprofits has resources to help you determine whether this funding opportunity is a good fit for your organization. You can learn more at http://amptchicago.org/programs/chicago-covid-contact-tracing-corps-rfp/.
Links to attachments are below:
Applications are due 8/17/2020 by 4PM
Individuals interested in employment as Contact Tracers, Resource Coordinators, or Supervisors for this project are encouraged to go to chitracing.org to provide their information. This site is available in Spanish and English.
Contact tracing is a procedure that has been widely used in public health to prevent the spread of communicable disease. It involves interviewing a person who has tested positive for the disease (the "index patient") to create a list of others who may have been exposed. For COVID-19, this means people with whom the index patient was in close contact (within 6 feet) for more than 15 minutes, starting from 48 hours before illness onset. Once the list of contacts is established, contact tracers reach out to warn contacts of their exposure, link them to testing, and provide guidance on isolation. Contact tracers interview contacts to determine if they will need supportive services during their isolation, and link them to resources. Lastly, contacts are monitored for symptoms until 14 days from the last date of exposure.
COMMITMENT TO RACIAL AND HEALTH EQUITY
---
The City of Chicago is committed to racial and health equity. Key provisions in this grant ensure this investment supports access to opportunity and addresses historic barriers to participation.
Applicants for the lead agency have to be located in the City of Chicago, and must answer several questions addressing the applicant's experience and success in promoting equity. These questions ask applicants to detail how their agency has worked to dismantle policies and practices that compromise the wellbeing of communities of color; how the agency includes people of color in the decision-making; how many of the organization's employees live in the prioritized community areas, and other equity-focused questions.
The winning lead agency will be required to publish aggregate, anonymized information on the employees hired, including race, ethnicity and community area of residence.
The lead agency will prioritize making sub-grants to organizations that are located in, or primarily serve residents of the prioritized community areas. Hiring of individuals for the COVID Contact Tracing Corps will prioritize those who are residents of high hardship community areas, are returning citizens or have historic involvement in the justice system, and/or have demonstrated barriers to employment including disability, housing and food and healthcare insecurity.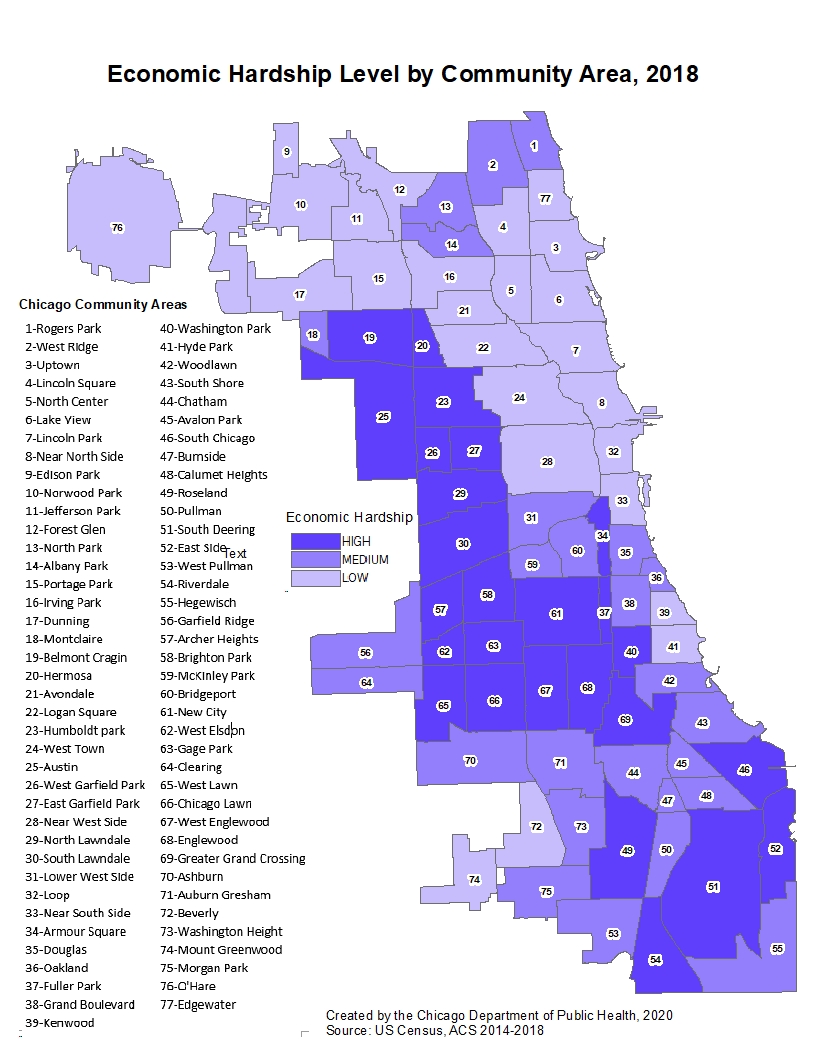 The Economic Hardship Index is a score that incorporates each of the following six socioeconomic indicators:
Unemployment, defined as the percent of the civilian population over the age of 16 who were unemployed;
Dependency, the percentage of the population that are under the age of 18 or over the age of 64;
Education, the percentage of the population over the age of 25 who have less than a high school education;
Income, the level of household income per person;
Crowded Housing, measured by the percent of occupied housing units with more than one person per room; and
Poverty, the percent of people living below the federal poverty level.
The Index is calculated according to the method described in An Update on Urban Hardship.