Chicago COVID Contact Tracing Corps
Mayor Lori E. Lightfoot and the Chicago Department of Public Health (CDPH) have awarded a $56 million grant to Chicago Cook Workforce Partnership, in collaboration with the University of Illinois at Chicago School of Public Health, NORC at the University of Chicago, Malcolm X College – one of the City Colleges of Chicago – and Sinai Urban Health Institute, to carry out contact tracing services in Chicago, with efforts based out of communities most impacted by the COVID-19 pandemic. These organizations will lead a health-equity based approach to further contain the spread of COVID-19, which will include disbursing 85% of the total grant funding to salaries and benefits for Contact Tracers and Resource Coordinators. Community Based Organizations in areas of high economic hardship have been sub-granted to train and certify a 600-person workforce that will support contact tracing and resource coordination. The 600 newly created jobs (450 Contact Tracers, 30 Contact Tracing Supervisors, 90 Resource Coordinators, and 30 Resource Coordination Supervisors) will be hired directly from the communities of high economic hardship that have been impacted by COVID-19.

This work will address three goals:
Prevent and mitigate community transmission of COVID-19.
Provide "Earn-as-You-Learn" opportunities for community-based workforce to promote career pathways and long-term sustainable growth.
Invest in our community areas experiencing economic hardship to promote economic recovery by giving our residents the opportunity to invest in themselves and their own skills for a long-term career in health care.
EMPLOYMENT OP​PORTUNITIES
---
The positive response to the contract tracer, resource coordinator, and supervisor opportunities has been remarkable, with over 20,000 inquiries – far exceeding the number of positions available. Therefore, at this time, the program is no longer accepting applicant information. If you are interested in receiving regular communications about job opportunities from the Chicago Cook Workforce Partnership, such as informational emails and newsletters about the services and programs we provide, please sign up here: chitracing.org. Additionally, visit https://chicookworks.org for more information about additional job training and employment opportunities Available through the Chicago Cook Workforce Partnership.
OPPORTUNITIES FOR COMMUNITY-BASED ORGANIZATION
---
As required in CDPH's grant, the Chicago Cook Workforce Partnership will sub-grant 85% of the total funding for the COVID Contact Tracing Corp and Resource Coordination to support salaries and benefits of Contact Tracers and Contact Tracing Supervisors, Resource Coordinators, and Resource Coordination Supervisors. Community-based organizations (CBOs) which will recruit and hire individuals who have historically faced barriers to employment as Contact Tracers and Contact Tracing Supervisors. These CBOs will support the contact tracers not only to successfully complete their mission while earning a living wage, but also to pursue continuing education, allowing them to improve their skills and exit the COVID-19 crisis with more marketable skills and connections to upwardly mobile, thriving wage jobs.
The Chicago Cook Workforce Partnership (The Partnership) has sub-granted a total of 31 CBOs to serve as local employers of the City of Chicago COVID-19 Contact Tracing Corps.
Selected Community Based Organizations
Ada S. McKinley Community Services, Inc.

Lawrence Hall

Back of the Yards Neighborhood Council

Leave No Veteran Behind

Breakthrough Urban Ministries Inc

Metropolitan Family Services

Brothers Health Collective

National Able Network

Calumet Area Industrial Commission

New Pisgah Community Service Organization

Centers for New Horizons

North Lawndale Employment Network

Central States SER

Phalanx Family Services

Community Assistance Programs

Puerto Rican Cultural Center

Envision Community Services, Inc.

Safer Foundation

Goodwill Industries of Metropolitan Chicago

SGA Youth and Family Services

Greater West Town Community Development Project

South Side Help Center

Habilitative Systems, Inc.

Southwest Organizing Project (SWOP)

Instituto del Progreso Latino/
Institute for Latino Progress

St. Sabina Employment Resource Center

KLEO Community Family Center

The Resurrection Project

Latino Resource Institute of IL

Westside Health Authority

YWCA of Metropolitan Chicago

Contact tracing is a procedure that has been widely used in public health to prevent the spread of communicable disease. It involves interviewing a person who has tested positive for the disease (the "index patient") to create a list of others who may have been exposed. For COVID-19, this means people with whom the index patient was in close contact (within 6 feet) for more than 15 minutes, starting from 48 hours before illness onset. Once the list of contacts is established, contact tracers reach out to warn contacts of their exposure, link them to testing, and provide guidance on isolation. Contact tracers interview contacts to determine if they will need supportive services during their isolation and link them to resources. Lastly, contacts are monitored for symptoms until 14 days from the last date of exposure.
CDPH has been conducting contact tracing throughout the pandemic and it is critical to helping slow transmission of COVID-19 in our communities. Beyond the Corps and our ongoing governmental public health contact tracing model, CDPH is also partnering with external healthcare facilities to roll out their own contact tracing programs. CDPH is allocating $14 million across three different types of healthcare facilities in Chicago to do this work: Federally Qualified Health Centers (FQHCs), the Ambulatory and Community Health Network (ACHN) Clinics of Cook County located in the City of Chicago, and hospitals.
COMMITMENT TO RACIAL AND HEALTH EQUITY
---
The City of Chicago is committed to racial and health equity. Key provisions in this grant ensure this investment supports access to opportunity and addresses historic barriers to participation.
Applicants for the lead agency had to be located in the City of Chicago, and were required to answer several questions addressing the applicant's experience and success in promoting equity. These questions ask applicants to detail how their agency has worked to dismantle policies and practices that compromise the wellbeing of communities of color; how the agency includes people of color in the decision-making; how many of the organization's employees live in the prioritized community areas, and other equity-focused questions.
The Chicago Cook Workforce Partnership (The Partnership), as the awarded Lead Coordinating Organization, is required to publish aggregate, anonymized information on the employees hired, including race, ethnicity and community area of residence.
The Partnership has prioritized sub-granting to organizations that are located in, or primarily serve residents of the prioritized community areas. Hiring of individuals for the COVID Contact Tracing Corps will prioritize those who are residents of high hardship community areas, are returning
citizens or have historic involvement in the justice system, and/or have demonstrated barriers to employment including disability, housing and food and healthcare insecurity.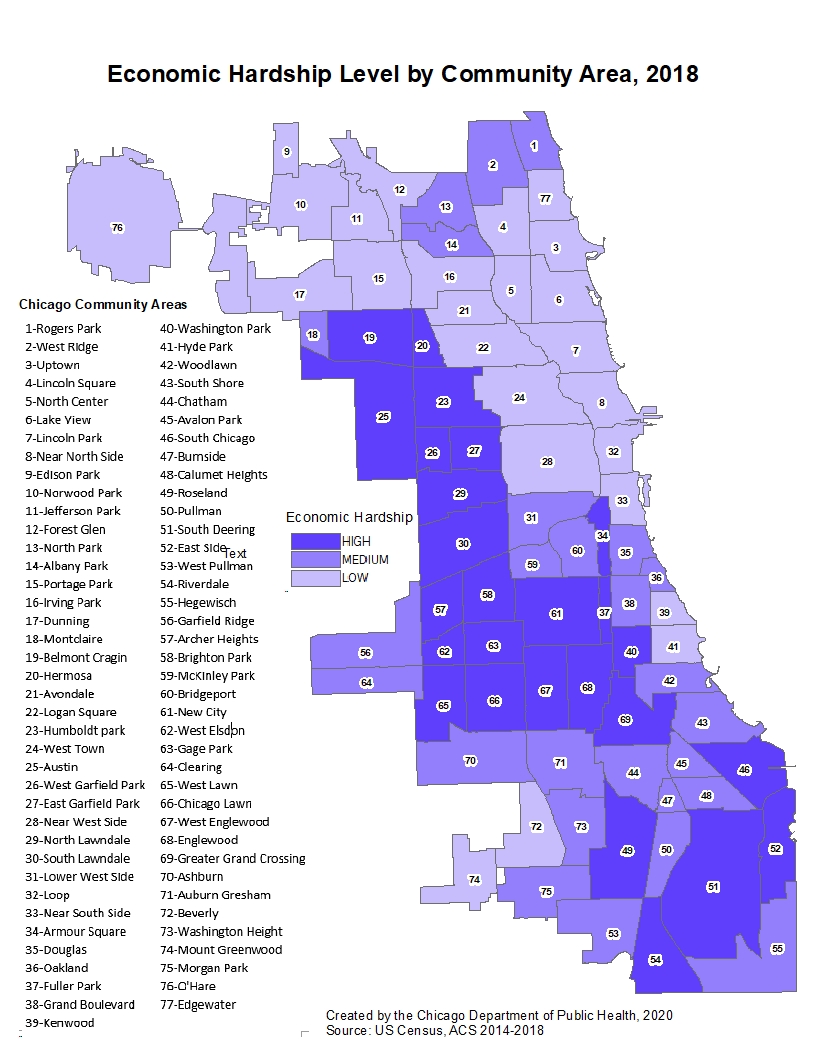 The Economic Hardship Index is a score that incorporates each of the following six socioeconomic indicators:
Unemployment, defined as the percent of the civilian population over the age of 16 who were unemployed;
Dependency, the percentage of the population that are under the age of 18 or over the age of 64;
Education, the percentage of the population over the age of 25 who have less than a high school education;
Income, the level of household income per person;
Crowded Housing, measured by the percent of occupied housing units with more than one person per room; and
Poverty, the percent of people living below the federal poverty level.
The Index is calculated according to the method described in An Update on Urban Hardship.