Going Home With Baby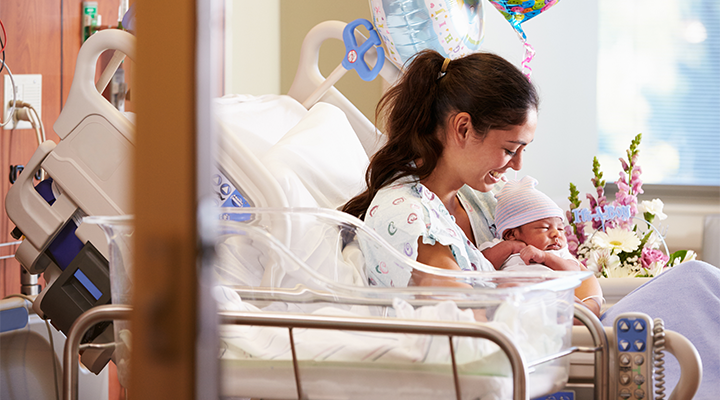 Bringing your baby home from the hospital is such an exciting time, but it also comes with many questions. Here's what you should know first.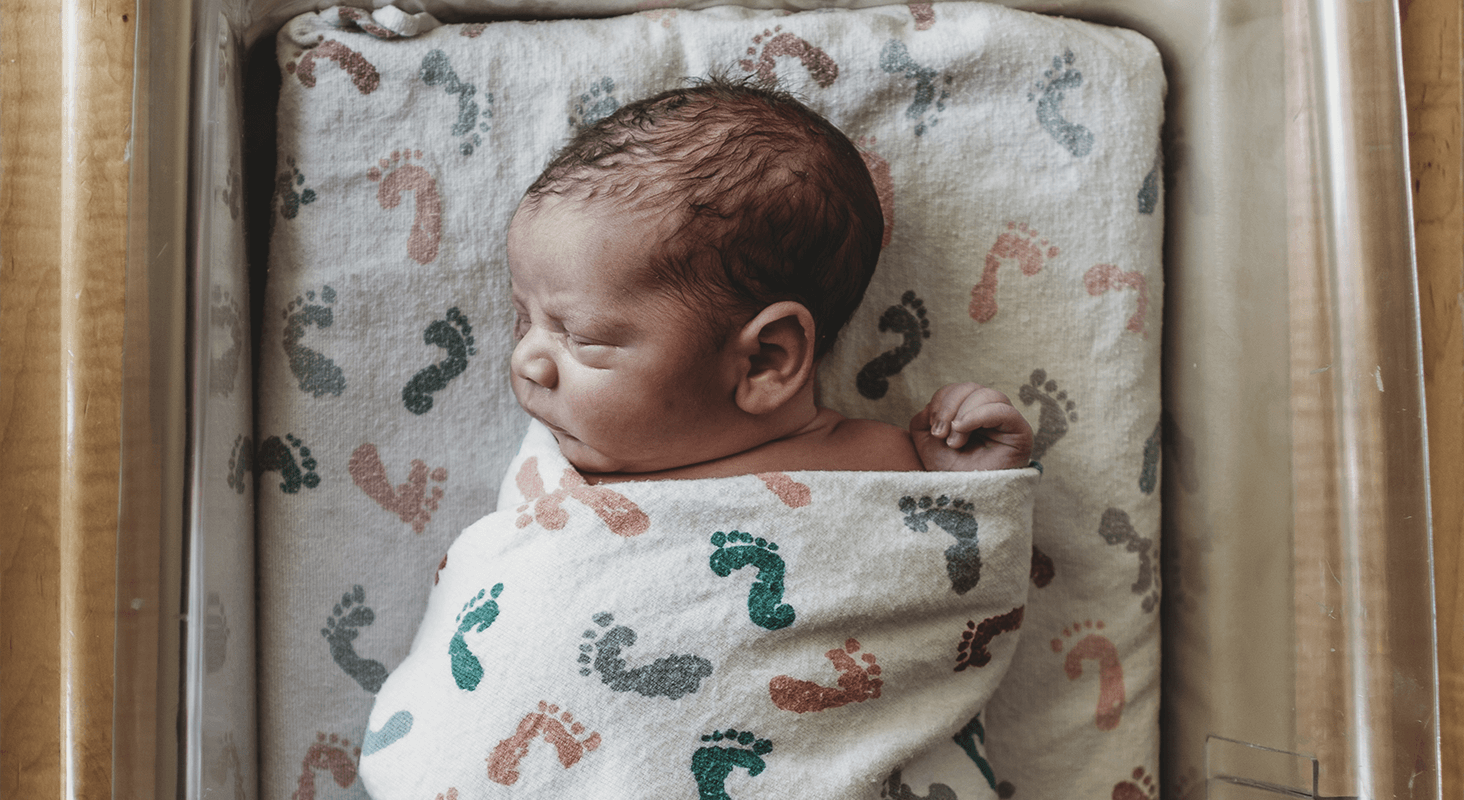 What happened in the newborn nursery?
---
After your baby is born, doctors immediately begin screening them for any health issues. You may not be there for all of these tests, but you will be given a record of them. If you have any questions, you can ask any of the doctors you see during your hospital stay, or you can contact your baby's doctor.
These are the standard newborn tests and shots:
NEWBORN SCREEN

Every newborn is tested for a group of diseases that may not have symptoms right away. With a few drops of blood taken from the heel, doctors can check for rare conditions that can cause serious health problems. Newborn screening lets doctors diagnose babies quickly and start treatment as soon as possible. This screen is done after your baby is 24 hours old and the results typically come back within one or two months—sooner if something is abnormal. You will get a call from the newborn nursery if your baby's screen is abnormal, and your baby's doctor will also get these results.
HEARING SCREEN

Every newborn has a hearing test because we want to detect hearing loss as soon as possible to start treatment. This test is very simple and completely painless to your baby. Special headphones on the baby's ears measure how they hear sound. The hospital will give you the results on a hearing certificate that you should keep for your records. If your baby does not pass, your pediatrician will be able to order a repeat hearing test.
CARDIAC SCREEN

Babies with heart problems may have low blood oxygen levels; and sometimes that is the only sign they have a heart problem. To check for this, doctors put a painless sensor on your baby's hand or foot to measure the oxygen level in their blood. This can diagnose babies that may have Critical Congenital Heart Disease (CCHD) and make sure they get the best treatment. Do you have any questions about the tests and screens your baby received in the hospital? Your baby's doctor will be happy to answer them.
BILIRUBIN

We all have bilirubin in our blood, but too much can be harmful. Before birth, a mother's liver removes bilirubin from a baby's blood. When a baby is born, the baby's liver takes over, but it can take a few days before it adjusts to removing bilirubin. Many babies develop jaundice (a yellow color of their skin from too much bilirubin) during this time. This usually does not require treatment and goes away when the baby's liver gets better at removing bilirubin. But too much bilirubin in the blood can be harmful to a baby's brain, so doctors measure your baby's levels with a skin test or a few drops of blood from the heel. Your doctor will determine if your baby's bilirubin level is in the normal range. Some babies will need to have their bilirubin level tested again after they go home.
HEPATITIS B VACCINE

Hepatitis B is a virus that can cause severe liver disease and cancer. It is important that babies get the Hepatitis B vaccine to protect them against this infection. Most babies have no side effects to the vaccine, but some will experience soreness in the thigh where the shot is given.
VITAMIN K SHOT

Vitamin K helps your body form clots to stop bleeding. Babies are born with very little vitamin K stored in their bodies, and breast milk has very little vitamin K. Without enough vitamin K, babies can bleed into their intestines or brain where parents can't see the bleeding to know that something is wrong. A vitamin K shot is the best way to make sure all babies have enough vitamin K to prevent dangerous bleeds.
ERYTHROMYCIN EYE OINTMENT

Erythromycin eye ointment is given to all babies after they are born to help prevent a serious infection that can lead to blindness.
TO KEEP IN MIND
You will get records of all of the tests, screens, and vaccines your newborn received in the hospital. It can be helpful to keep all of these in one place for future doctor appointments.
What will we need at home?
---
When it's time to leave the hospital, you will want to make sure you have all of the essentials for caring for your newborn. There are a lot of baby products out there, and it can be overwhelming trying to figure out what you need and what you don't. Below is a list to help. And, before you buy something new, talk to your friends and family. They might already have a lot of these items that they can share with you.
Everyday Essentials
---

DIAPERS
A newborn will go through about 10 diapers a day.

BABY WIPES
For diaper changes, there are many brands of disposable wipes, or you can try reusable ones.

DIAPER CREAM FOR RASHES

A CHANGING PAD OR WASHABLE TOWEL/ BLANKET
There's no need to buy a changing table. You can change your baby's diapers on a bed, dresser, or tabletop.

CLOTHING
Several one-piece outfits made of breathable fabric, such as cotton. Make sure you have enough outfits for several spit up and diaper leak instances each day.

BIBS AND BURP CLOTHS
Dishtowels will work, too.

BREAST PUMP AND MILK AT LEAST ONE BABY BOTTLE STORAGE CONTAINERS
Many breast pumps are covered by insurance.

NIPPLE CREAM

AT LEAST ONE BABY BOTTLE

NEWBORN BABY FORMULA
For babies who are not exclusively breastfed.

A BLANKET OR PLAY MAT
To put on the floor for tummy time.
Sleep Essentials
---

A SAFE PLACE TO SLEEP
This can be a bassinet, crib, or playpen.
Many babies like to be swaddled. You can use a light blanket or buy a swaddle for newborns. Nurses can teach you how to swaddle when you're in the hospital, and there are many video tutorials online.
Your baby must sleep alone, with nothing else in their sleep area—no pillows, loose blankets, stuffed animals, bumpers, etc.
TO KEEP IN MIND
Is there anyone in your life who could give you advice about baby products or who might let you try out the products they use?
Outdoor Items
---

A BABY CARRIER OR STROLLER

AT LEAST ONE OUTFIT FOR COLD WEATHER
This should include a jacket, a hat, and warm pants or a snowsuit.

A LARGE BAG OR BACKPACK
Make sure it's big enough to carry diapers, an extra change of clothes, bottles, and any other items your baby needs.
Bathtime
---

A BABY BATHTUB
These can make bathtime easier. Never walk away from your baby during bath time, even for a minute.

A TOWEL
You can use a baby-size towel or one of yours.

WASHCLOTHS FOR CLEANING BABY

GENTLE, FRAGRANCE-FREE SOAP OR SHAMPOO
Health Necessities
---

A RECTAL THERMOMETER AND WATER-BASED LUBRICANT

SMALL NAIL CLIPPERS OR NAIL SCISSORS

NOSE CARE
"Nasal saline" (salt water spray or drops) and a "nose bulb" or other nasal suction device to help clear a stuffy nose.
Storage
---

CLOTHING STORAGE
"Nasal saline" (salt water spray or drops) and a "nose bulb" or other nasal suction device to help clear a stuffy nose.
Car Safety
---

CAR SEAT
An infant-sized or convertible car seat. Parents and/or caretakers can call their local district police station or call "311" to locate their neighborhood police district CAPS office to schedule an appointment to have their child safety seat inspected. They will also ensure the installation is correct and the infant is safely secured.
TO KEEP IN MIND
Is there anyone in your life who could give you advice about baby products or who might let you try out the products they use?