MEDIA
The Retrofit Chicago Energy Challenge has been featured in local, national, and international media.
RETROFIT CHICAGO ENGINEER ROUNDTABLES PROVIDE CRITICAL PEER-TO-PEER LEARNING OPPORTUNITIES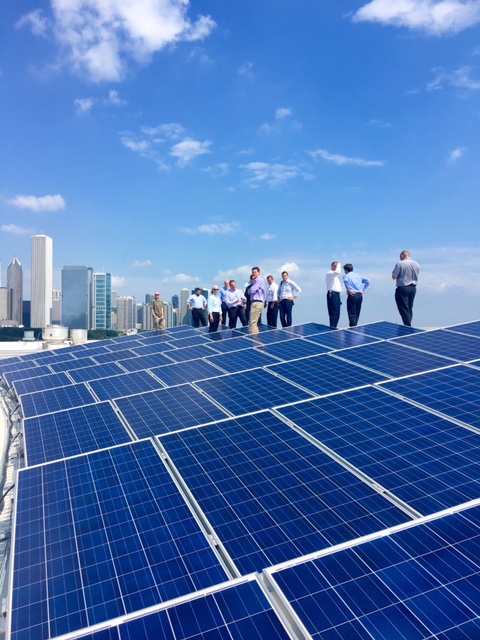 Beginning in 2015, the Retrofit Chicago Energy Challenge has convened periodic Engineer Roundtables at participating Energy Challenge properties. The goal of the Roundtables is to share best practices for energy efficiency amongst operating engineers, as well as with property managers.

Most Roundtables include a short summary of ways that the host property team has started to address energy improvements, along with a facility tour to view any upgraded equipment, controls, energy management platforms, etc. All attendees are also encouraged to discuss their experiences with implementing recent energy efficiency improvements, and to gain feedback from their peers on additional approaches and technologies that may be appropriate for their facilities. Representatives from the local utilities are often available to answer questions about current rebate and incentive offerings for energy efficiency upgrades.
Some of the recent Engineer Roundtables have been held at Navy Pier, the Shedd Aquarium, 224 South Michigan, the Wrigley Building and the Hyatt Center.
The Retrofit Chicago Energy Challenge appreciates the property teams that have hosted previous Roundtables. The Energy Challenge team is also grateful for the contributions of our partners, including the Environmental Defense Fund and Commonwealth Edison, in providing support for the Engineer Roundtables.
To learn more about the Engineer Roundtables, or if you are a Retrofit Chicago Energy Challenge member and would like to host a future Engineer Roundtable, please send an email to: Info@RetrofitChicago.net