PARTICIPANTS
In the 19th century, Chicago built the world's first modern skyscraper. In the 20th century, we created a world-renowned skyline. And today, Chicago aspires to make that skyline the most efficient on the planet.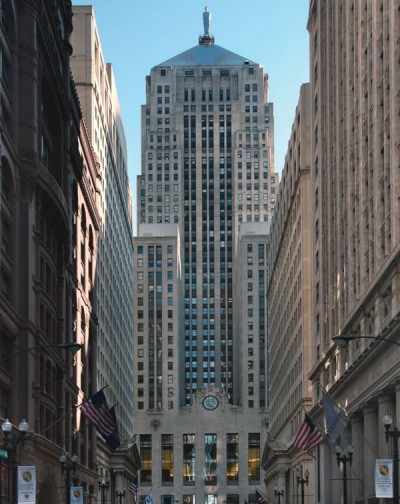 Chicago Board of Trade Building™
Address
141 West Jackson Boulevard
Neighborhood
Loop
Owner
Chicago BT Property, LLC
Property manager
Glenstar Asset Management, LLC
Year Constructed
North Building - 1930
South Building - 1982
Architect
North Building - Holabird and Root
South Building - Murphy/Jahn Architects
Sq. Footage
1,559,956
Floors
43
Height
605 feet
Building Description
Since 1930, the Chicago Board of Trade has been operating out of 141 West Jackson Boulevard, Chicago, in a building designed by architects Holabird & Root that is 605 feet (184 m) tall, the tallest in Chicago until the Richard J. Daley Center superseded it in 1965.

This Art Deco building incorporates sculptural work by Alvin Meyer and is capped by a 31-foot (9.5 m) tall statue of the Roman goddess Ceres in reference to the exchange's heritage as a commodity market. On May 4, 1977, the Chicago Board of Trade Building™ was designated a Chicago Landmark. The Building is now a National Historic Landmark. Today the Board of Trade Building™ is closely joined by numerous skyscrapers in the heart of Chicago's busy Loop commercial neighborhood.

The building has won numerous awards, including the Regional and Local BOMA 2014/2015 TOBY Award in Renovated Building Category; the Local, Regional, and International BOMA 2007/2008 Office Building of the Year (TOBY) Award in Historic Category; WiredScore Certified Platinum; BOMA 360 Performance Building; and the Friends of Downtown – 2008 Renovation Award.
Year Joined the Retrofit Chicago Energy Challenge
2016