PARTICIPANTS
In the 19th century, Chicago built the world's first modern skyscraper. In the 20th century, we created a world-renowned skyline. And today, Chicago aspires to make that skyline the most efficient on the planet.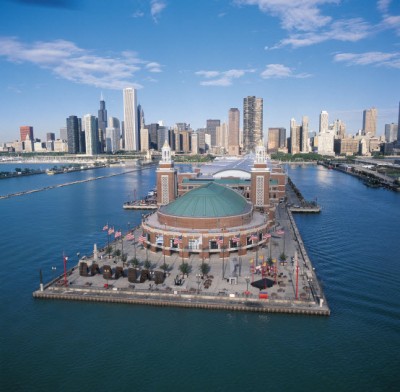 Navy Pier
Address
600 East Grand Avenue
Owner
Metropolitan Pier and Exposition Authority
Property manager
Navy Pier, Inc.
Year Constructed
1916
Architect
Charles Sumner Frost
Sq. Footage
1,148,726
Building Description
One of Chicago's most important historical landmarks, Navy Pier is the sole fruition of Daniel Burnham's vision for five piers to be built as part of the 1909 Plan for Chicago. Designed to be the 'people's pier,' it was originally called Municipal Pier #2 before being renamed Navy Pier to honor WWI Navy personnel in 1927. After being used as a shipping, storage and recreational facility, military training site, concert and festival venue and campus for the University of Illinois, the Pier was renovated in 1995 to serve as a mixed-use entertainment, meeting and convention facility.
Year Joined the Retrofit Chicago Energy Challenge
May 2014