PARTICIPANTS
In the 19th century, Chicago built the world's first modern skyscraper. In the 20th century, we created a world-renowned skyline. And today, Chicago aspires to make that skyline the most efficient on the planet.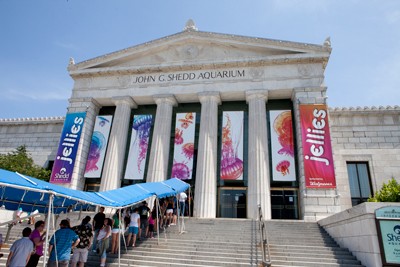 Shedd Aquarium
Address
1200 South Lake Shore Drive
Neighborhood
South Loop
Owner
Shedd Aquarium Society
Property manager
John G. Shedd Aquarium
Year Constructed
Original Aquarium: 1930; Abbott Oceanarium: 1991; Wild Reef: 2003
Architect
Original building: Graham, Anderson, Probst & White; Abbott Oceanarium: Lohan Associates (1991); Abbott Oceanarium re-imagined: V.D.T.A. (2009); Wild Reef: E.H.D.D.
Sq. Footage
452,600
Floors
4 levels
Building Description
Shedd Aquarium is one of oldest and most respected aquariums in North America. The Aquarium cares for more than 32,000 animals, and maintains the most diverse aquatic collection in the world, with more than 1,500 species. Shedd Aquarium is dedicated to conservation education, animal care, and conservation science and research. As Chicago's top tourist attraction and the most attended US Aquarium in 2012, the Aquarium welcomes more than 2 million guests annually. Shedd Aquarium is an economic contributor and is the crown jewel of Chicago's cultural attractions. From the design perspective, the Aquarium is designated a national landmark, and boasts many unique architectural features, including the Georgia marble clad exterior and rare Tiffany fixtures.
Year Joined the Retrofit Chicago Energy Challenge
March 2013