Bicycling in Chicago continues to grow year after year with more Chicagoans biking than ever. This boom in cycling has been a result of the City's investment in more and better bike infrastructure alongside a growing interest in biking as a safe, affordable, sustainable, healthy, and fun way to get around.

In Spring 2023, CDOT released the Chicago Cycling Strategy, outlining a community-driven approach to expanding Chicago's bike network and creating a more equitable, safe, and inviting city for cycling. You can download the full document HERE.

This page provides information about the following topics:
Expanding and enhancing bike infrastructure
Active project highlights
Existing bikeway network
Additional programs supporting biking

Expanding and Enhancing Bike Infrastructure
---
Expanding and Enhancing Bike Infrastructure


Chicago's bike network will soon include more than 500 miles of on-street bikeways and off-street trails.

Bicycle infrastructure has more than doubled since 2010, and the pace at which our network is growing is increasing. More importantly, the rate at which low-stress routes (protected bike lanes, neighborhood greenways, off-street trails) are growing is outpacing overall network growth.

Bikeway network expansion has largely focused on neighborhoods not well served by the bike network, with almost 75% of the network growth over the last few years occurring on the south and west sides.

Year By Year Bike Network Buildout (miles, 2010 to 2022)
In 2023, CDOT released the Chicago Cycling Strategy
,
outlining the department's community-driven approach to expanding the bike network and making Chicago a more
equitable, safe, and inviting place for cycling.
The
Strategy guides the planning and implementation of our bike network and reflects the rapidly evolving nature of the transportation landscape.
The strategy establishes three pillars for everyday cycling:
A connected network serving all neighborhoods and all Chicagoans:

CDOT is planning our cycling network at both the

citywide and neighborhood scales, with the goal of having every neighborhood connected to a citywide network of continuous bikeways. CDOT plans to design and implement 150 miles of new bikeways in the coming years, including upgrading existing bikeways, filling network gaps, and expanding the bike network into more neighborhoods. Protected bike lanes are planned for key corridors throughout Chicago, including Belmont, Clark, Damen, Division, Halsted, Kedzie, and Milwaukee. Many of these projects are being coordinated through other CDOT projects, such as arterial resurfacing, street reconstruction, or streetscapes projects, for a more efficient buildout of the bike network.


Focused on local trips to get people to the places that are most meaningful to them: Recognizing that every neighborhood has different opportunities, challenges, and perceptions of biking, CDOT has developed a community-driven approach for building connected

Neighborhood Bike Networks

to rapidly expand the network one neighborhood at a time.

This approach has been implemented in the

Belmont Cragin and North Lawndale communities, where Chicago was able to triple the

amount

of bikeways in each neighborhood in just two years. In 2022, CDOT began the South Lawndale Neighborhood Bike Network process, including the Little Village and Marshall Square neighborhoods, and in 2023 will begin a

planning and

engagement process in the Brighton Park, Gage Park, and McKinley Park neighborhoods.

The League of American Bicyclists featured the Neighborhood Bike Networks process in its

2022 Benchmarking Bike Networks Report

as a model approach to expanding bicycle infrastructure and increasing ridership.





Providing low-stress options to make

everyday

cycling safe and convenient:

Low-stress bikeways are bike routes that are comfortable for people of all ages and abilities, not just for experienced bicyclists, and consist of protected bike lanes, neighborhood greenways, and off-street trails.

Low-stress bikeways are growing faster than other bike

facilities – over the past four years, the bike network has grown by 32%, while protected bike lanes have grown by 70% and neighborhood greenways have grown by 282%. In 2022, CDOT began

upgrading all existing delineator-protected bike lanes to concrete curb

, providing significant safety and comfort improvements for all road users.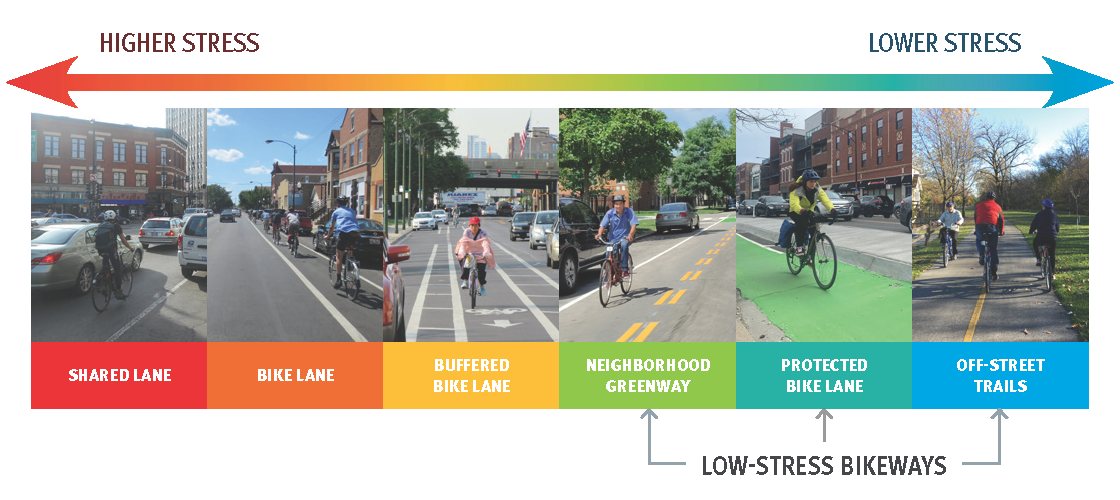 Active Projects Highlights - Find more information on active projects here.
Augusta – Western to Milwaukee
CDOT is working to upgrade existing buffered bike lanes to concrete protected bike lanes on Augusta Boulevard from Western Avenue to Milwaukee Avenue. The Augusta protected bike lanes will include shorter pedestrian crossings, a new 20-mph posted speed limit, and connections to bike routes on Damen, Wood, Noble, and Milwaukee.

Clark – Irving Park to Montrose
CDOT is developing new protected bike lanes on Clark Street from Irving Park to Montrose. The project will also include shortened pedestrian crossings, bus improvements, and a 20 MPH speed limit. The City is coordinating with the ward offices and community stakeholders on a planning process for Clark Street north of Montrose. Extending the protected bike lanes north of Montrose is being evaluated as part of that effort. Learn more about this project.

Clark – Hollywood to Devon
CDOT is upgrading the existing protected bike lane on Clark Street in the Edgewater neighborhood to concrete curb and adding many new multi-modal improvements, including new pedestrian refuge islands, a bus-only lane for southbound CTA buses, and nine new bus-priority boarding islands. Learn more about this project.

Milwaukee – Addison to Irving Park
CDOT will upgrade the existing protected bike lanes on Milwaukee Avenue between Waveland and Irving Park with new pre-cast concrete curb and extend the protected bike lane south to Addison. Installation of the curb will be coordinated with ongoing construction of the Metra viaduct. Learn more about this project.

Central Park – Madison to Franklin
CDOT will implement protected bike lanes on Central Park between Madison and Franklin Blvd. Additionally, increased pedestrian refuge space will be installed at the main entrance to the Garfield Park Conservatory. The new protected bike lanes will connect to existing protected bike lanes on Franklin Blvd. and Lake Street providing a comfortable route for biking to the Garfield Park Conservatory, Field House, and Park Space. The new protected bike lane is part of a growing network of bike infrastructure in the Garfield Park and Austin neighborhoods.
Chicago's transportation network includes over 400 miles of on-street bikeways and off-street paths. CDOT produces an official Chicago Bike Map every spring. Hard copies of the Chicago Bike Map are available upon request.
| | |
| --- | --- |
| | |
| | 40.35 |
| | 49.34 |
| | 115.6 |
| | 128.94 |
| | 49.8 |
| | 55.4 |
| Total Bike Network | 439.43 |
Additional Programs Supporting Biking
---
Bike Chicago
CDOT has set an ambitious vision to make cycling a safe and affordable option for more Chicagoans. In addition to connecting bike networks and increasing the number of low stress and protected bike lane miles in the city, CDOT will facilitate more residents cycling through a bike distribution program. CDOT will distribute 5,000 bicycles, as well as safety and maintenance equipment, over the course of 4 years to eligible residents. Visit www.chicago.gov/bikechicago for more information.
SAFE Ambassadors
Since 2001, CDOT has promoted safe cycling and walking through the City of Chicago's SAFE Ambassadors. SAFE stands for Streets Are For Everybody, and the Ambassadors' goals are encouraging and educating cyclists and pedestrians, reducing traffic crashes by working with all road users, and making Chicago a safer place for active transportation. Learn more about the programs offered by the Ambassadors or request their attendance at an event.
CDOT is excited to offer our Learn to Ride series at no cost to Chicago residents. The two-hour classes are taught by the SAFE Ambassadors and allow adults and children to learn, based on their experience level, the skills they need to be comfortable riding a bike. This year the Ambassadors are offering instruction in both English and Spanish to better meet the needs of city residents and serve more people. There are three class levels being offered: (1) Beginner Learn to Ride, (2) Skill-Builder Learn to Ride, and (3) Road Ride.