Advancing Food Equity in Chicago
The City's Food Equity Agenda is a multi-year effort, crafted in partnership with a cross-section of community and City representatives, to transform the food system by removing barriers to urban farming, supporting BIPOC food entrepreneurs, and better connecting residents with nutrition programs and healthy, affordable food.
A full report of the Chicago Food Equity Agenda is available for download here.
During the on-going pandemic and resulting economic downturn, City and community food system experts worked to address economic hardship and poverty, including the rising rates of food insecurity in our city. As food and nutrition insecurity was a problem even before the pandemic, it is critical that Chicago make the structural changes needed so that every Chicagoan has access to healthy and affordable food and that food becomes an engine for community wealth building. In the wake of the pandemic, Chicago has an opportunity to become an equitable food city – one that leverages vacant land for urban farming and that catalyzes wealth building through support for food businesses.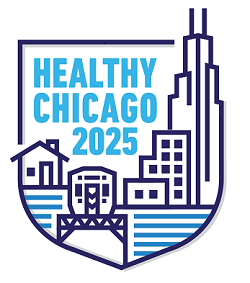 "The development and advancement of the Chicago Food Equity Agenda is a key implementation step of the Healthy Chicago 2025 and Mayor Lori E. Lightfoot's anti-poverty agenda."
A Food Equity Agenda for Chicago
---
Over the winter of 2020, the Mayor's Office, the Greater Chicago Food Depository, and the Departments of Public Health (CDPH) and Family and Support Services (DFSS) convened a cross-sector working group of City and community food system experts to review past food plans and discuss emerging opportunities.
Through a series of five workshops, the working group collectively identified five high-impact priorities to advance beginning in 2021:
Eliminate barriers to food pantry expansion
Market and maximize nutrition programs and benefits
Leverage City and institutional procurement to support local BIPOC growers, producers, and food businesses
Eliminate barriers to urban farming
Support BIPOC food businesses and entrepreneurs, especially with access to capital
Establishing a Food Equity Council
---
To advance the Chicago Food Equity Agenda, the City will formally establish a Food Equity Council, as an evolution of the ad hoc working group convened in 2020, to bring transparency, accountability, and cross-sector collaboration to create an equitable local food system. The Chicago Food Equity Council will advance the five short-term priorities to address immediate need as well as root causes of food and nutrition insecurity.
Inaugural Chicago Food Equity Council Members
Erika Allen, Urban Growers Collective
Juan Sebastian Arias*, Mayor's Office
Adam Becker, Consortium to Lower Obesity in Chicago Children (CLOCC)
Beth Berendsen, Department of Family and Support Services (DFSS)
Rodger Cooley, Chicago Food Policy Action Council (CFPAC)
Tarrah DeClemente, Chicago Public Schools (CPS)
Christian Denes*, Department of Family and Support Services (DFSS)
Kathy Dickhut, Department of Planning & Development (DPD)
Laurie Dittman, Mayor's Office for People with Disabilities (MOPD)
Todd Fraley, Chicago Department of Public Health (CDPH)
Jennifer Herd, Chicago Department of Public Health (CDPH)
Amy Laboy, Greater Chicago Food Depository
Vickie Lakes-Battle, IFF
Jess Lynch, Alliance for Health Equity, Illinois Public Health Institute
Kate McMahon*, Chicago Department of Public Health (CDPH)
Sophie Milam, Greater Chicago Food Depository
Katya Nuques, Enlace
Angela Odoms-Young, University of Illinois – Chicago (UIC)
Brad Roback, Department of Planning and Development (DPD)
Nicole Robinson*, Greater Chicago Food Depository
Anton Seals, Grow Greater Englewood
Darnell Shields, Austin Coming Together
Jaye Stapleton, Mayor's Office
Leon Walker, DL3
*Four co-chairs of the inaugural food policy working group