Chicago's Women's History Month
Women's History Month is dedicated to celebrating the often-overlooked achievements and contributions of women throughout history. The City of Chicago honors notable women who have pioneered a path of excellence in their given fields. Crafting this list was an impossible task, as many women have been trailblazers in their own right. Join us in recognizing them and celebrating their achievements.
---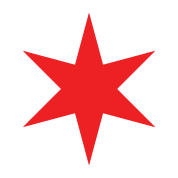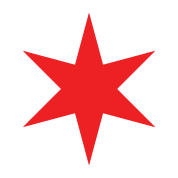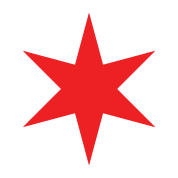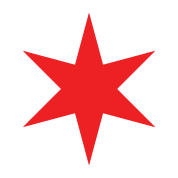 ---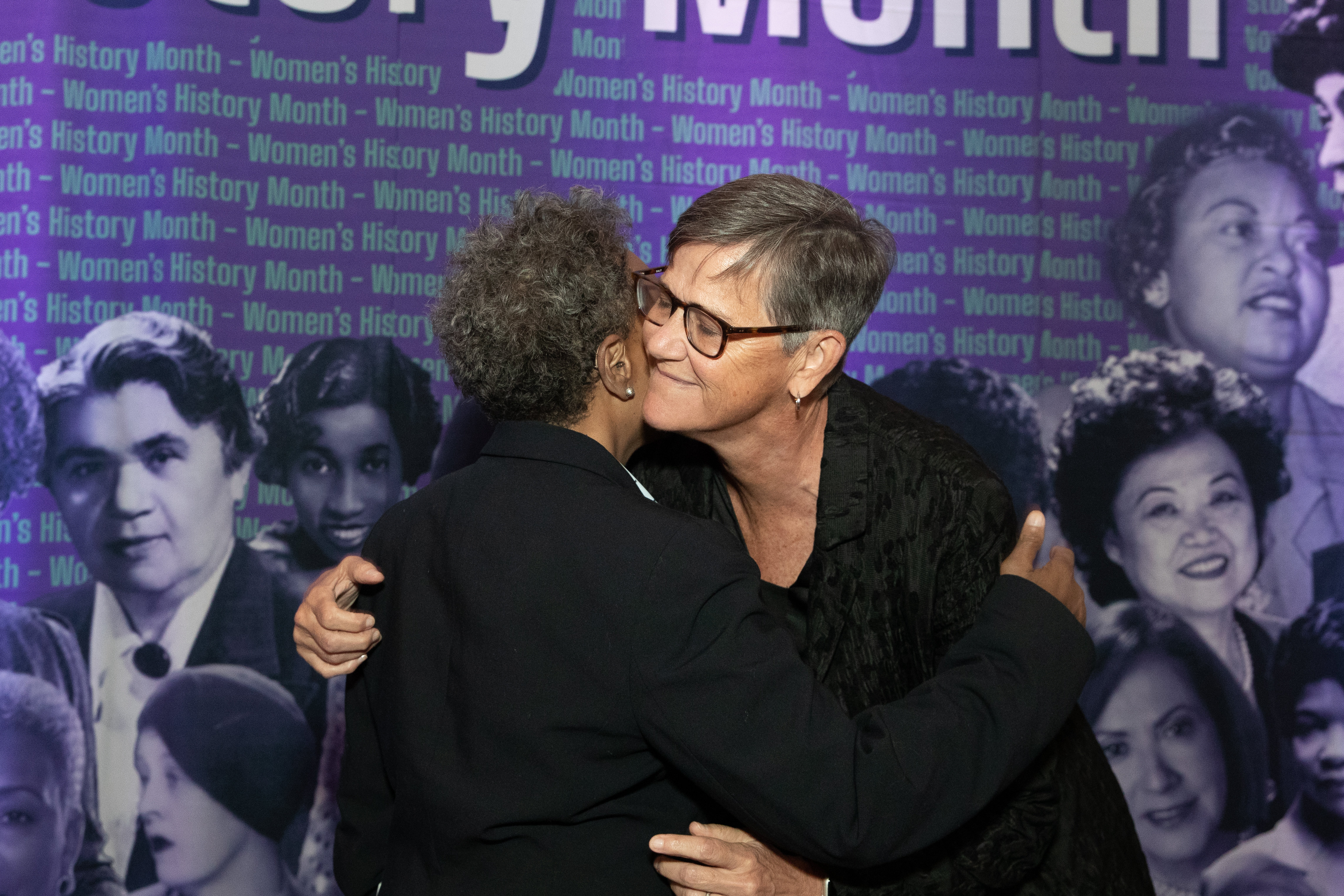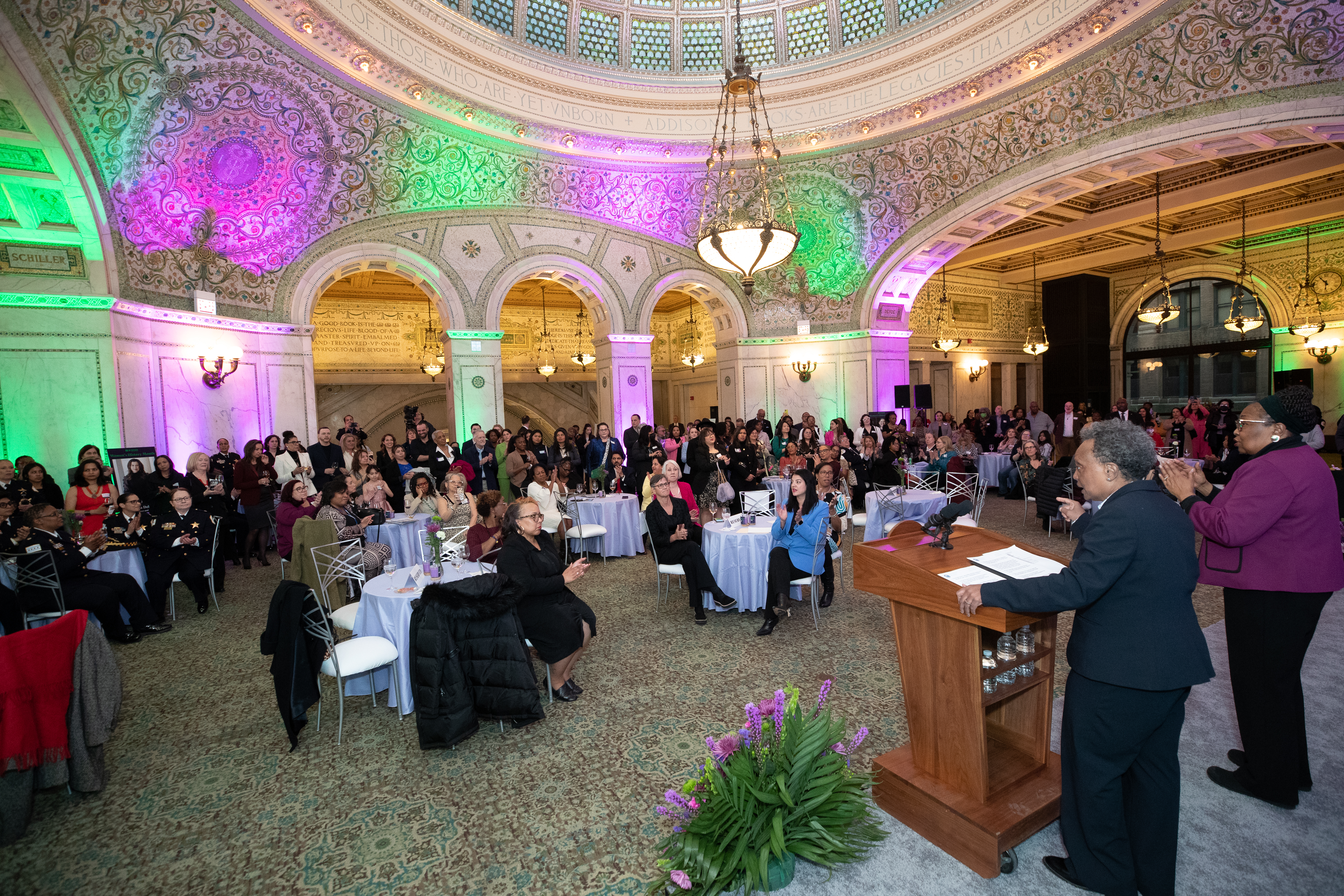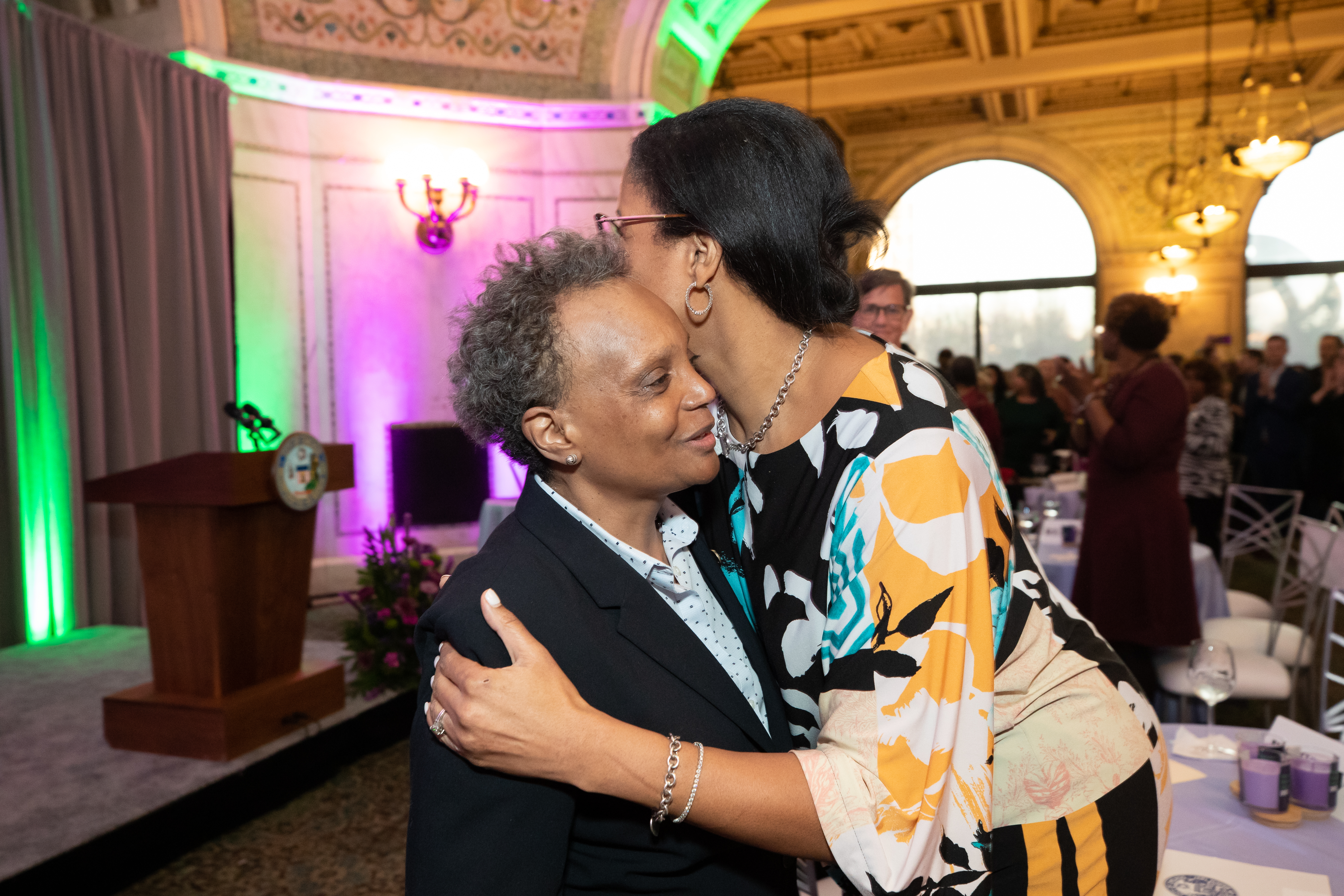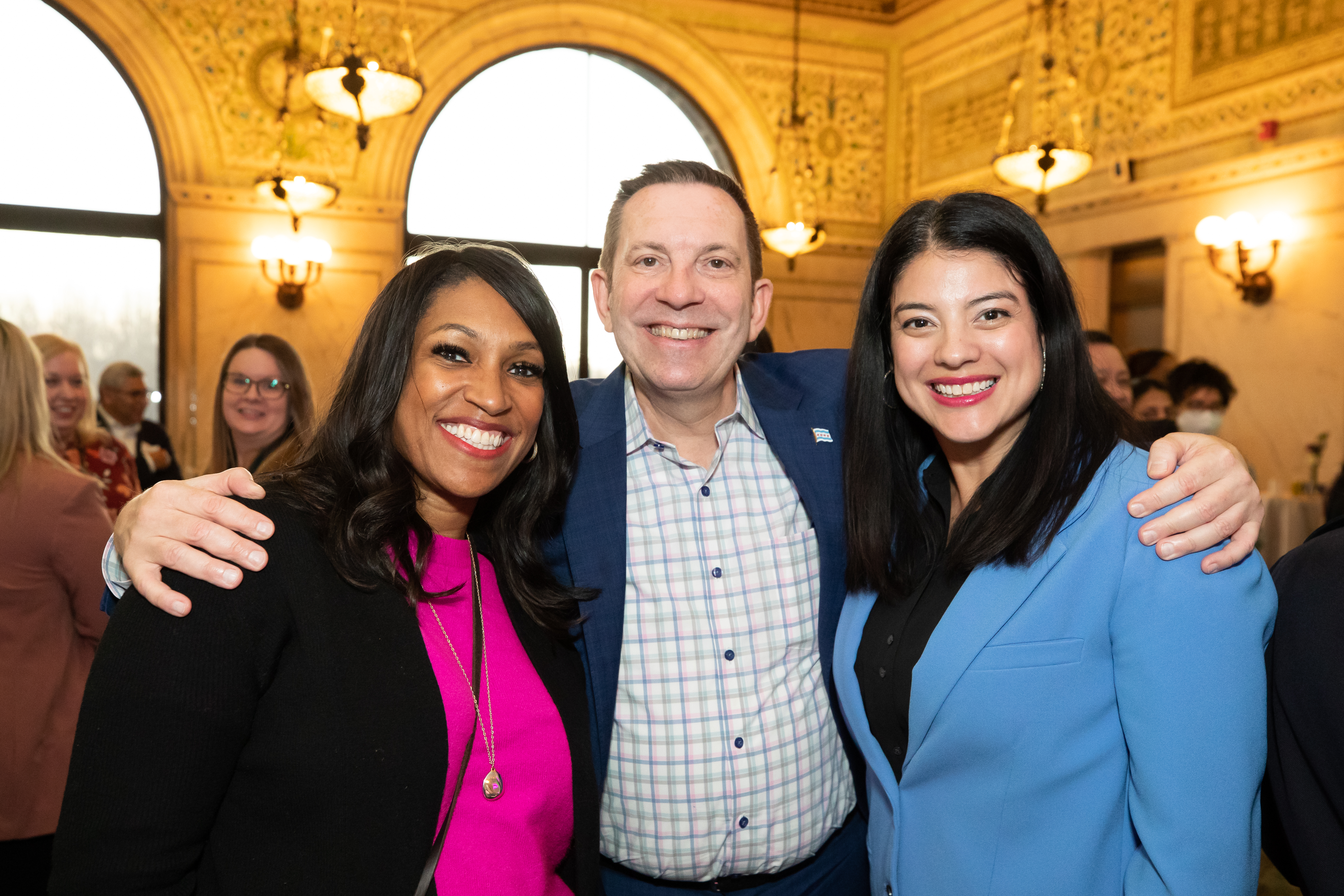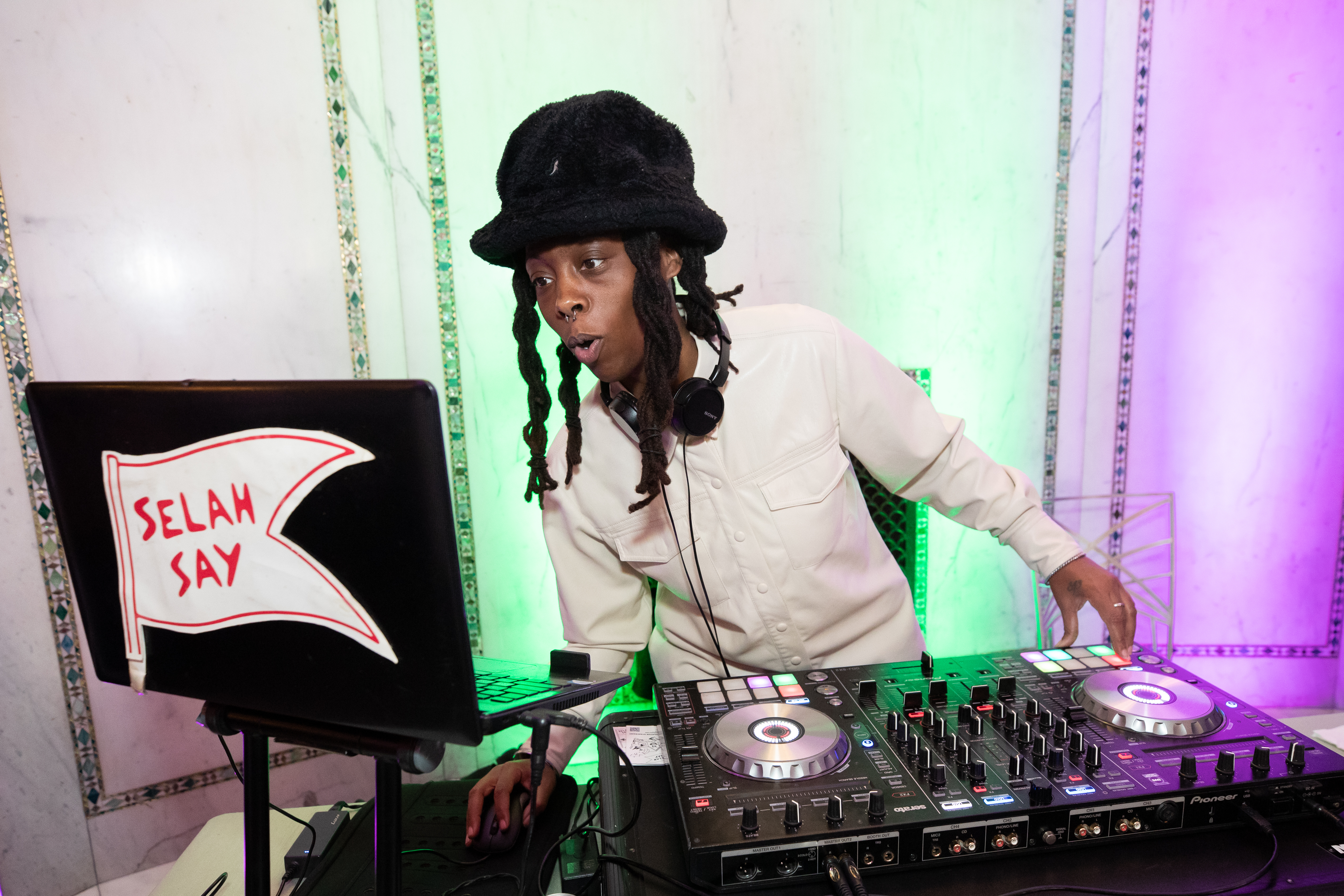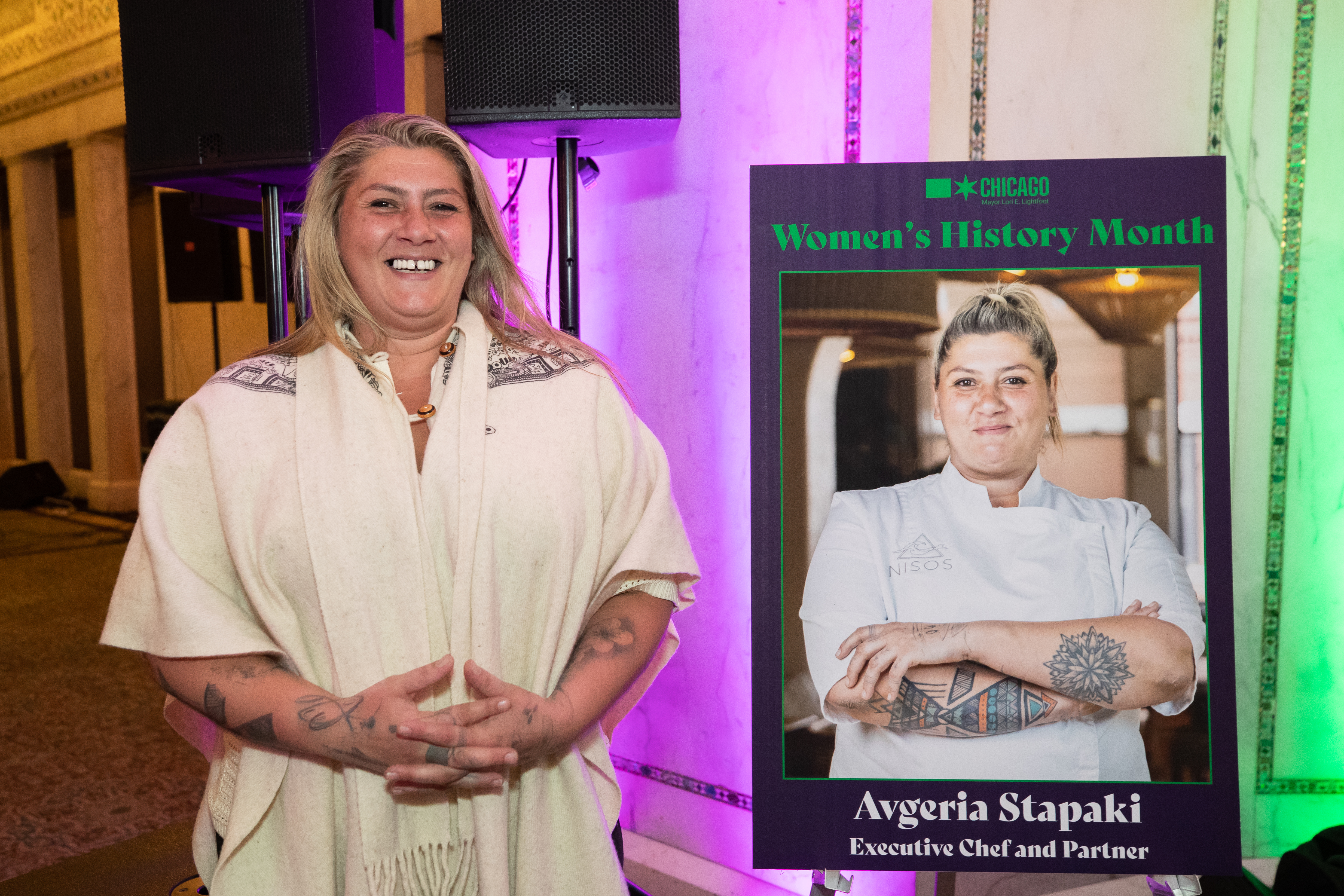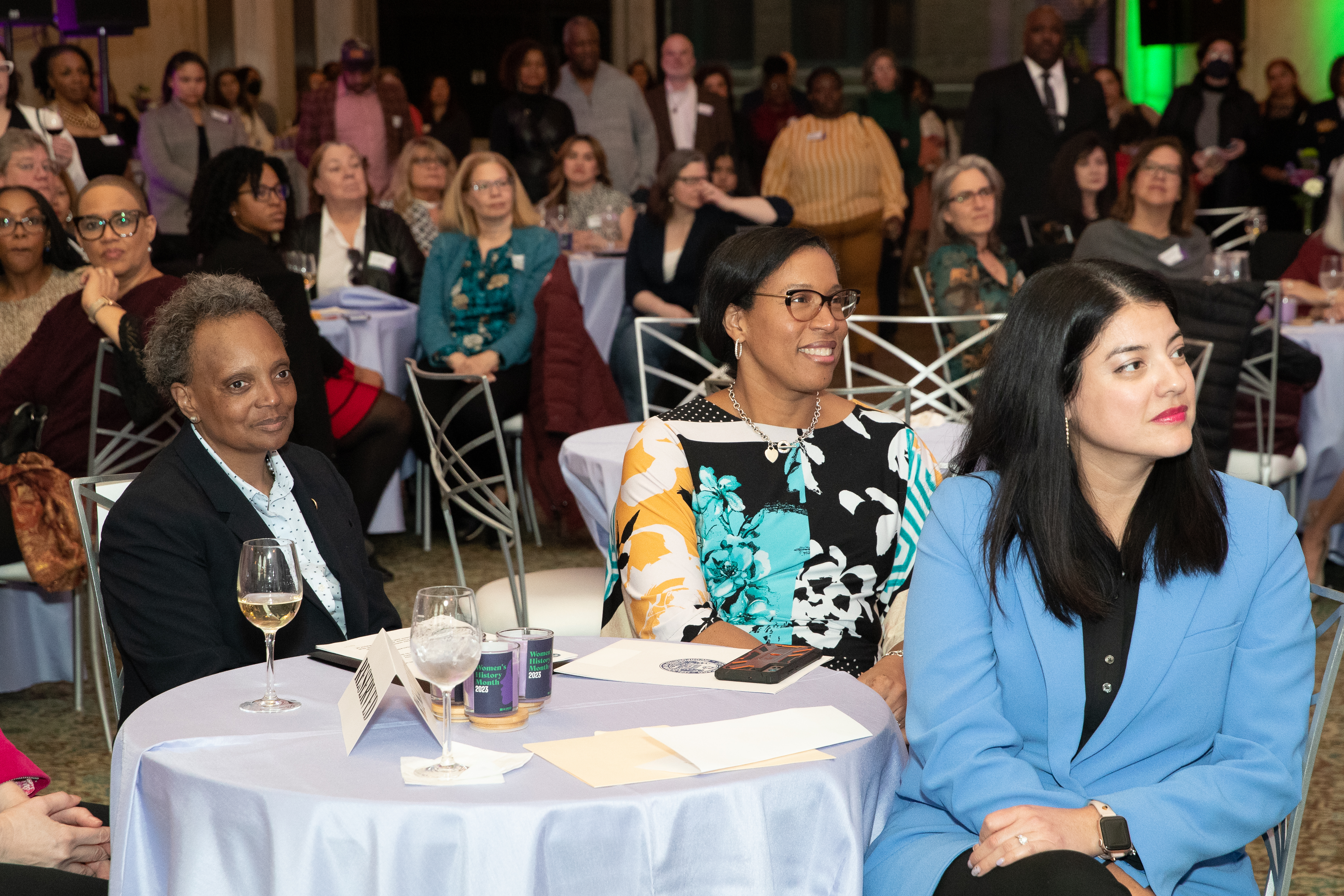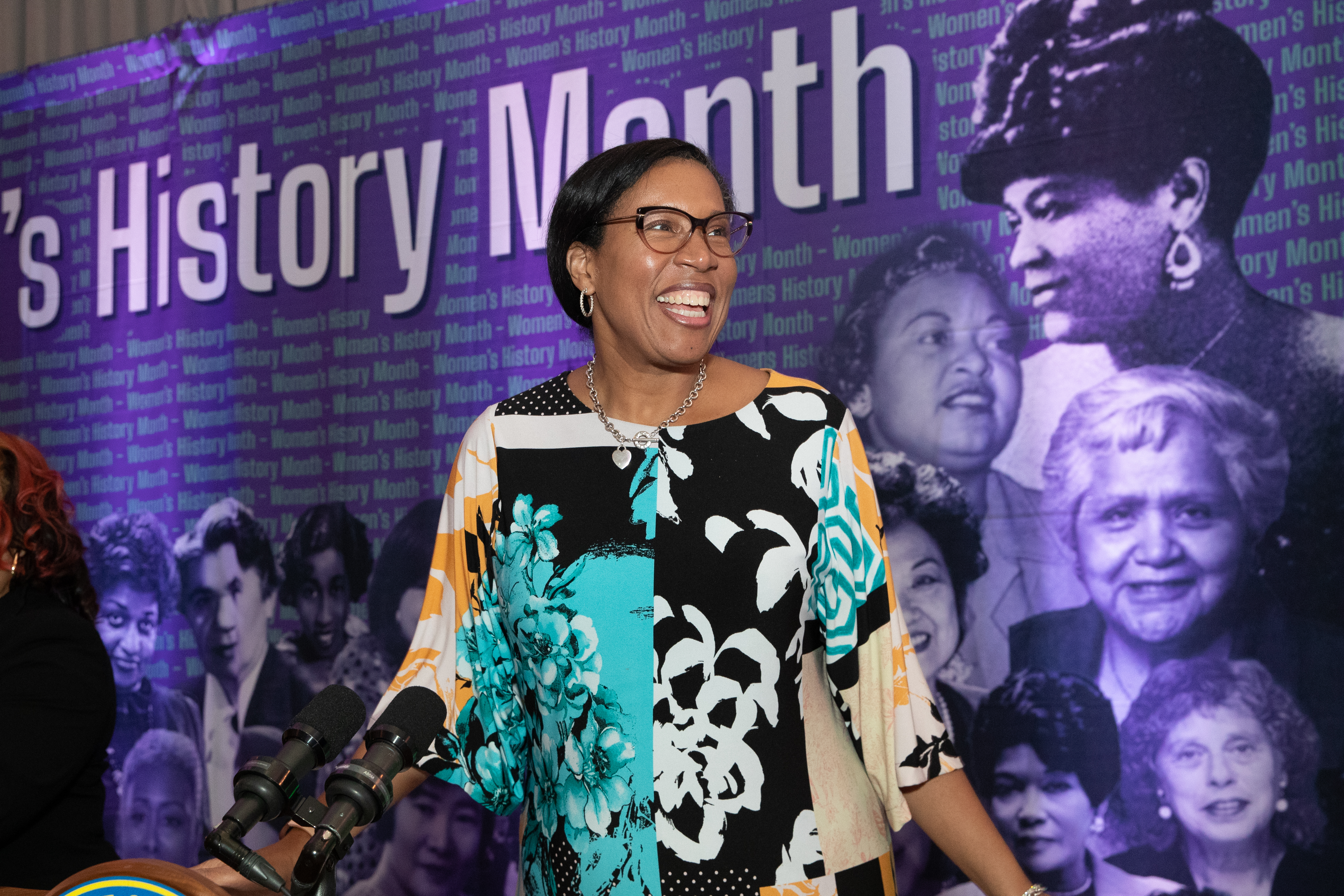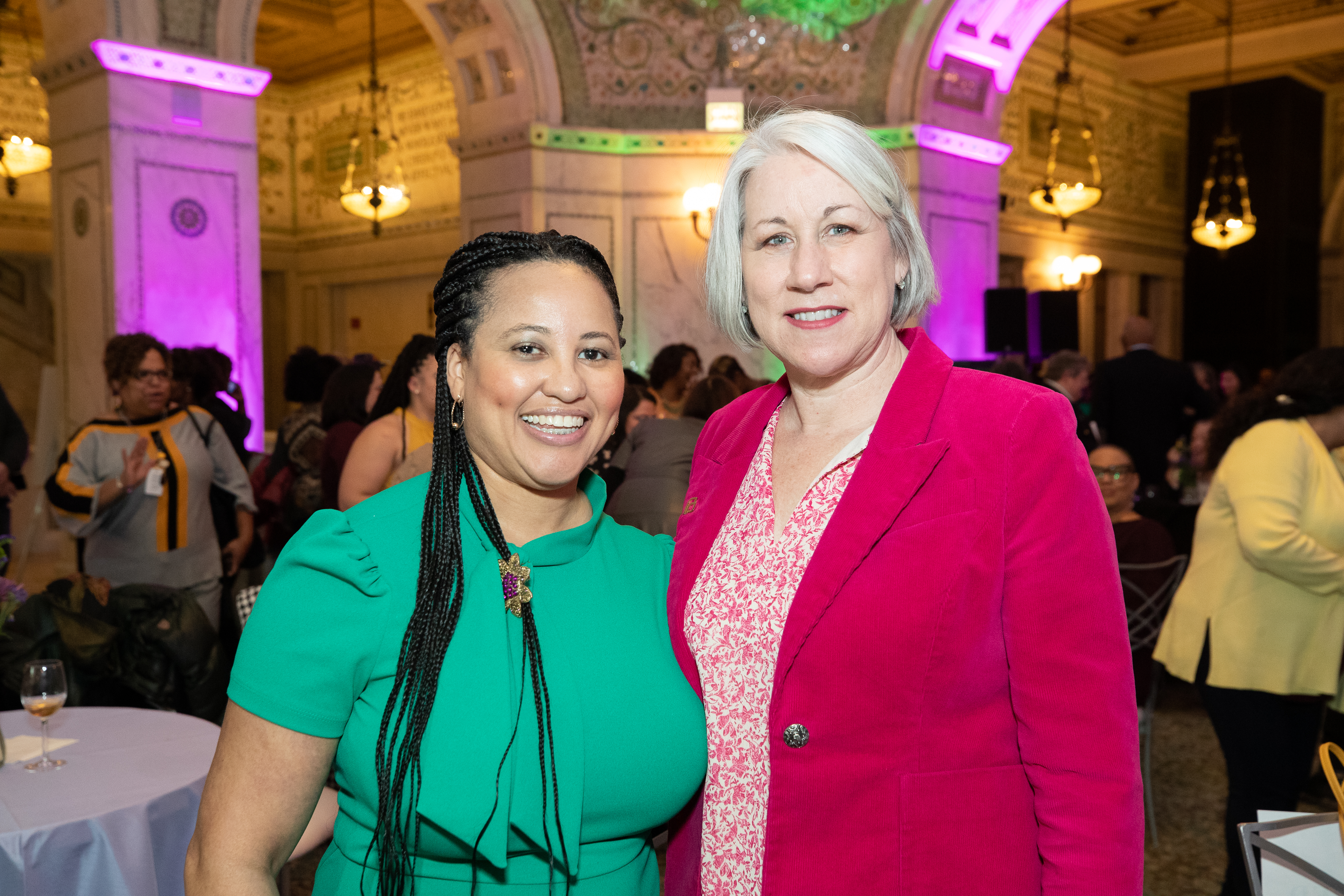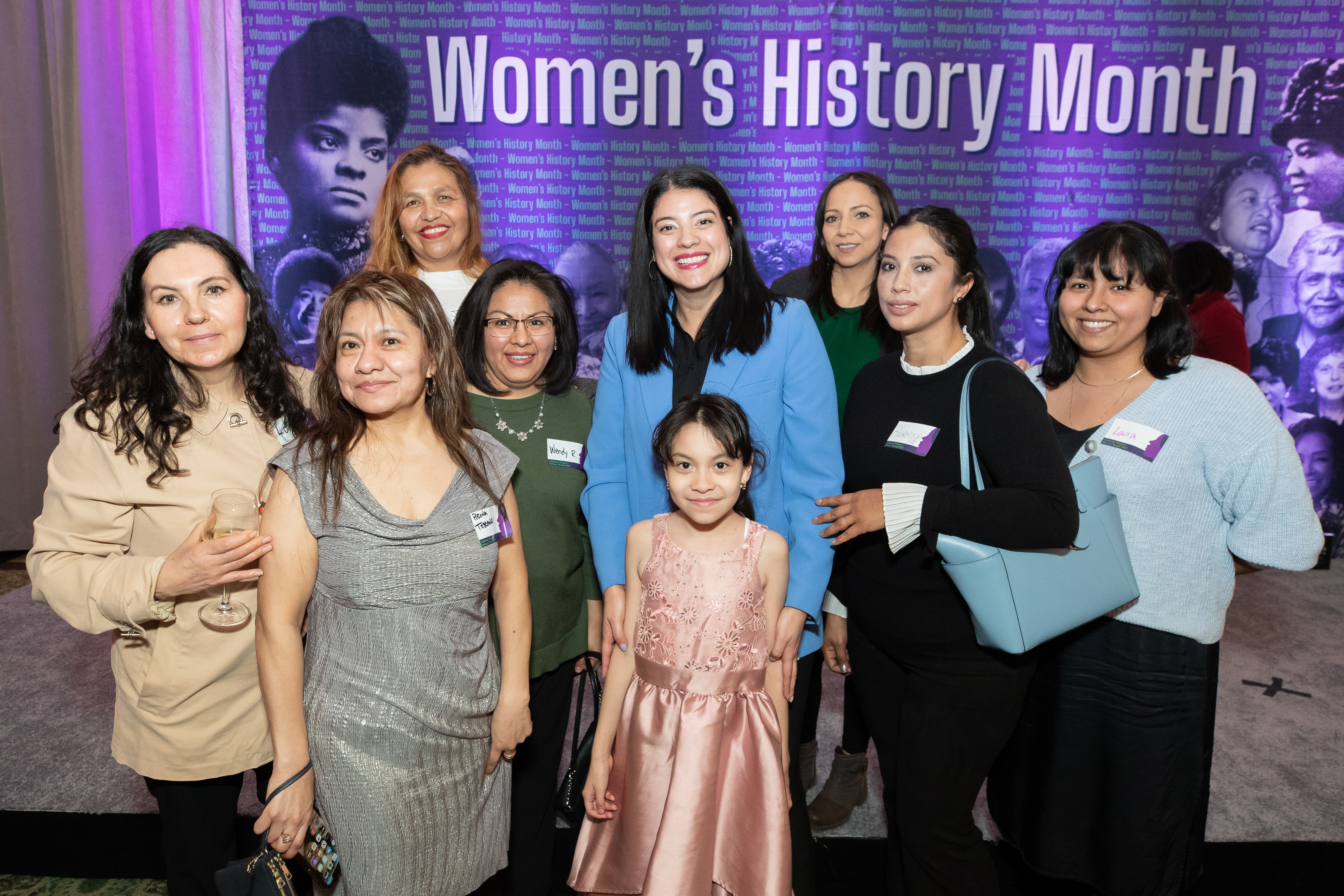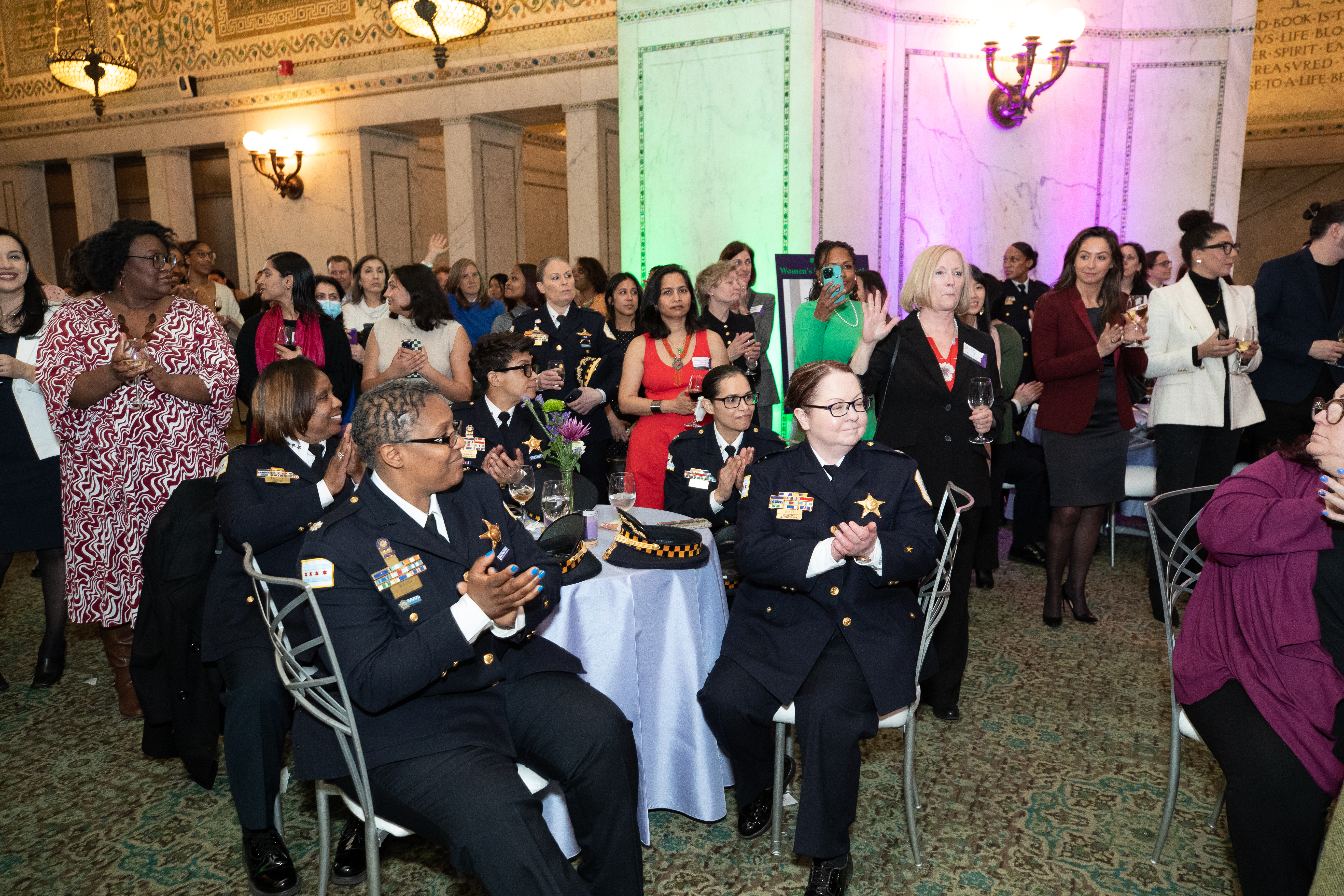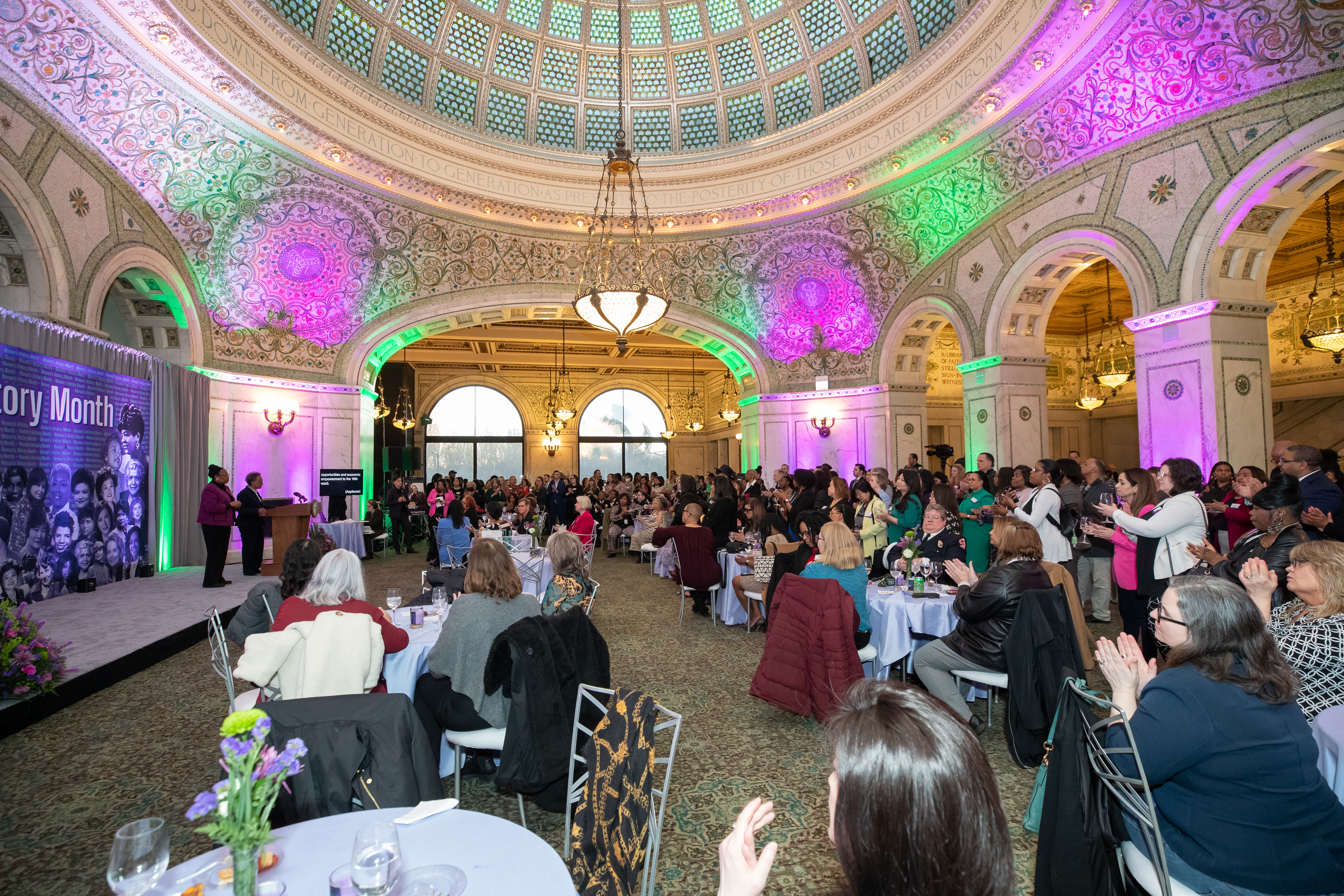 ---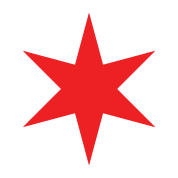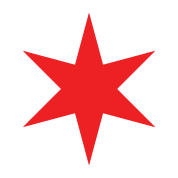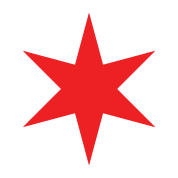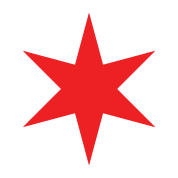 ---
Kitihawa (m. 1788-1818)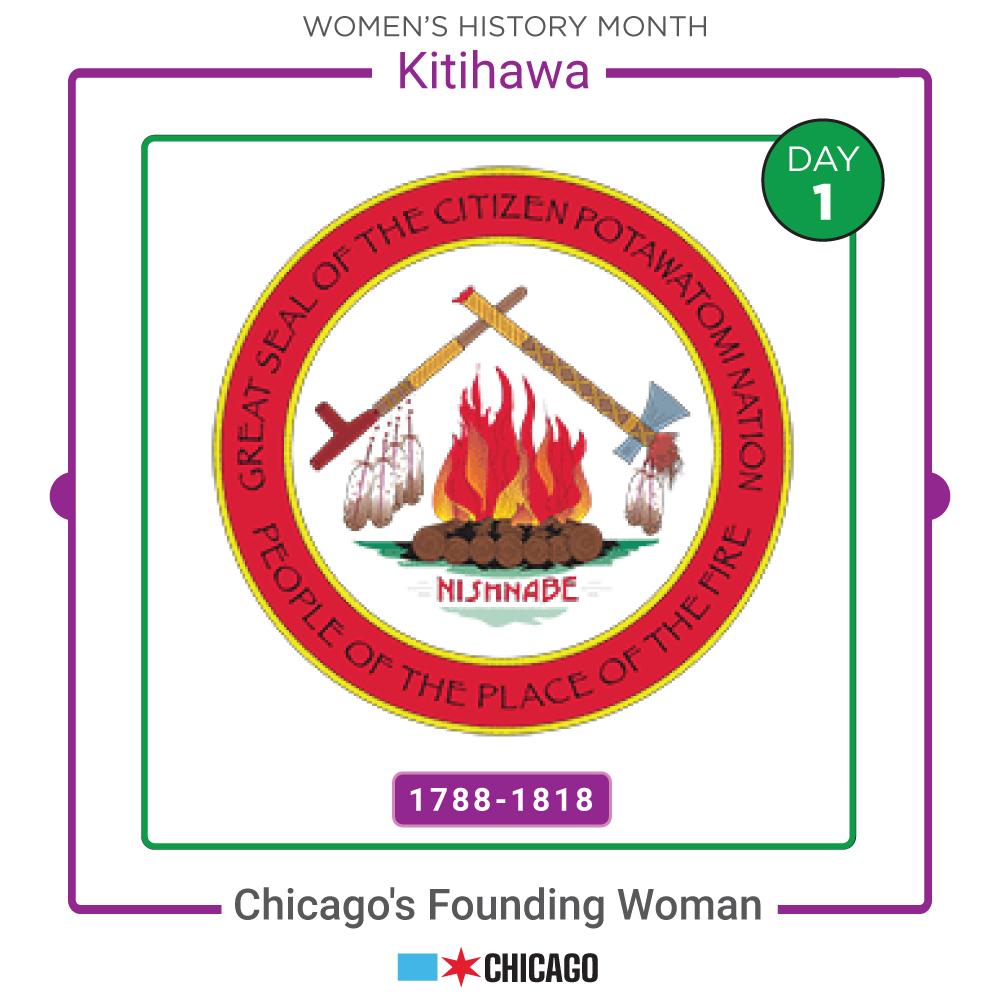 Kitihawa was a Potawatomi woman who married Jean Baptiste Point DuSable in the late 1700's. She, and her husband, were responsible for establishing the first permanent settlement in what is now Chicago. Although not much is known of her life before her marriage, Kitihawa made significant contributions to the settlement, including construction of a farm and trading post along the Chicago river. Unfortunately, no image of her exists so we are honoring using the seal of her Tribe.
Sor Juana Inés de la Cruz (1648 – 1695)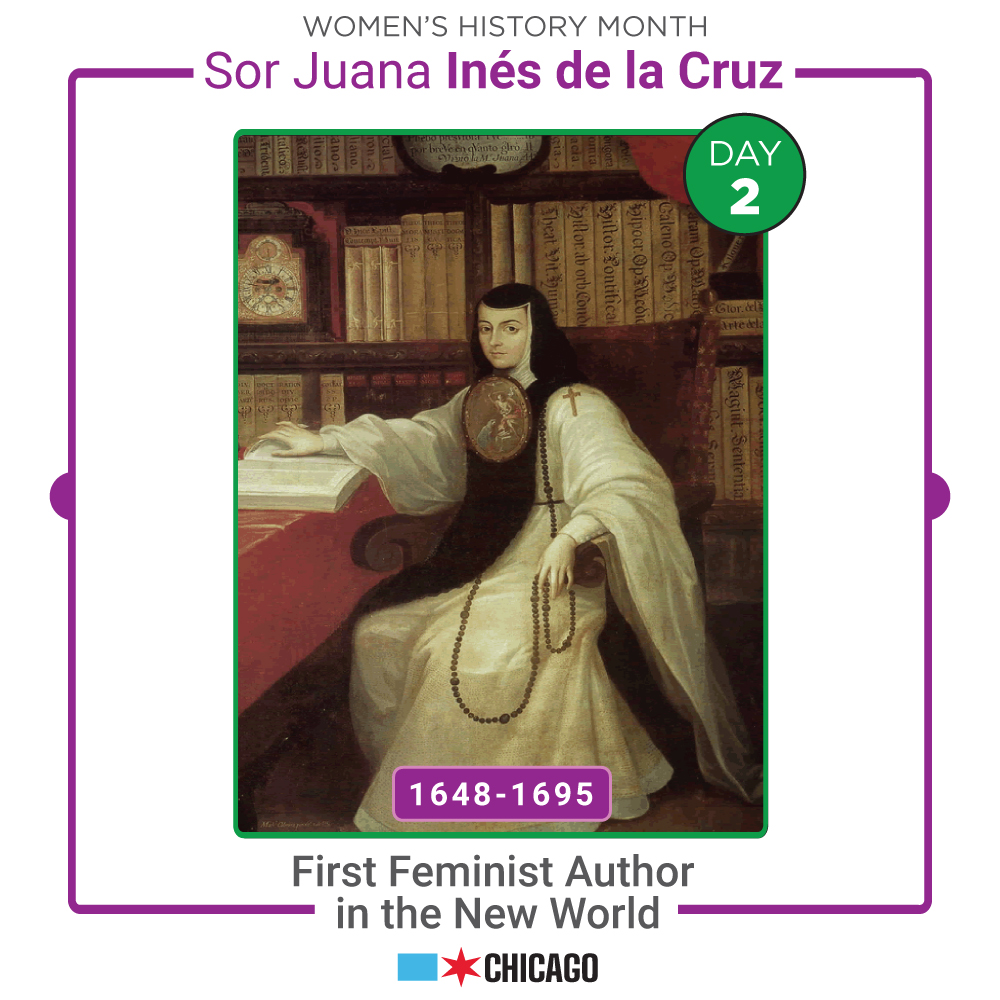 Sor Juana Ines de la Cruz was a Mexican writer, philosopher, composer, poet of the Baroque period, and Hieronymite nun. Although not a Chicagoan, an important Latina historic figure who fought for women's rights and considered the first feminist writer in the western world. Considered a pioneer of women's rights at a time when neither feminism nor gender equality had entered our lexicon, Mexican-born nun Sor Juana Inês de la Cruz was a 17th-century feminist writer and thinker.
Elizabeth Lindsay Davis (1855-1944)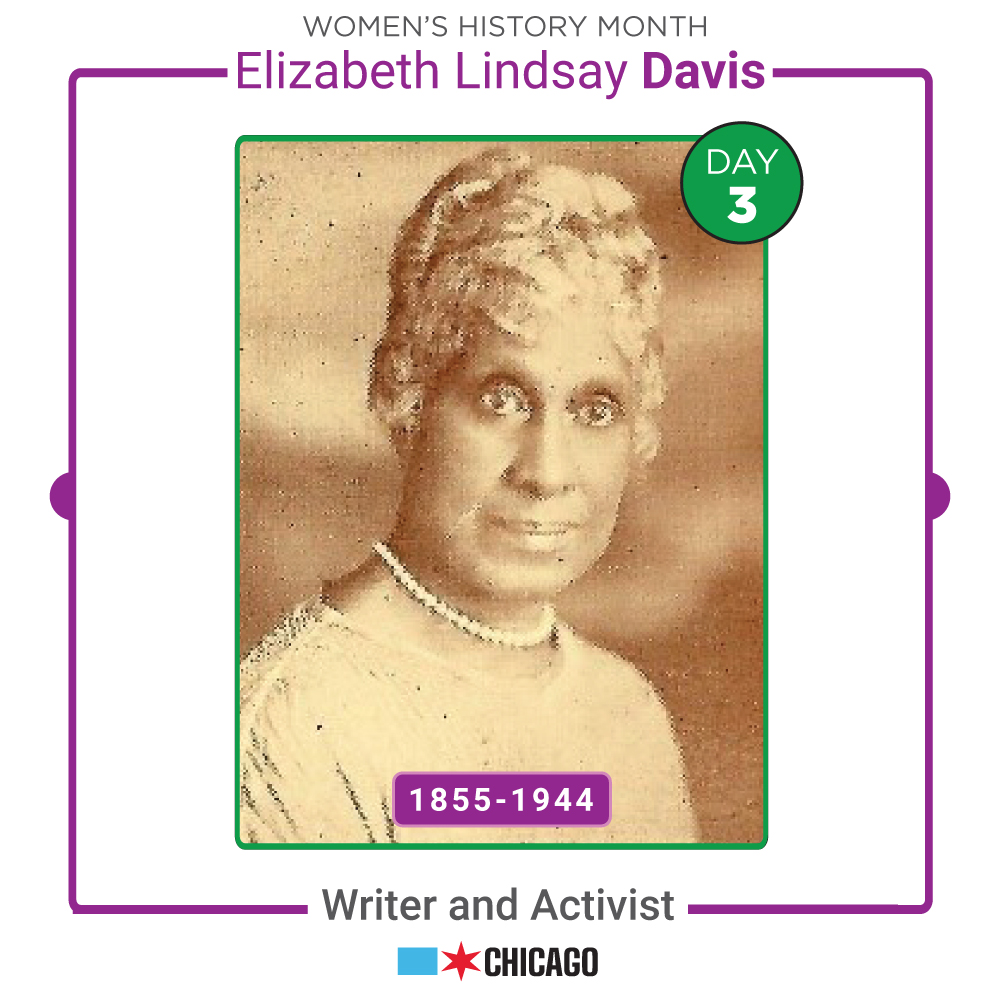 Elizabeth Davis was notable writer and Black activist. With a focus on Black women, in 1900, she was responsible for creating the Phyllis Wheatley Women's Club in Chicago, IL. She gained prominence in 1922 when she wrote The Story of the Illinois Federation of Colored Women's Clubs, a document highlighting the history of women's organizations and their notable members in Illinois. Over the course of her life, she collaborated with activists and scholars such as Ida B. Wells and W.E.B. DuBois. Later, in 1933, she published her final book, Lifting as They Climb, about the history of the National Association of Colored Women.
Jane Addams (1860-1935)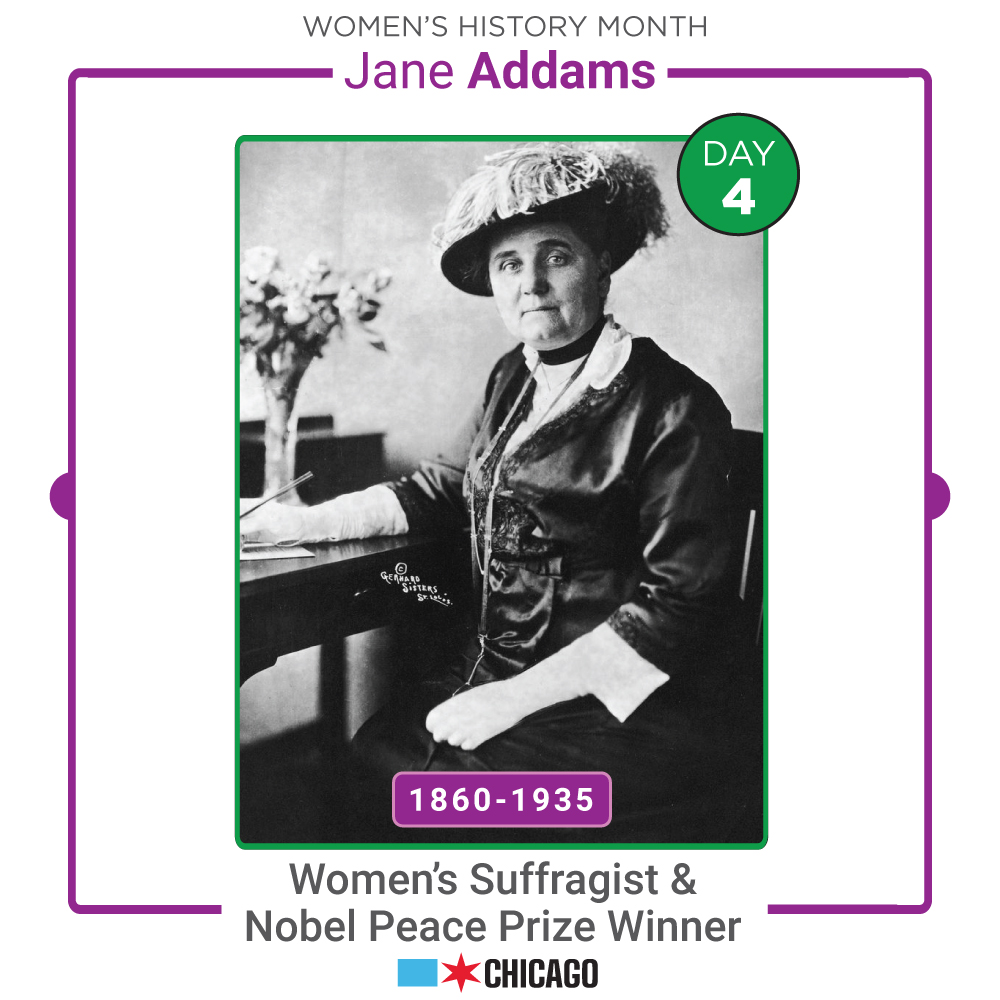 Jane Addams was considered a progressive social reformer and activist, spearheading the settlement house movement in the late 19th and early 20th centuries. In 1889, Addams co-founded Hull House in Chicago, the first settlement house. In the early 1900's, Addams became active in the women's suffrage movement as an officer in the National American Women's Suffrage Association and pro-suffrage columnist. She was also among the founders of the National Association for the Advancement of Colored People (NAACP). In 1915, during WWI, she headed the Women's Peace Party, writing articles and giving speeches to promote peace. In 1931 she was selected as the first woman to receive the Nobel Peace Prize.
Ida B. Wells (1862-1931)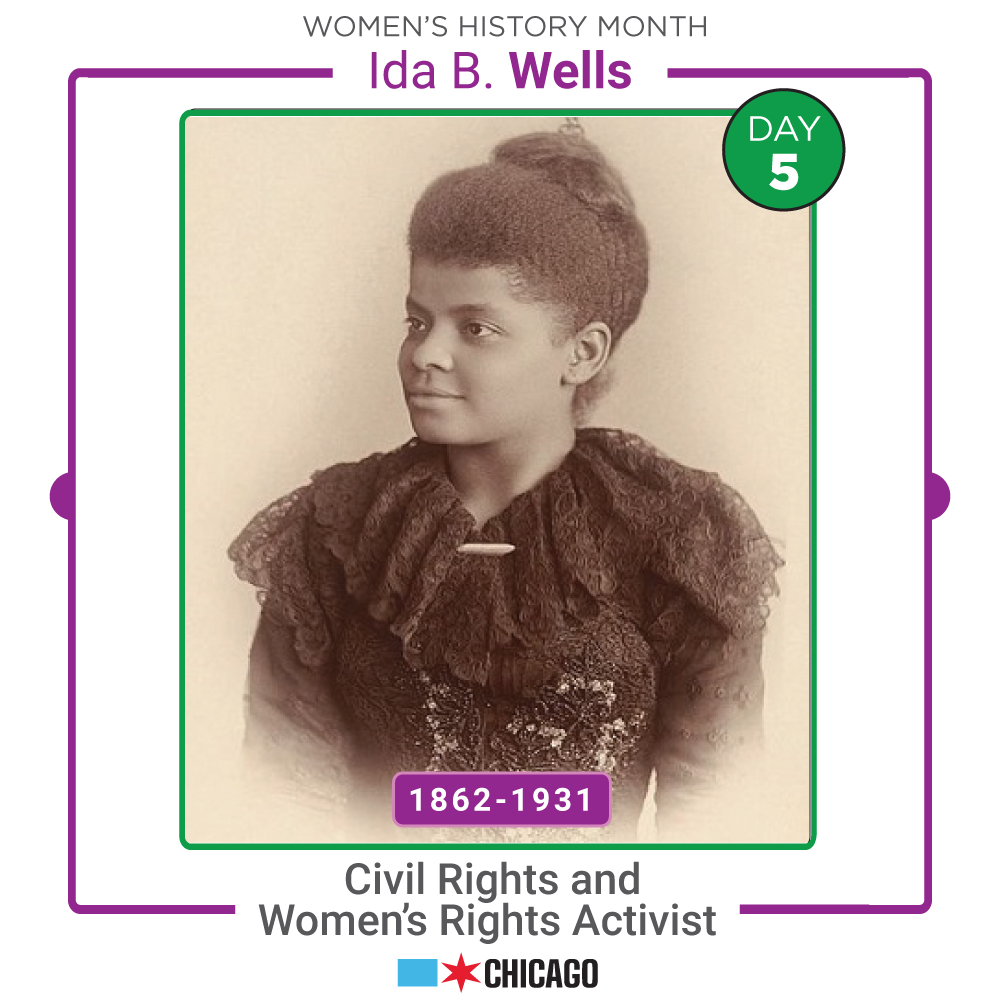 Ida B. Wells was a prominent figure in the Women's Suffrage and Civil Rights Movements. Wells was committed to combatting the prejudice, racism, and African American inequality, especially among women. She gained notoriety by documenting lynchings. She relocated to Chicago in the late 1800's where she became active in the Women's Suffrage Movement. In 1909, she and other civil rights actives formed the National Association for the Advancement of Colored People (NAACP). In 2020, Wells was posthumously honored with a Pulitzer Prize special citation.
Margaret Anderson (1886-1973)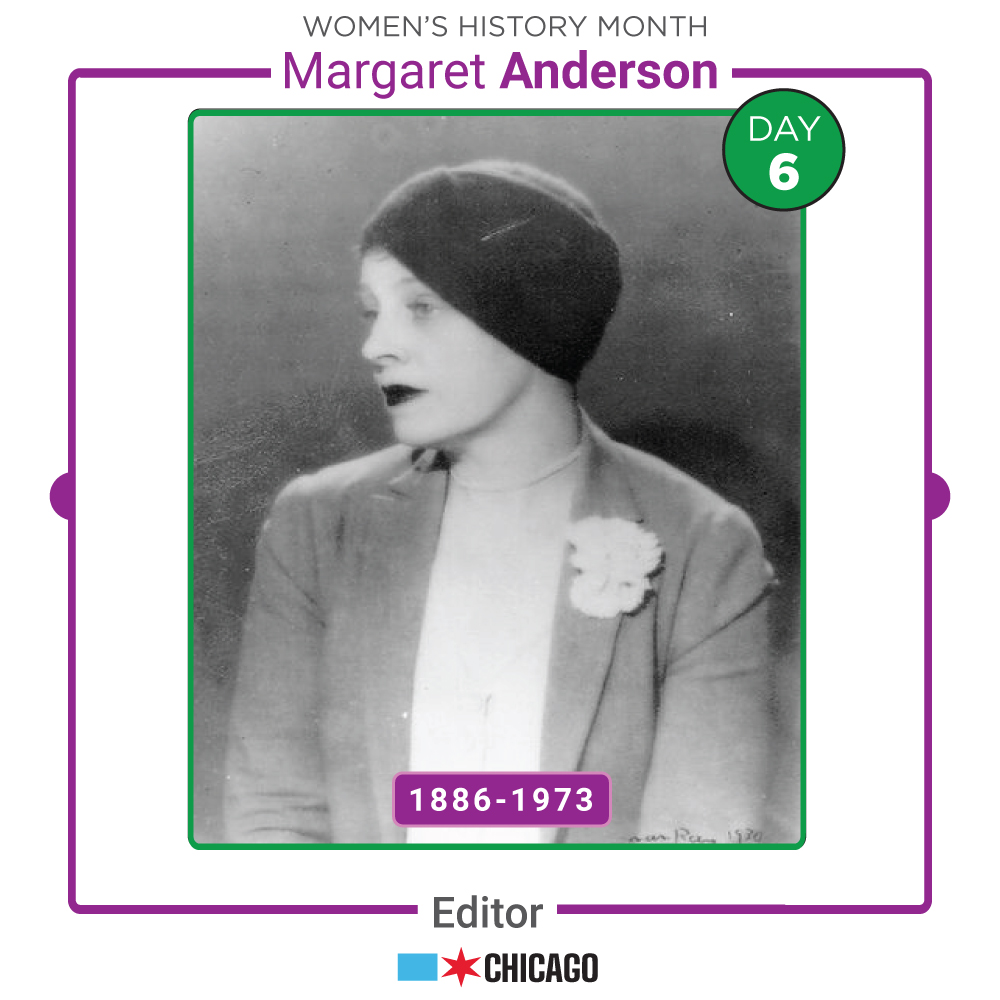 In 1914, Margaret Anderson founded The Little Review, a periodical that became the print salon for some of the most creative authors and poets of the era, including Ezra Pound, Sherwood Anderson, Vachel Lindsay, and Carl Sandburg. Anderson eventually moved to New York City in 1917, where the relocated magazine caused great controversy by its publication of James Joyce's Ulysses.
Elizebeth Friedman (1892 – 1980)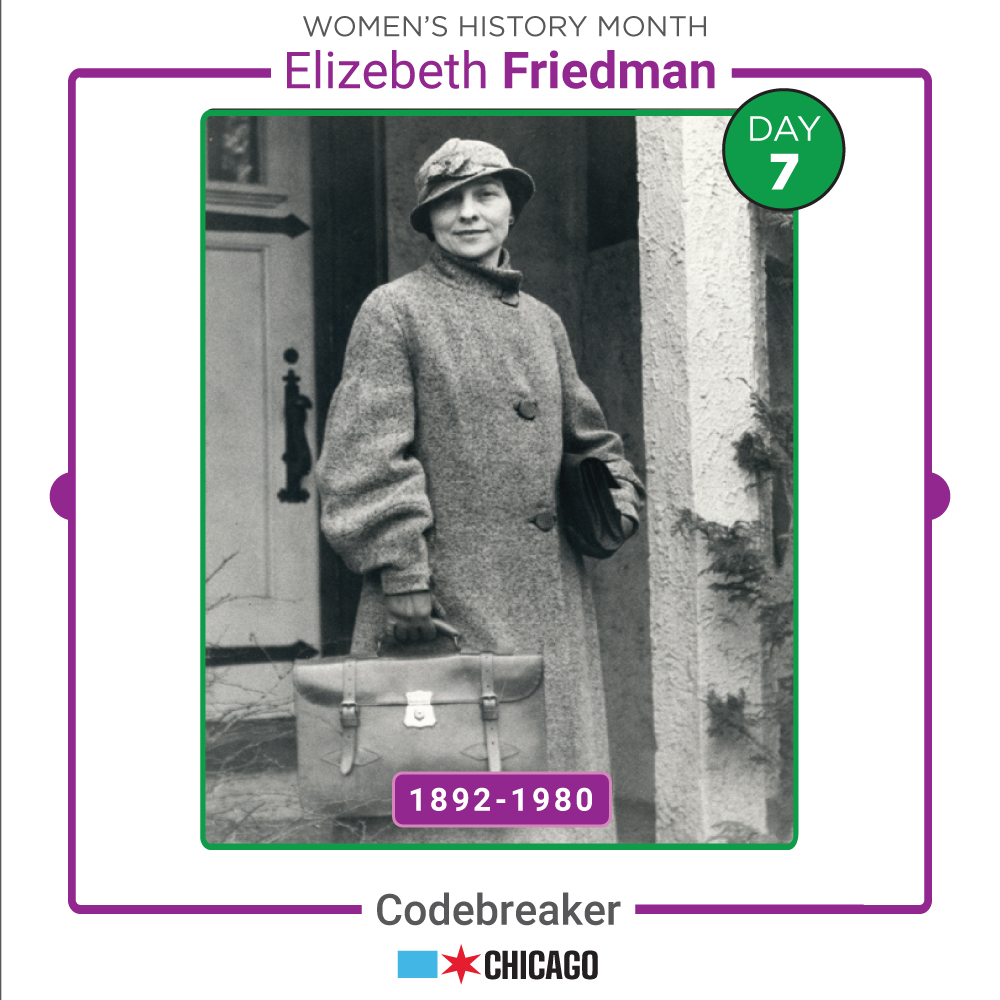 Friedman was an American expert cryptanalyst. Friedman began her career in Chicago as the Newberry Library before working with an eccentric millionaire who was obsessed with Shakespeare. Through that work, she learned code-breaking and quickly moved on to use her skills to help the U.S. government. In 1999, the year of its creation, she was inducted to the NSA Hall of Honor, and in 2002 NSA's OPS1 building was dedicated as the William and Elizebeth Friedman Building during the Agency's 50th Anniversary Commemoration.
Lucy Ella Gonzales Parsons (1853–1942)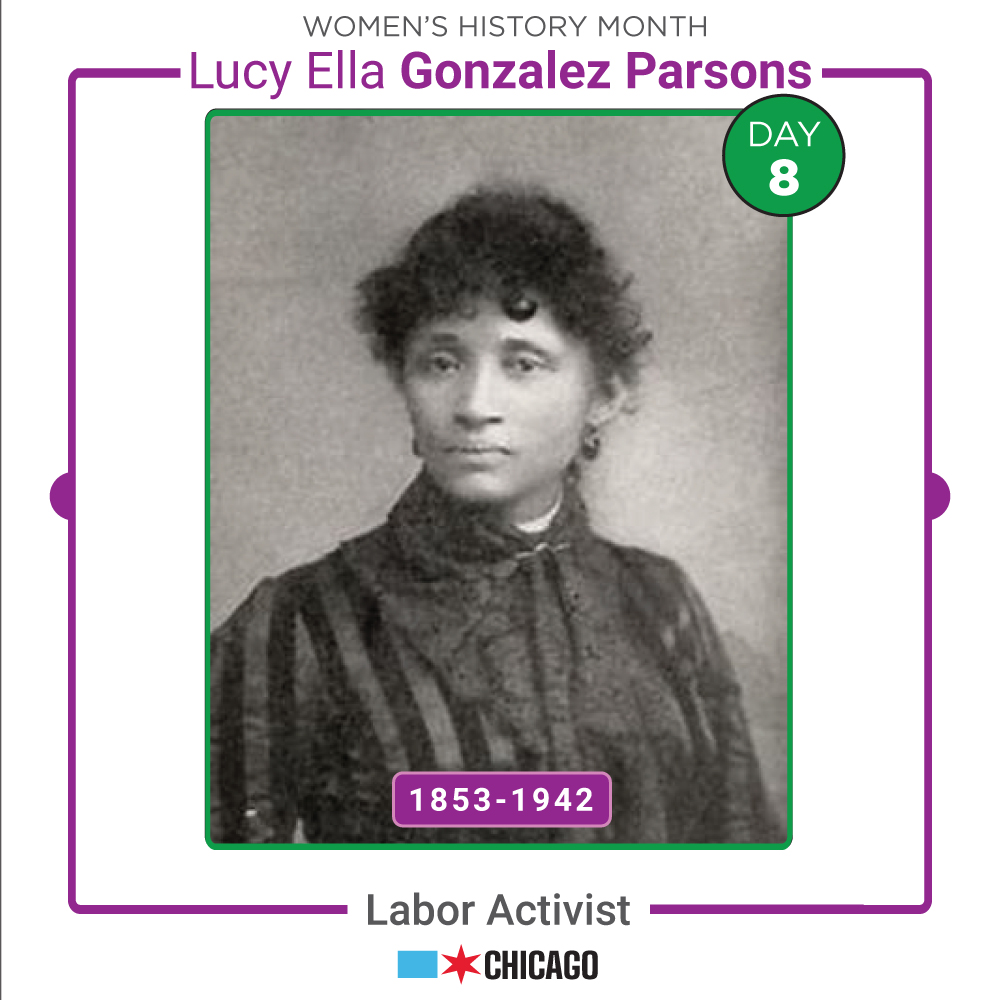 Lucy Gonzalez was a labor reformer and women's rights activist. Born of a mixed Native American, African American, and possibly Latinx heritage, she married socialist newspaper editor and labor organizer Albert Parsons (one of anarchists convicted for conspiracy to commit murder, he is considered a martyr of the Haymarket incident). In 1878, Lucy Parsons helped organize the Working Women's Union No. 1 (WWU). At the time, this was the only trade union in Chicago with female members. In 1905, she helped found the Industrial Workers of the World.
Kate Warne (1833–1868)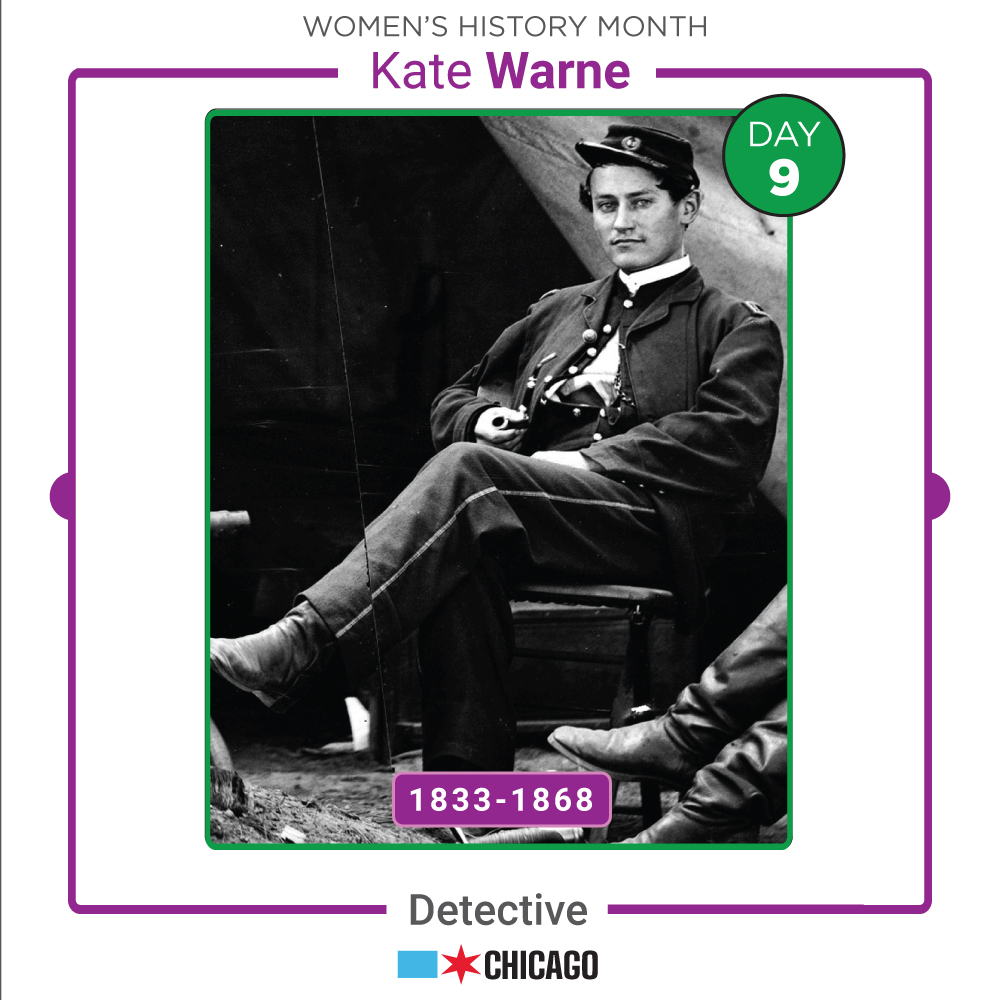 In 1856, Kate Warne responded to a classified advertisement placed by Allan Pinkerton, who was looking for a detective for his Chicago-based detective agency. Although few, if any, women worked in investigative or law enforcement positions at that time, Pinkerton gave Warne the job. She quickly proved herself as a competent and clever investigator. She went undercover, sometimes disguised as a man, to help the Union gather intelligence during the Civil War. In 1861, Warne helped uncover an assassination attempt against President-elect Abraham Lincoln. After the plot was uncovered, she and Pinkerton continued gathering intelligence for the Union cause during the Civil War.
Anita Patti Brown (1878-1950)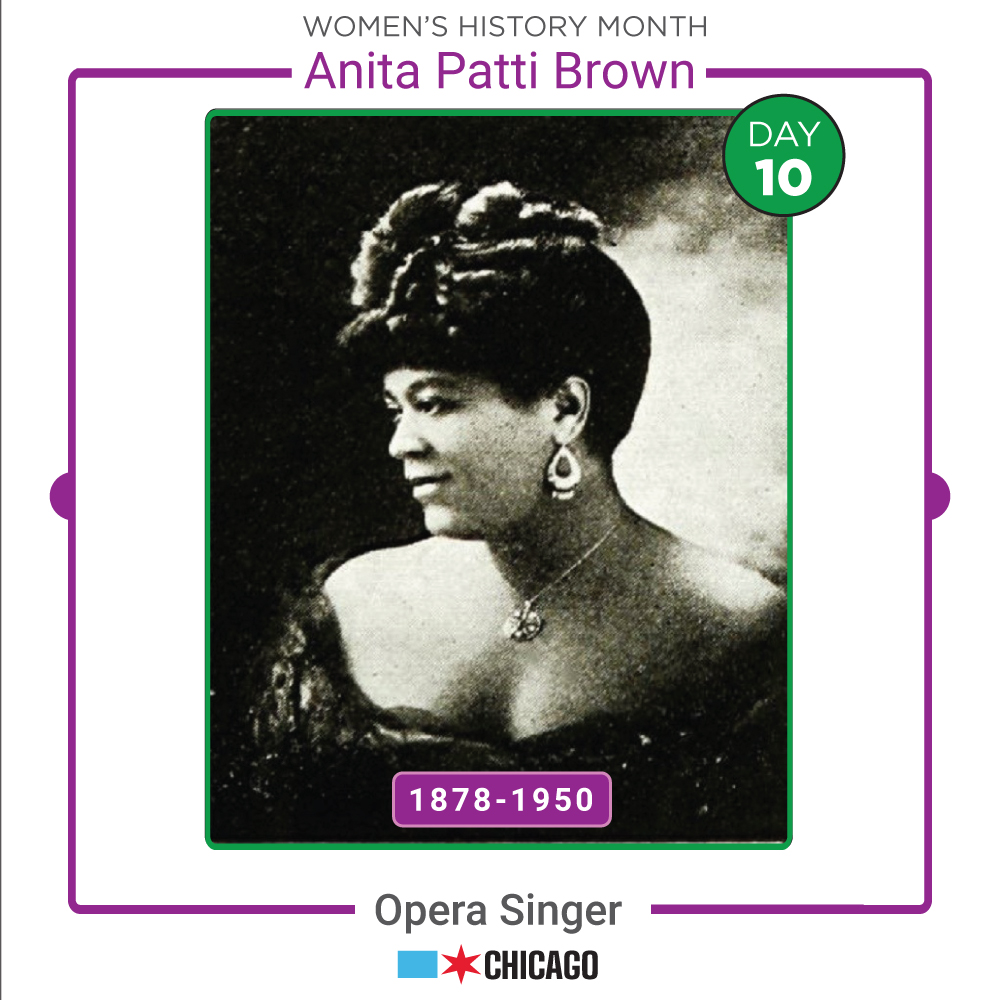 The early twentieth century musical heritage of Bronzeville is usually associated with jazz and blues – but Anita Patti Brown made her mark as an internationally respected classical operatic singer. Brown's international touring was extensive, but most of her time was focused on furthering art and culture in Chicago. One of her achievements in the early 1910s was establishing her own theatrical ensemble known as "Anita Patti Brown's Sing-Tell-Play Company" which combined music with poetry, storytelling and humor. A recording of her voice can be found here.
Margaret Hie Ding Lin (1888–1973)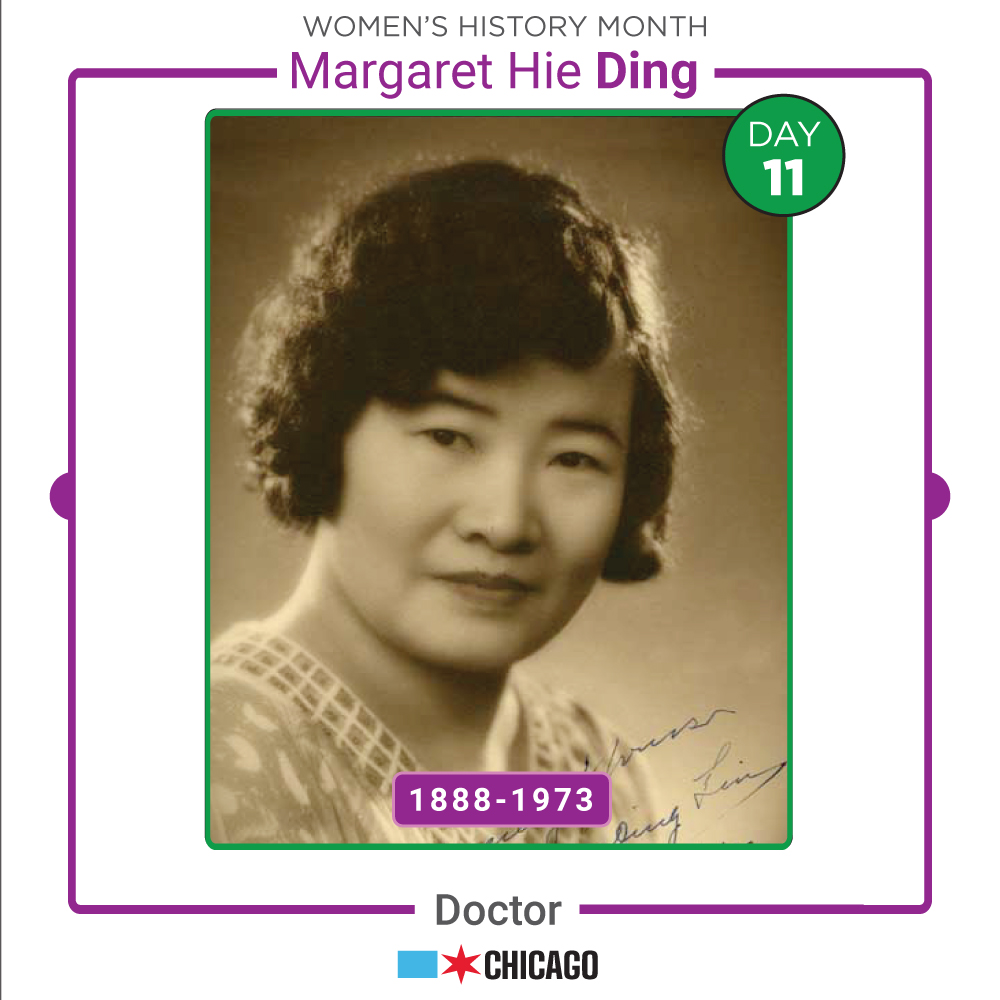 Margaret Hie Ding Lin was one of the nation's earliest Chinese women doctors. After attending China's Fuzhou College, and graduating in 1907, she came to Chicago to attend medical school at the University of Illinois. Lin was one of the nation's earliest Chinese immigrants to attend medical school, and among a small number of female doctors at that time. In 1941, she began to work at University of Illinois Medical Center, and later, the Illinois Department of Public Welfare. Recognizing that Chicago's Chinese community had inadequate medical care, she founded a free clinic in Chinatown, and devoted countless hours attending to patients there.
Pearl M. Hart (1890–1975)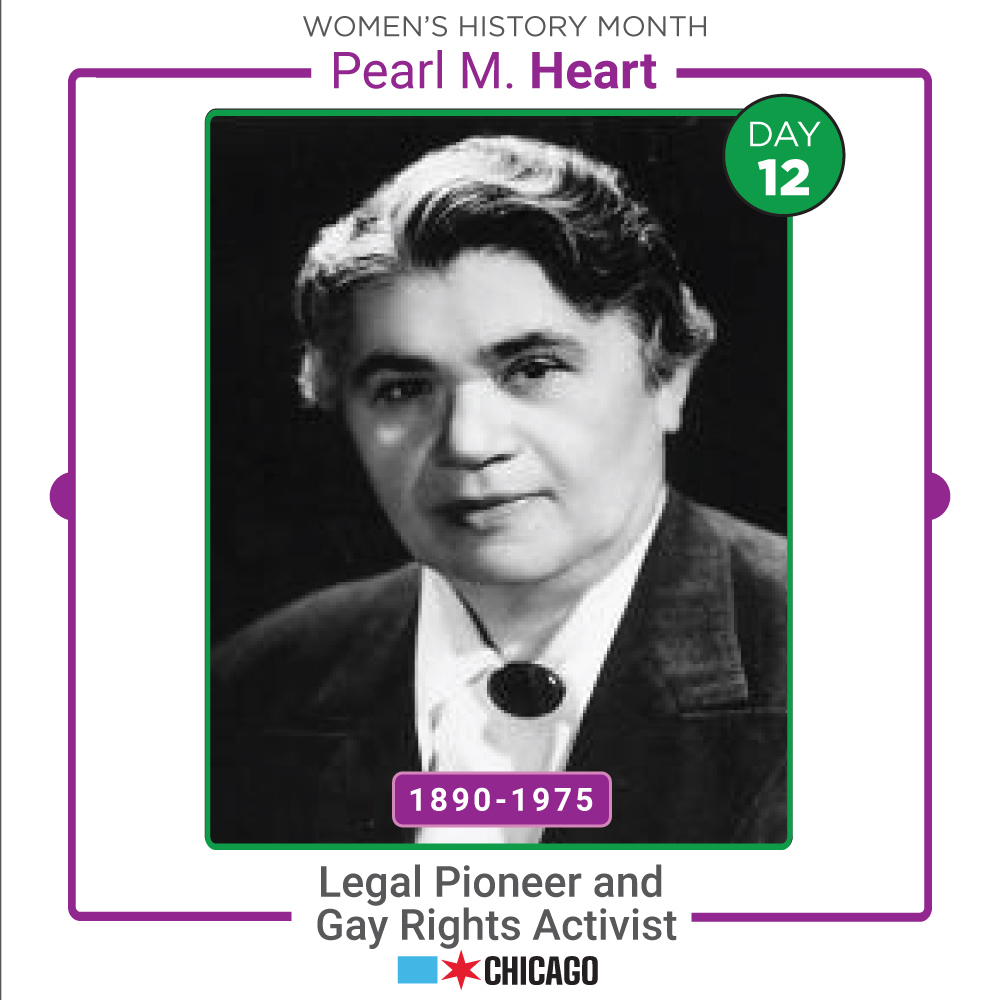 Pearl M. Hart was one of the first women to practice criminal law. She was also the first woman attorney to be appointed as a public defender in the Morals Court, where she represented children, women, and immigrants, for minimal or no fee. Nicknamed the "Guardian Angel of Chicago's Gay Community," Hart defended many members of the gay community against entrapment and harassment perpetrated by members of Chicago's police force. Hart worked tirelessly to get anti-entrapment laws passed, as well as right-to-privacy laws. In addition to gay rights, Hart defended immigrants in deportation proceedings. Hart was posthumously inducted into the Gay and Lesbian Hall of Fame in 1992.
Maurine Dallas Watkins (1896- 1969)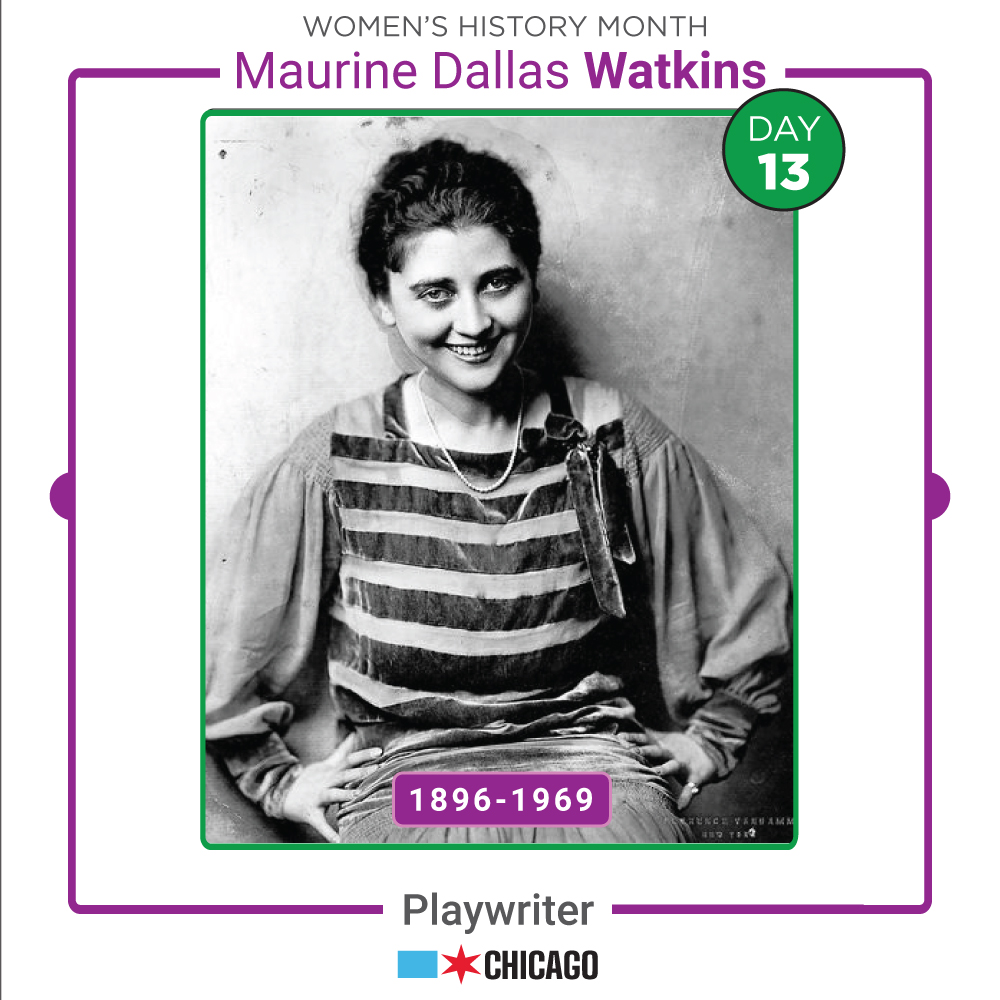 Maurine Watkins was popular journalist and successful Broadway playwright. Early in her career, Watkins worked for Chicago Tribune as a journalist, covering the Chicago scandal and crime scene. This experience gave her motivation to write the 1926 stage play Chicago. The play was later adapted to film the late 1920s and 1940s. After Watkins' death in 1969, Chicago was turned into a successful Broadway musical.
Amelia Earhart (1897-1937)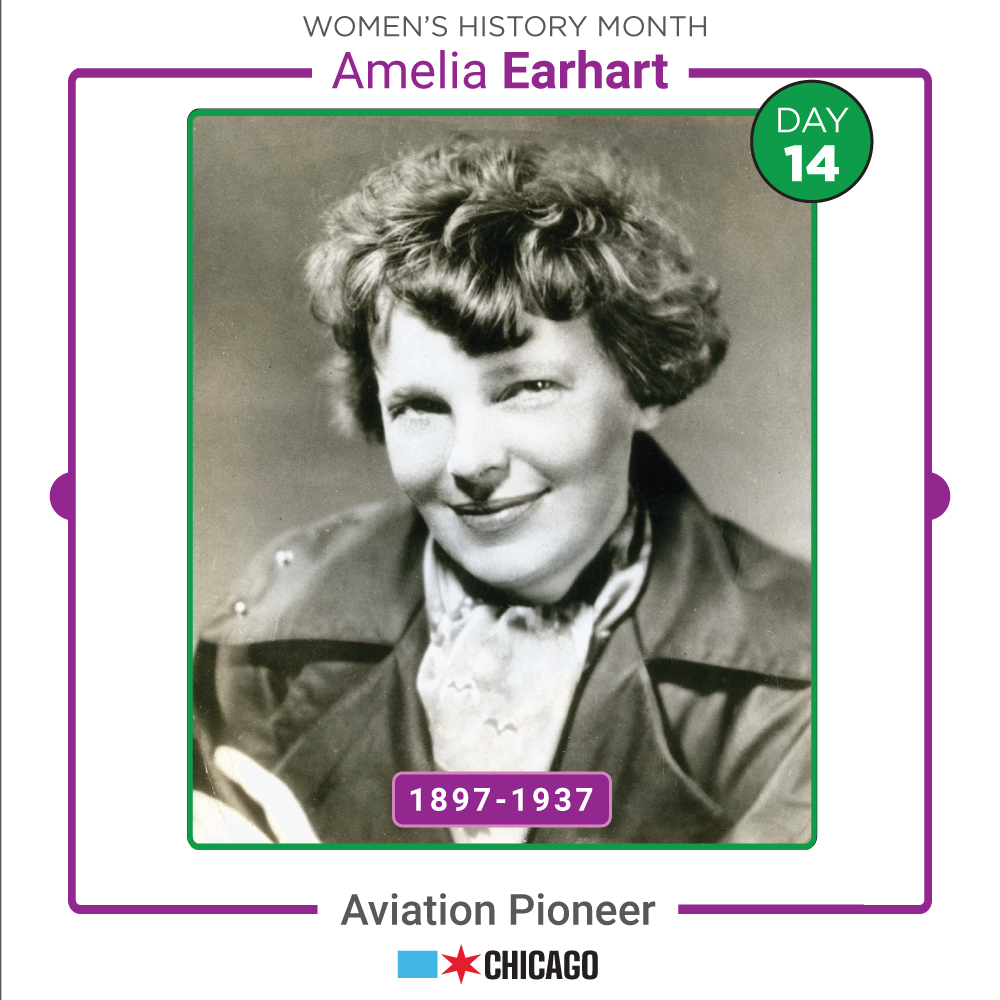 Amelia Earhart was the first female aviator to fly solo across the Atlantic Ocean. Few people realize that Earhart spent part of her teenage years in Chicago and graduated from Hyde Park High School. After graduating, Earhart began a career in aviation. She first gained celebrity status after her 1928 excursion as the first female passenger to cross the Atlantic by airplane. Soon after, she completed her first solo trip in 1932. Earhart's last flying excursion was an attempt to become the first woman to complete a circumnavigational flight of the globe. Though Earhart's plane was never found, her legacy continues to lives on.
Lil Hardin Armstrong (1898-1971)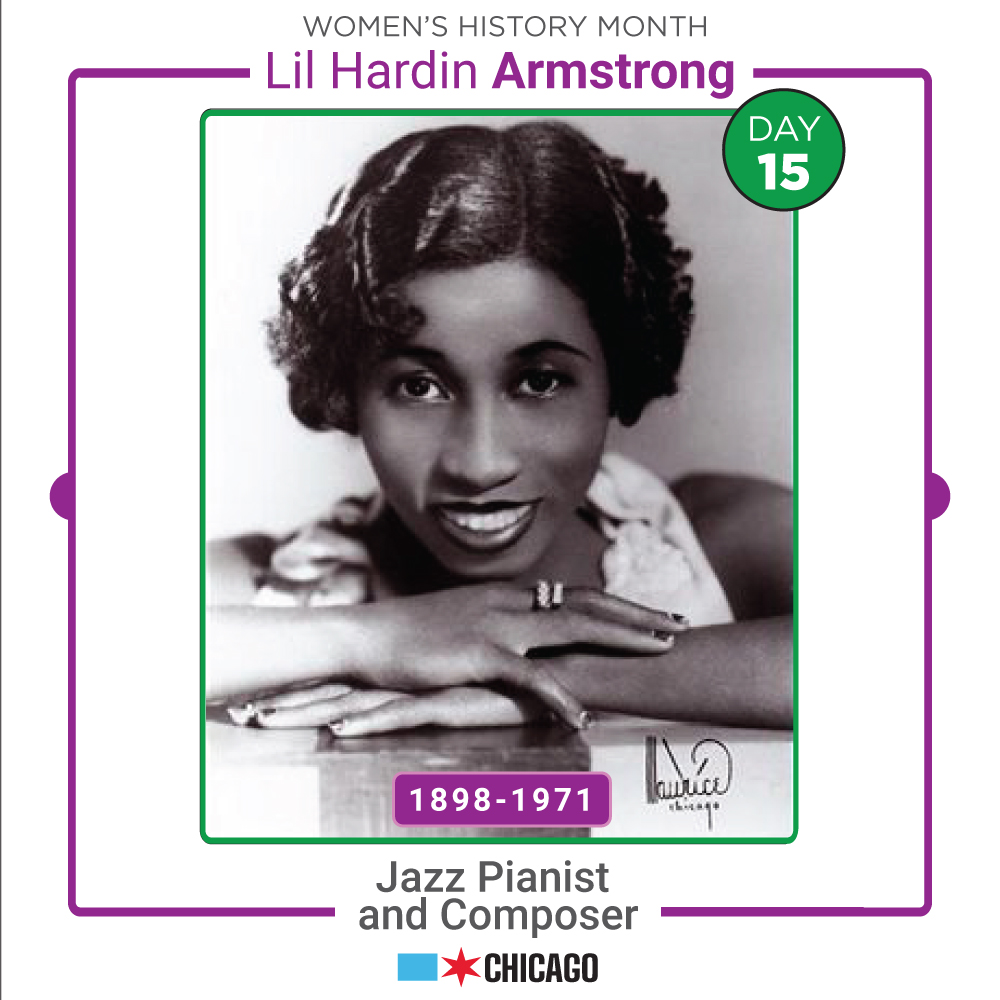 Lil Hardin Armstrong was a famous Jazz pianist, composer, bandleader and singer. In 1918, Armstrong moved to Chicago where she got her start as a bandleader. After touring with a few bands and orchestras, Armstrong married Louis Armstrong. Lil was instrumental in helping Louis master his skill and gain notoriety. In 2014, Armstrong was inducted into the Memphis Music Hall of fame.
Irene Hernandez (1915-1997)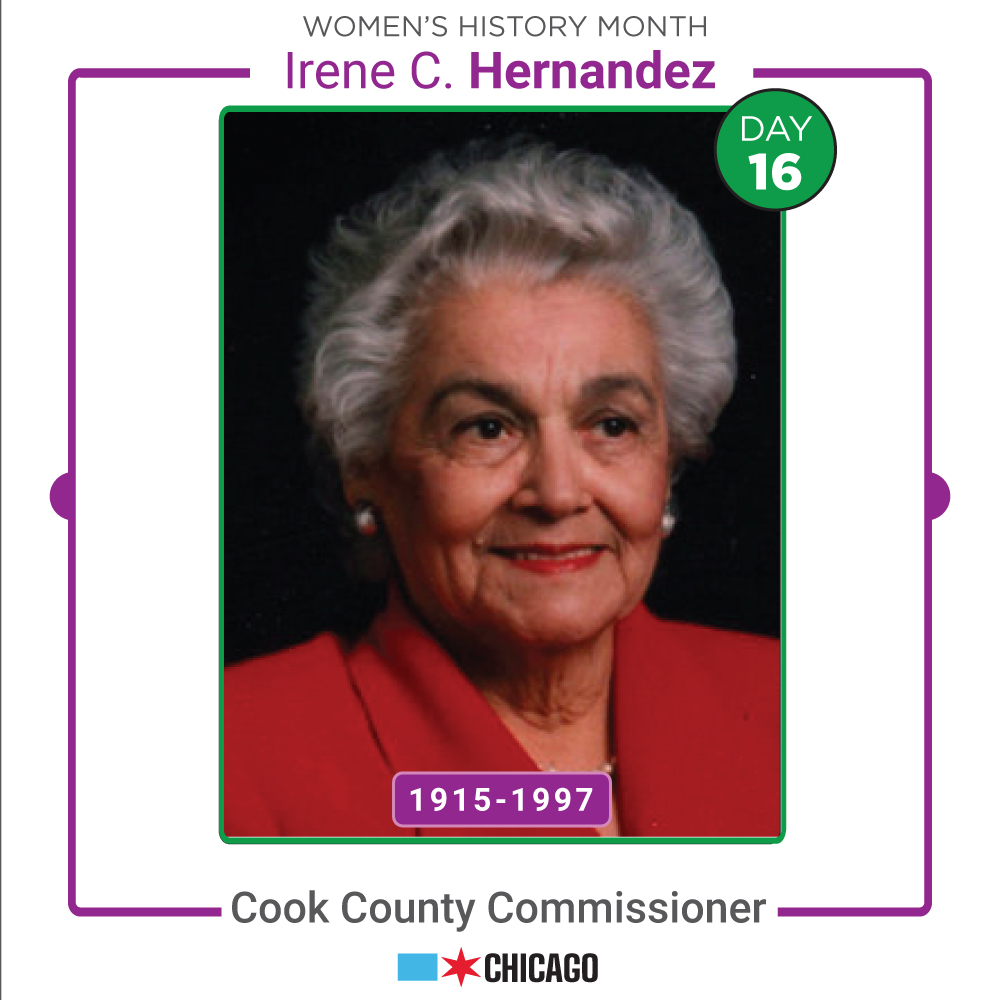 Irene C. Hernandez was the first person of Latinx ancestry to be elected to the Board of Commissioners of Cook County. She was appointed to a vacancy on the Board of Commissioners by Mayor Richard J. Daley and was elected by the people in November 1974. She later won elections in 1978, 1982, 1986 and 1990.
Geraldine Lawhorn (1916 – 2016)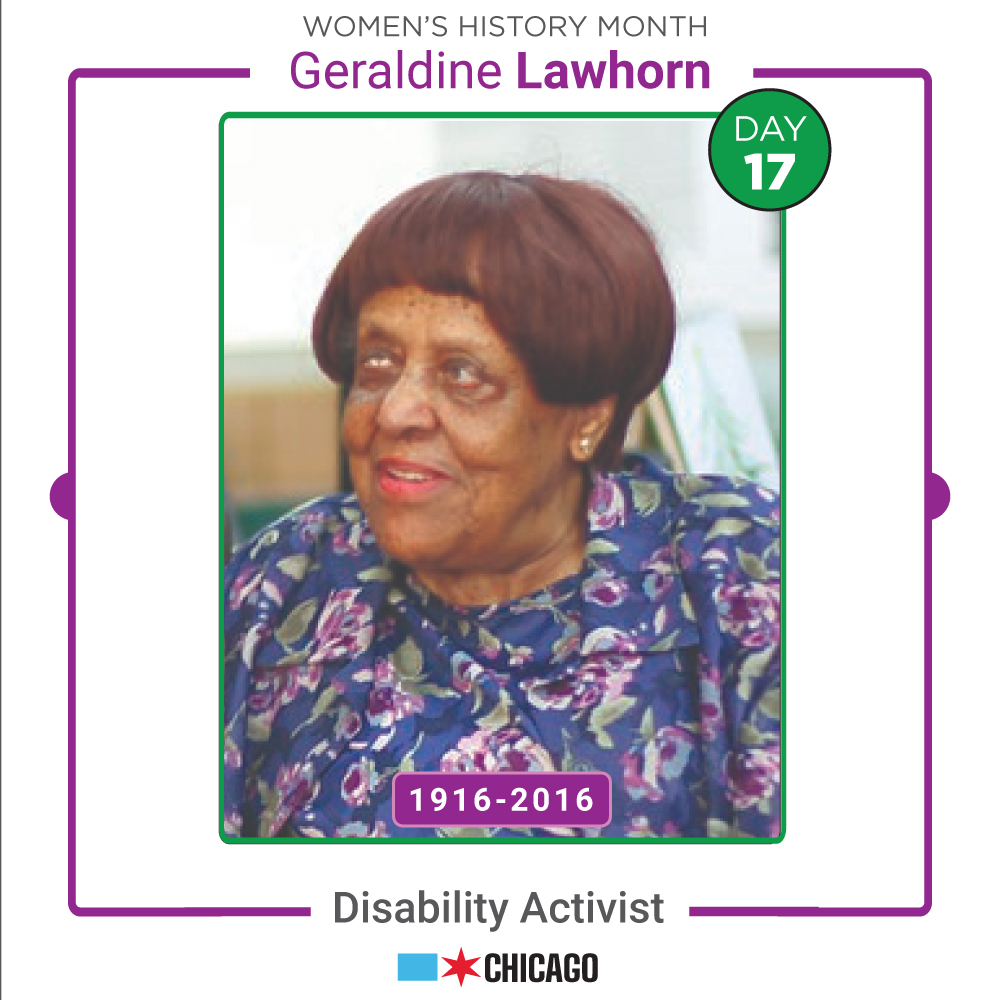 Geraldine Lawhorn was a figure of the American Deaf-Blind community, performer, actress, pianist, then instructor at the Hadley Institute for the Blind and Visually Impaired. At 67 years old, she became the first deaf-blind African American to earn a college degree in the United States . She spent the majority of her life advocating for education access and acceptance for the visually impaired.
Guadalupe Reyes (1918 – 2000)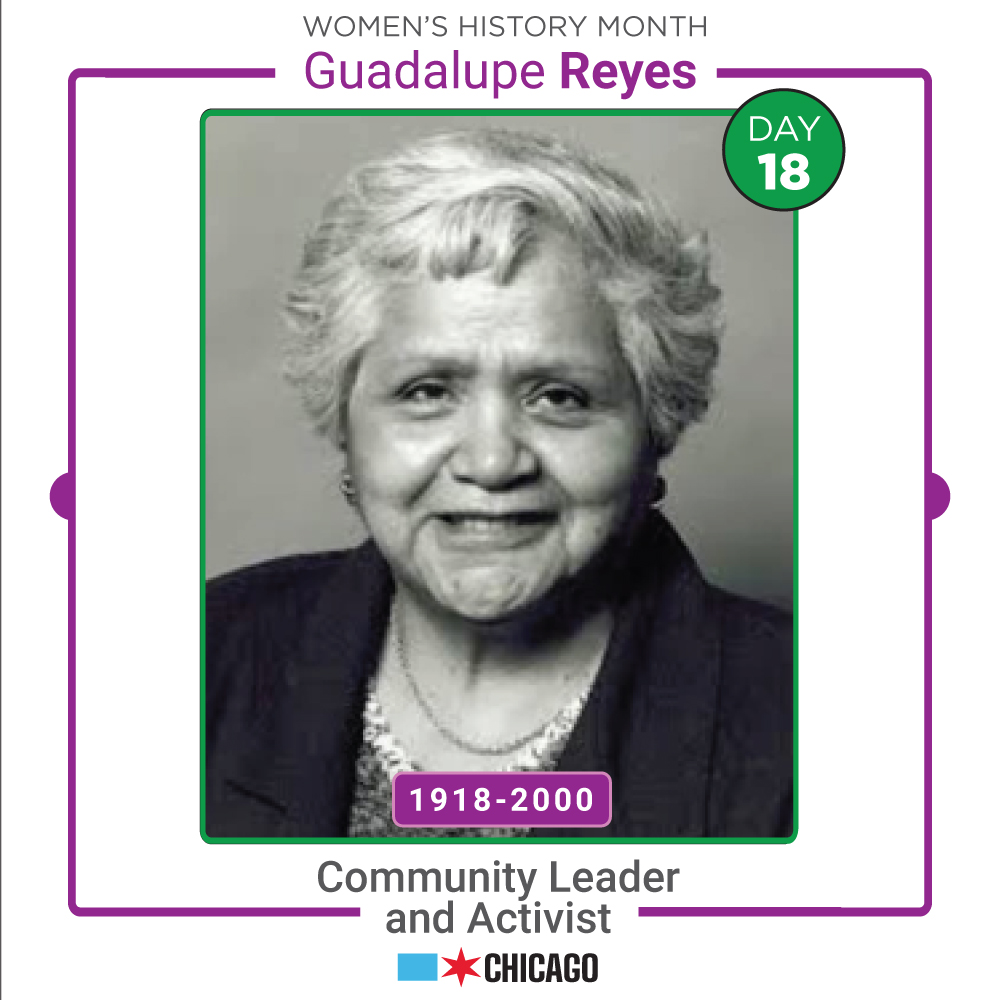 A dedicated Chicago activist, Guadalupe Reyes exemplified how an ordinary citizen can change their community for the better. She pushed for civic engagement within the Mexican-American community and helped establish El Valor, Benito Juarez High School, Fiesta del Sol, and Proyecto Maravilla in Pilsen. She also sat on the Chicago Transit Authority Board for nine years.
Leona Woods (1919 – 1986)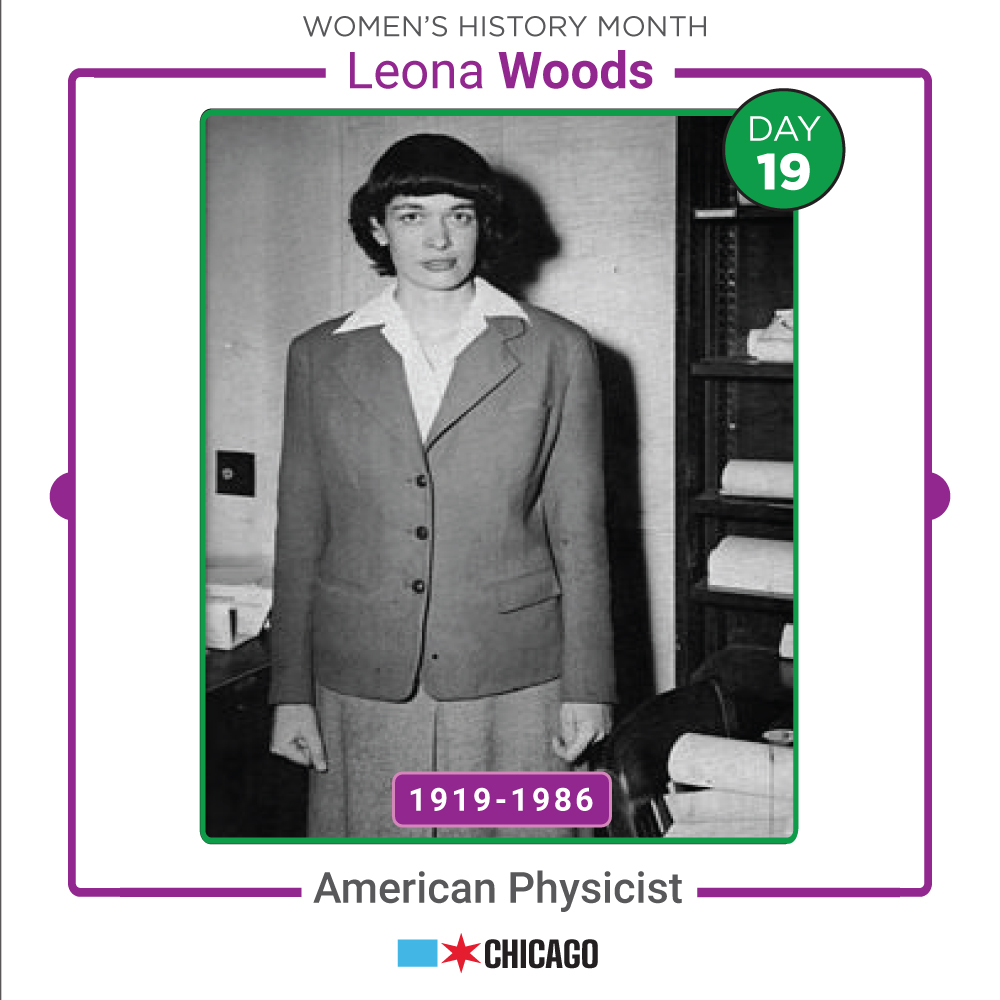 Woods was an American physicist who helped build the first nuclear reactor and the first atomic bomb. At age 23, she was the youngest and only female member of the team which built and experimented with the world's first nuclear reactor. In particular, Woods was instrumental in the construction and then utilization of Geiger counters for analysis during experimentation. She was the only woman present when the reactor went critical. She also worked on the Manhattan Project.
Jewel Stradford Lafontant-Mankarious (1922 – 1997)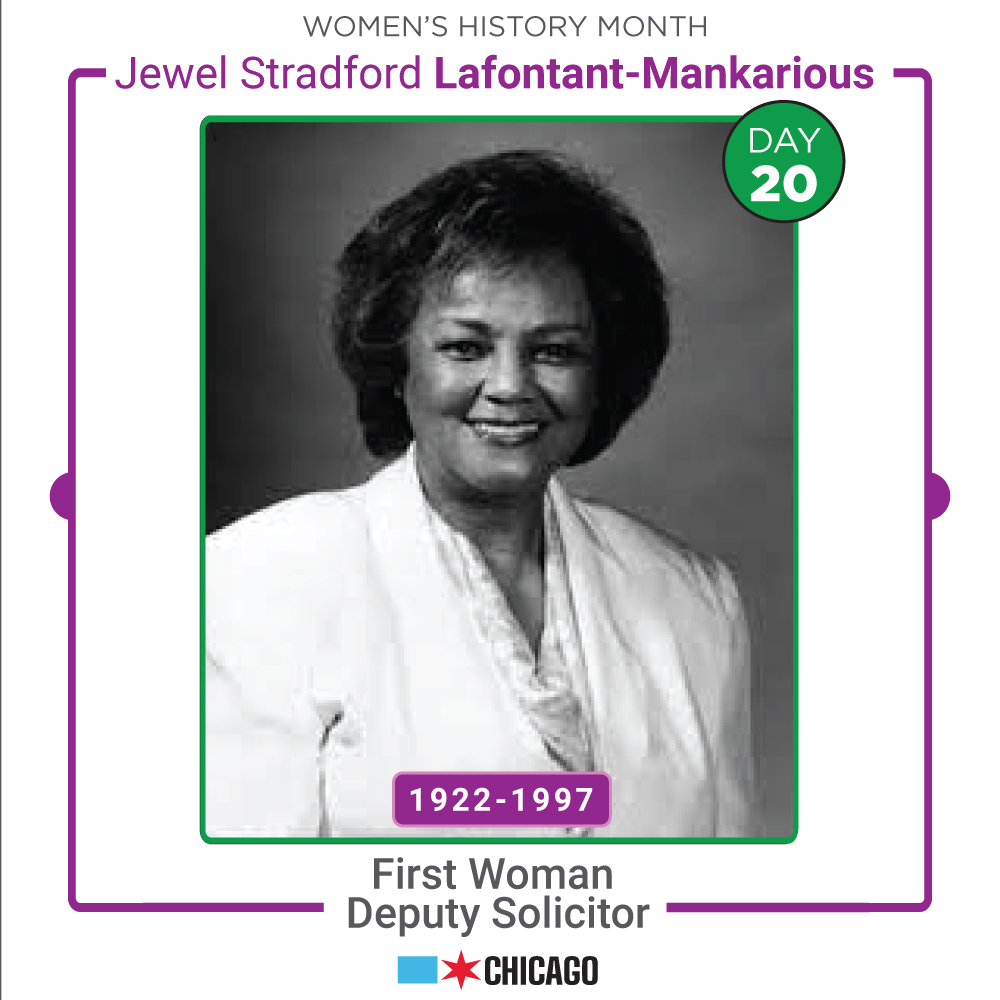 Jewel LaFontant-Mankarious was the first woman (and African American womanto serve as deputy solicitor general of the United States, an official in the administration of President George H. W. Bush, and an attorney in Chicago.
Addie L. Wyatt (1924 – 2012)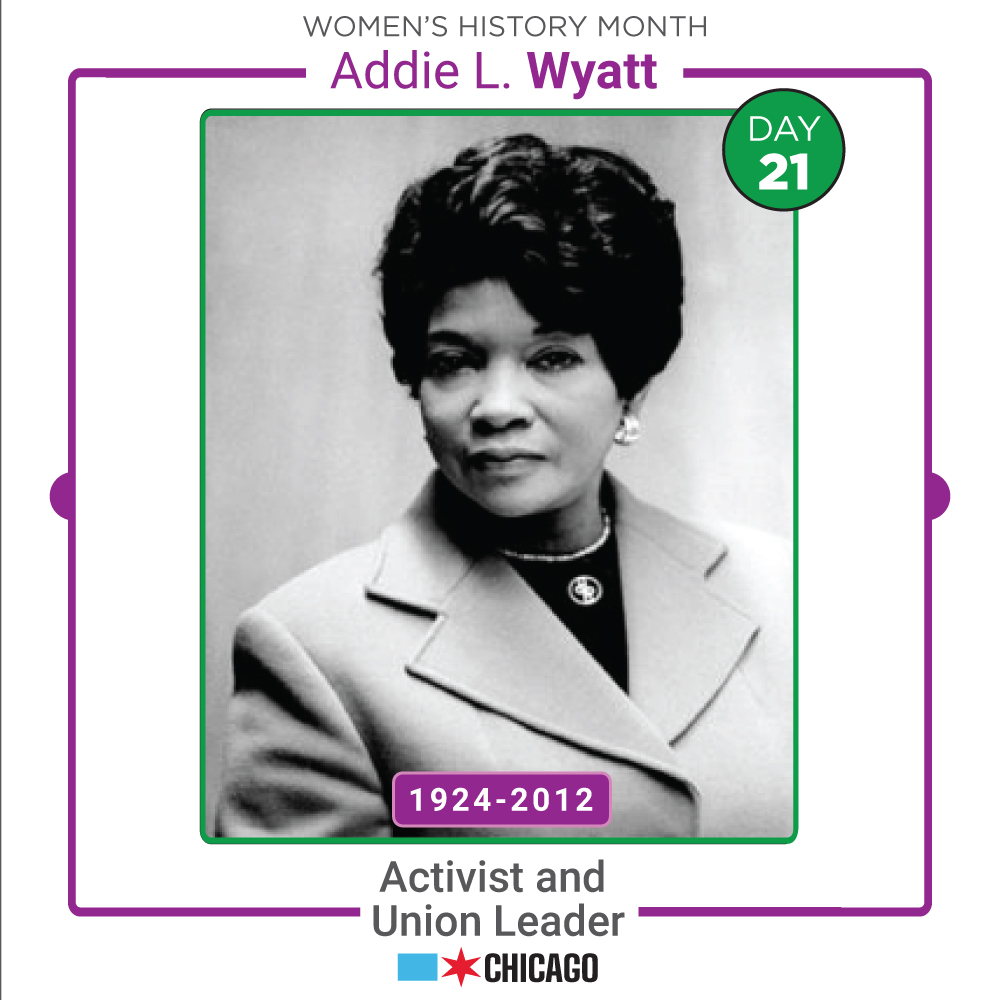 Addie Wyatt was a leader in the United States Labor movement, and a civil rights activist. Wyatt is known for being the first African American woman to be elected as international vice president of a major labor union—namely the Amalgamated Meat Cutters Union. In 1975, with the politician Barbara Jordan, she became the first African-American woman named by Time magazine as Person of the Year.
Maria Tallchief (1925–2013)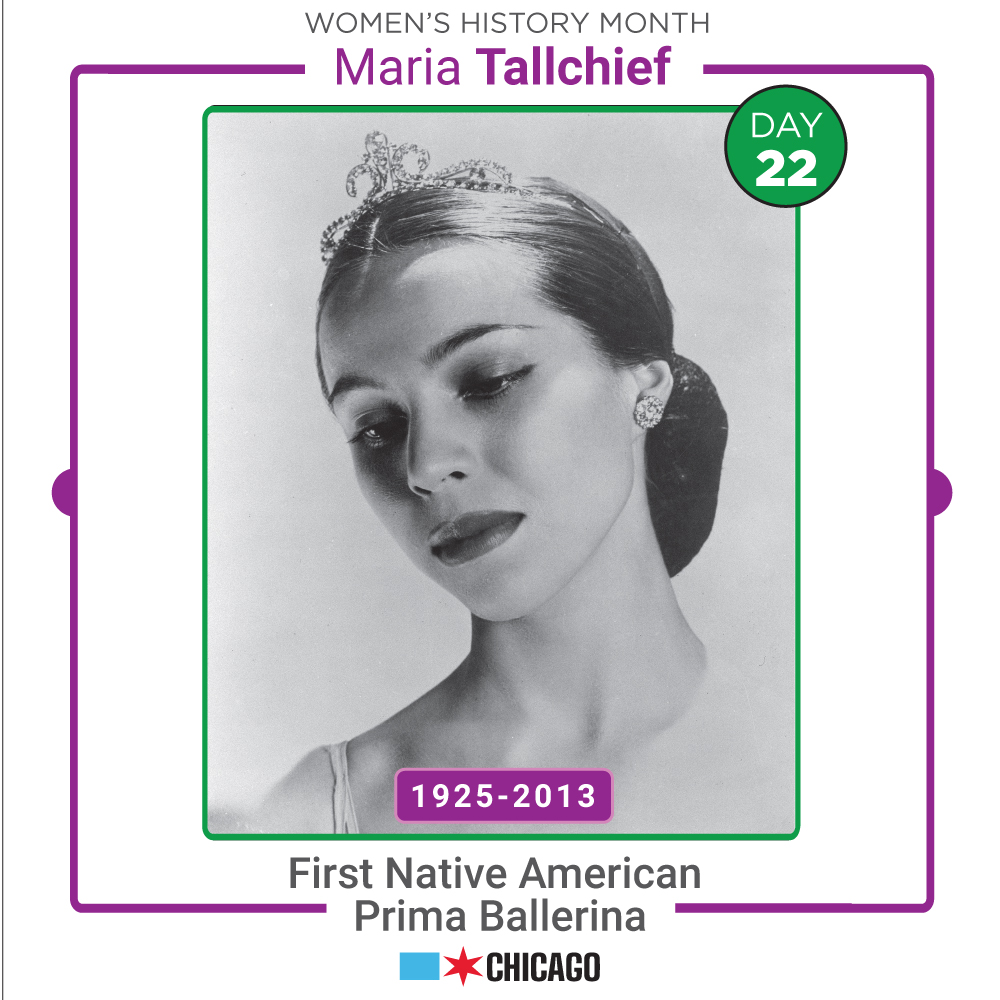 Paschen Osage Tribe member Maria Tallchief broke racial barriers as America's first Native American prima ballerina of a major dance company. At seventeen, Tallchief moved to New York where she became first prima ballerina of the Ballet Russe de Monte Carlo and then the New York City Ballet. She eventually moved to Chicago, and after retiring from dance, she promoted ballet in Chicago. Tallchief served as the director of ballet for the Lyric Opera of Chicago from 1973–1979. Two years later, she and her sister founded the Chicago City Ballet. Tallchief would then go on to receive a Kennedy Center Honor for Lifetime Achievement.
Lois Weisberg (1925 – 2016 )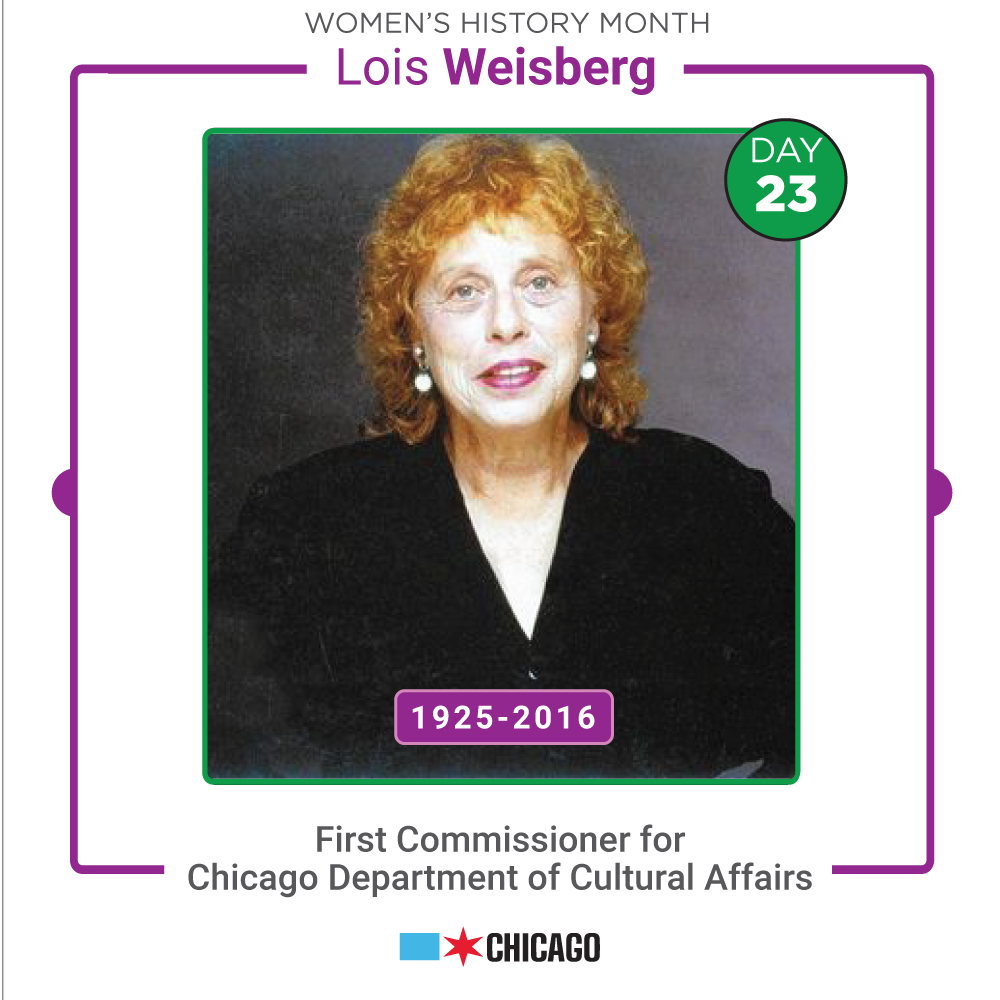 Weisberg was the first Commissioner of Cultural Affairs for the City of Chicago, from 1989 until January 2011. As commissioner, Lois brought us Cows on Parade, the World Music Festival, dance and art programs for students, expanded neighborhood festivals and produced many Millennium Park events. If you've ever enjoyed summer events in Chicago, it's likely former Commissioner Weisberg had something to do with it!
Patsy Matsu Takemoto Mink (1927 – 2002)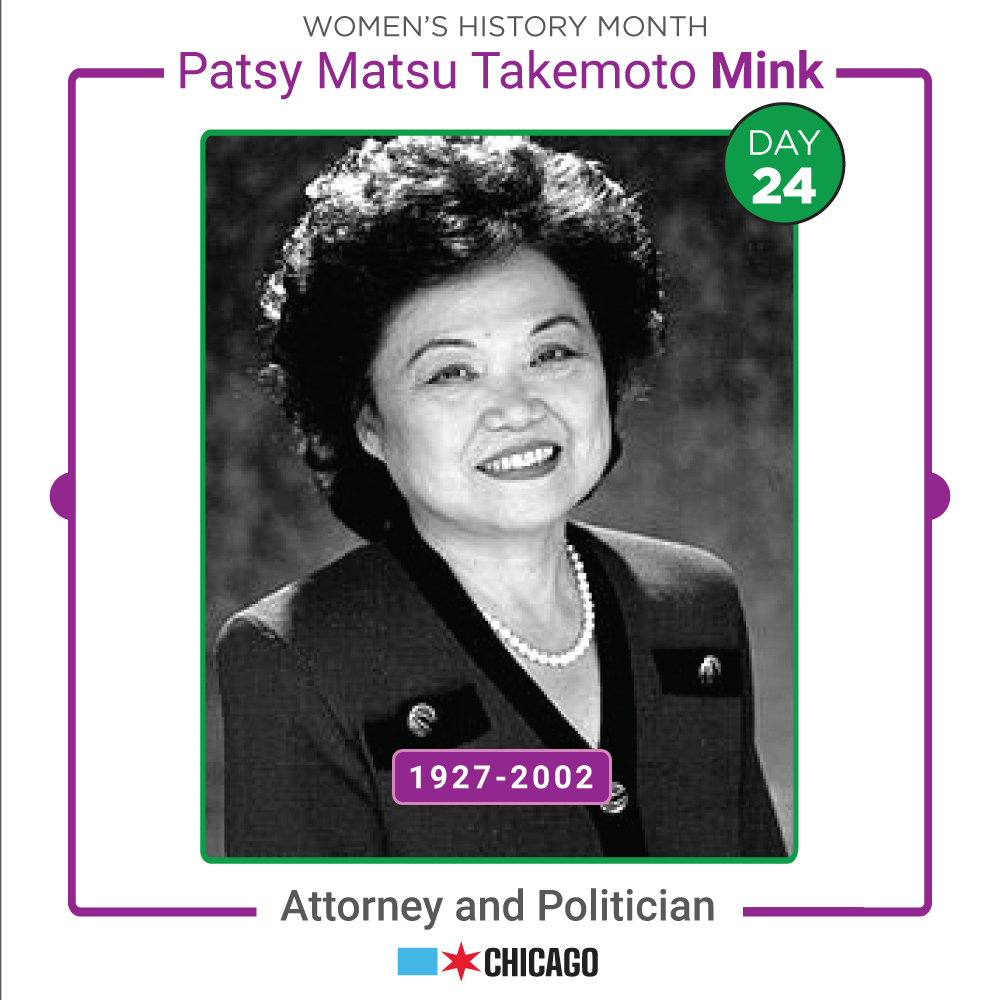 Mink was a third-generation Japanese American, she graduated as valedictorian of the Maui High School class in 1944 and later enrolled at the University of Nebraska, where she experienced racism and worked to have segregation policies eliminated. Mink relocated to Chicago to earn her J.D. at University of Chicago. However, once she became married, she was barred from practicing law. This resulted in her returning to Hawaii, where she eventually launched her pioneering political career.
Eppie Lederer (1918-2002)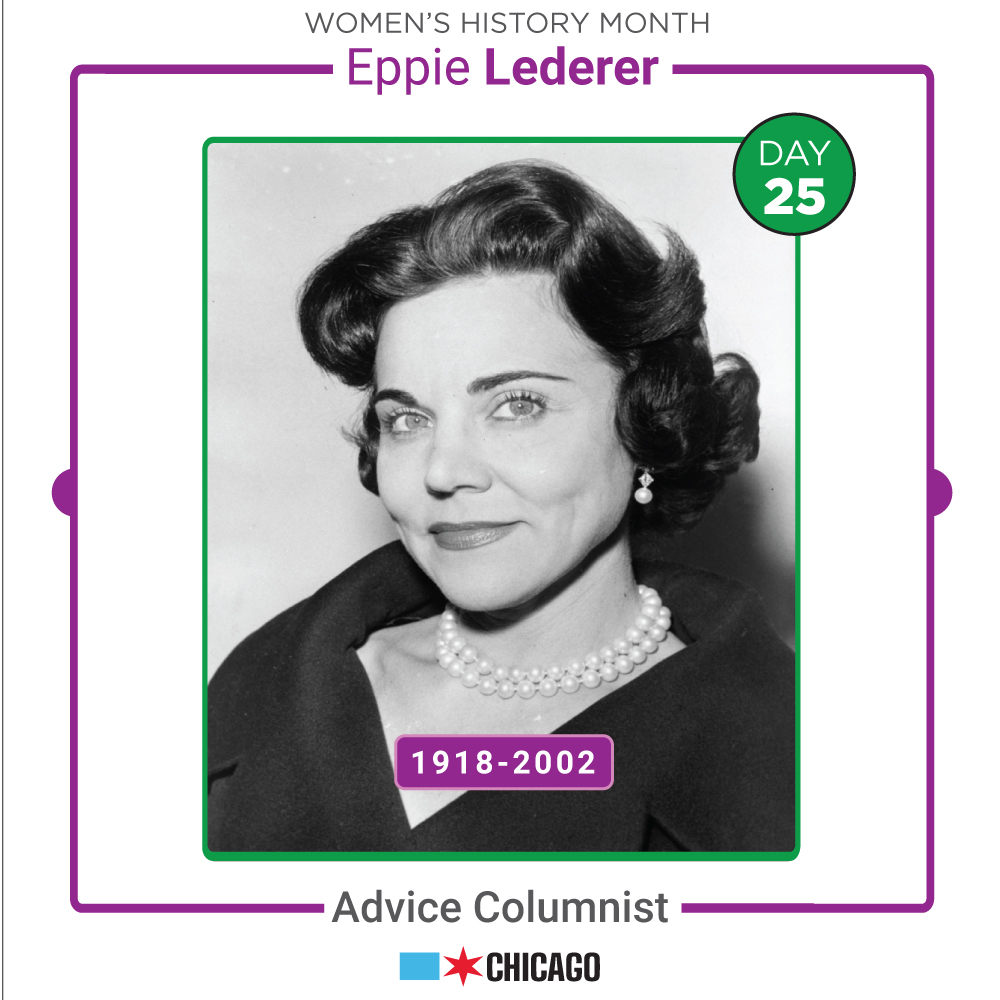 Esther Pauline "Eppie" Lederer, who wrote under the pen name Ann Landers, took over the "Ask Ann Landers" column in the Chicago Sun-Times in 1955. Lederer maintained the column for 47 years, earning a readership of upwards of 90 million people. She had unpopular opinions on topics considered "taboo" for the time, such as being pro-choice. When she died, City Council passed a two-page resolution celebrating her contributions to the city. Lederer's twin sister, Pauline Phillips, was also a columnist and launched "Dear Abby" shortly after "Ask Ann Landers" launched.
Helen Alvarado (1932–2014)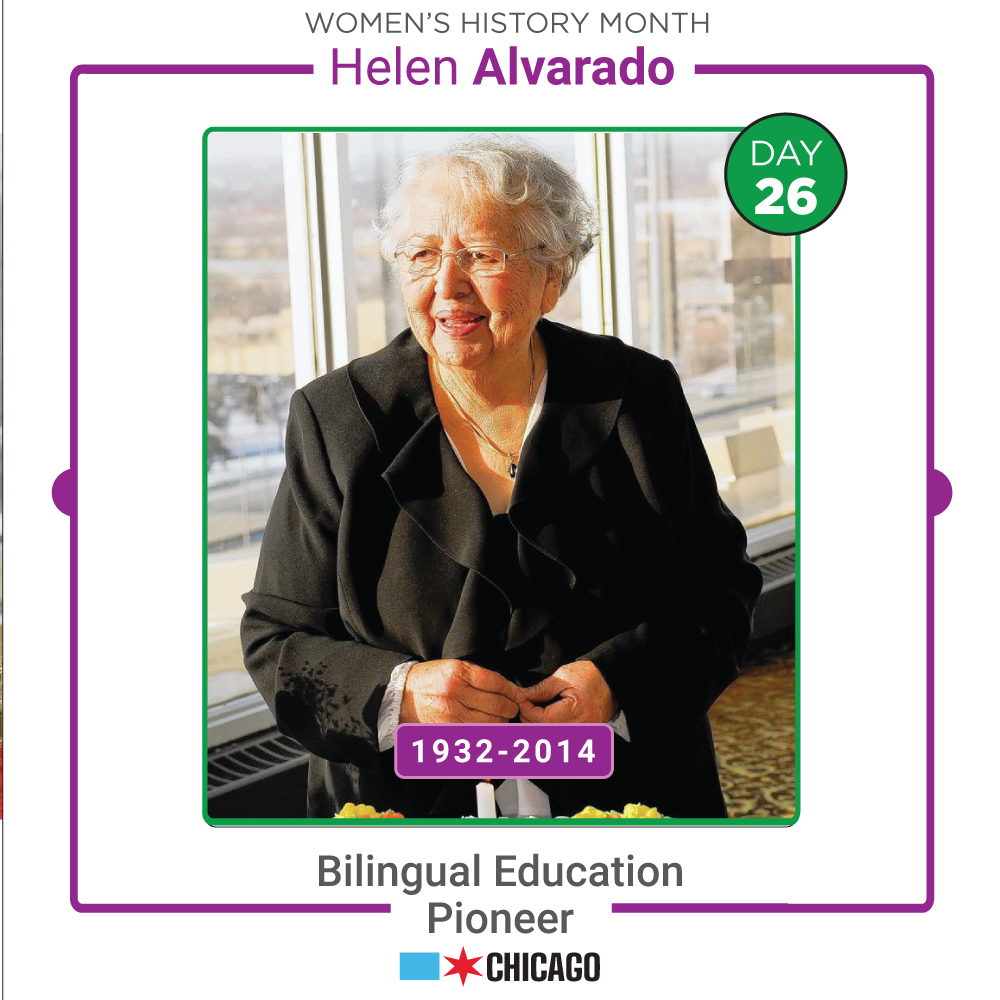 Helen Alvarado was a bilingual education pioneer. She began her career as a Spanish instructor for Wheaton College in the 1960s. Then went on to become a teacher at Cooper Elementary School located in Chicago's Pilsen neighborhood, where the school had a growing population of Latino students who spoke little or no English at home. Alvarado conducted class-by-class assessments and developed curriculum that later became a model for bilingual programs across the state. In addition to her teaching career, Alvarado was a mentor to hundreds of Latina women, including immigrants and young mothers.
Barbara Procter (1932 –2019)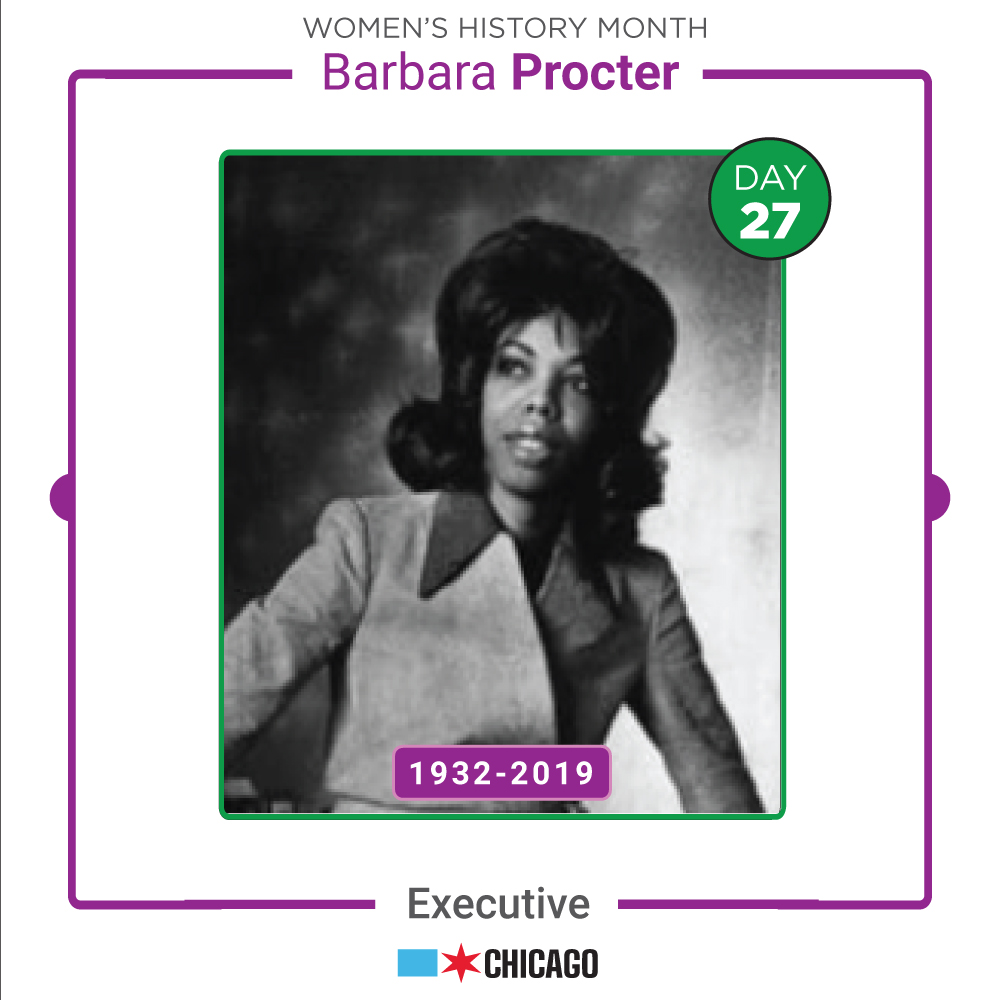 Barbara Proctor was the first African American woman to own and manage an ad agency. She started Proctor and Gardner Advertising in 1970 after her employer asked her to participate in a marketing campaign that demeaned the Civil Rights movement. Refusing to participate, she quit that agency and created her own path that led her to corporate success. The agency eventually became the second largest African American ad agency in the country.
Mayor Jane Byrne (1933-2014)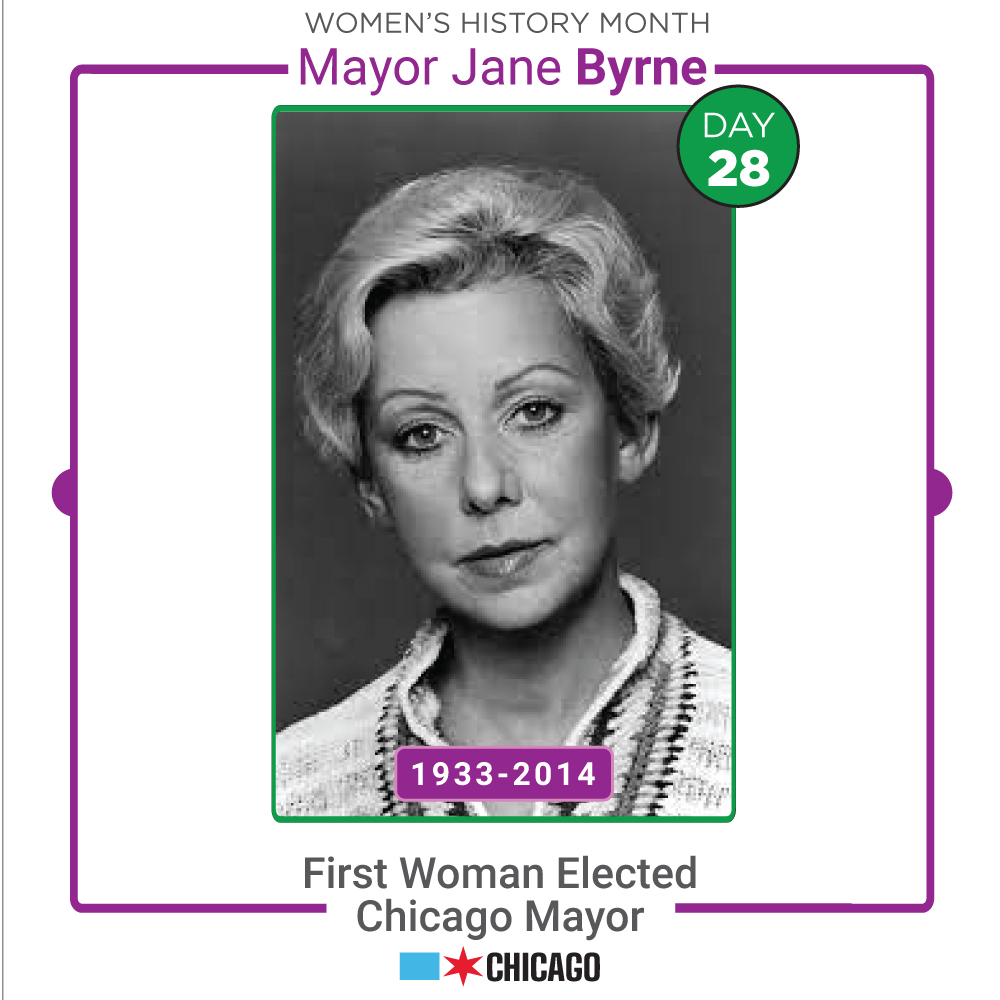 Jane Byrne was a politician who made history as the first woman elected as Mayor of the City of Chicago. Byrne won the main election with 82.1% of the vote, the largest margin in a Chicago Mayoral Election. Byrne served from 1979 to 1983, paving the way for many women politicians in Chicago.
Jacqueline Vaughn (1935 – 1994)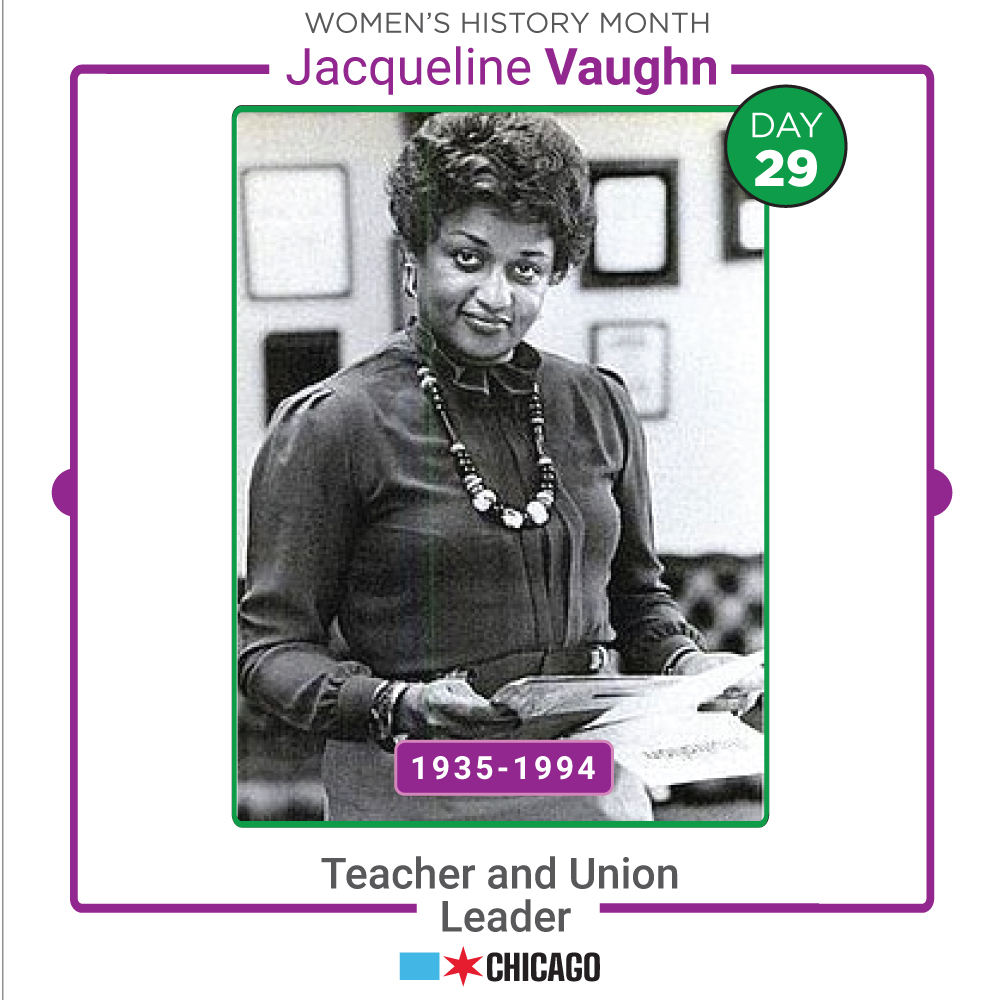 Jacqueline Barbara Vaughn was a prominent special education teacher and labor leader for Chicago Public Schools. During her career, Vaughn was the first African-American and first woman to head the nation's third largest teachers union local. She served as President of the Chicago Teachers Union from 1984 until 1994, the Illinois Federation of Teachers, and Vice-President of the American Federation of Teachers.
Laura Cha-Yu Liu (1966 – 2016)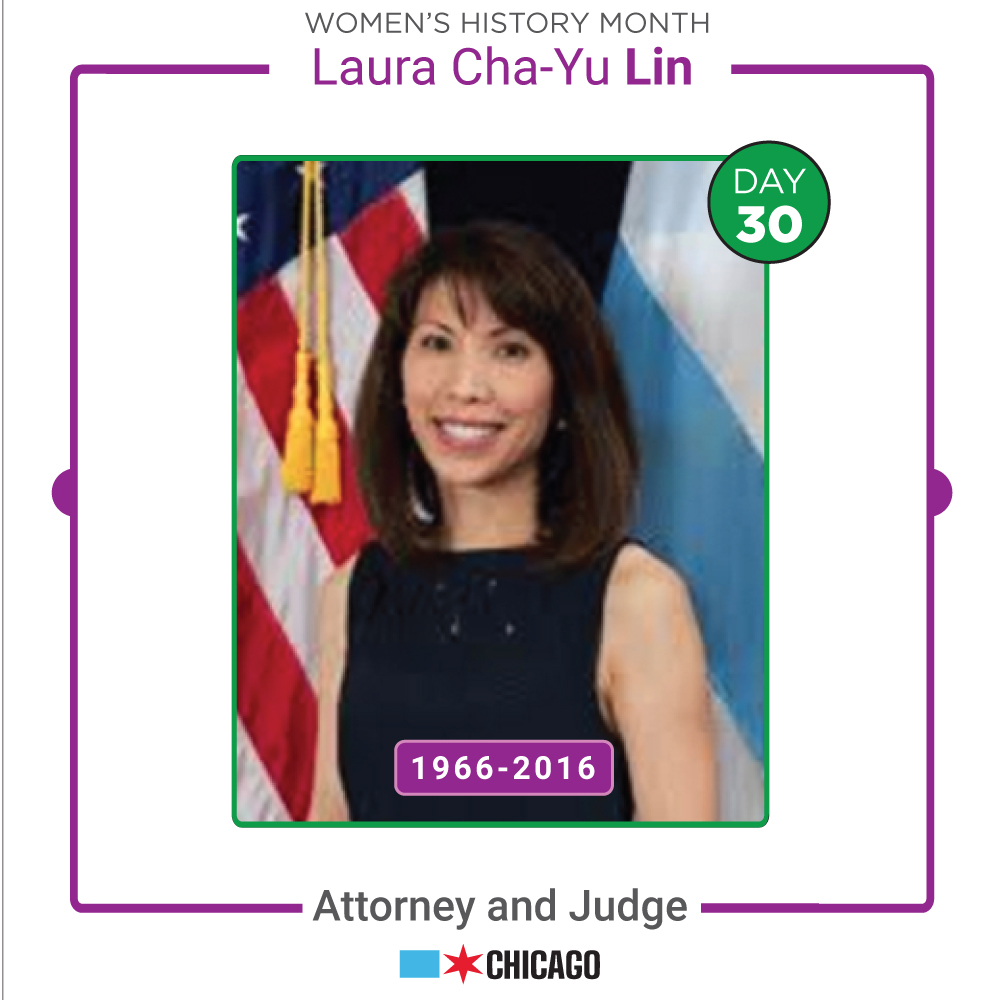 Laura Cha-Yu Liu was an American circuit court and state appellate court judge. She was of Chinese and Vietnamese descent. She was the first Chinese American woman judge to be appointed to the Circuit Court of Cook County and the first Chinese American to be appointed to the Illinois Appellate Court. On the bench, Liu worked to improve language access and made the court systems more accessible. In 2016, Liu was awarded, posthumously, the Daniel K. Inouye Trailblazer Award by the National Asian Pacific American Bar Association.
Maria T. Mangual (1944 – 2007)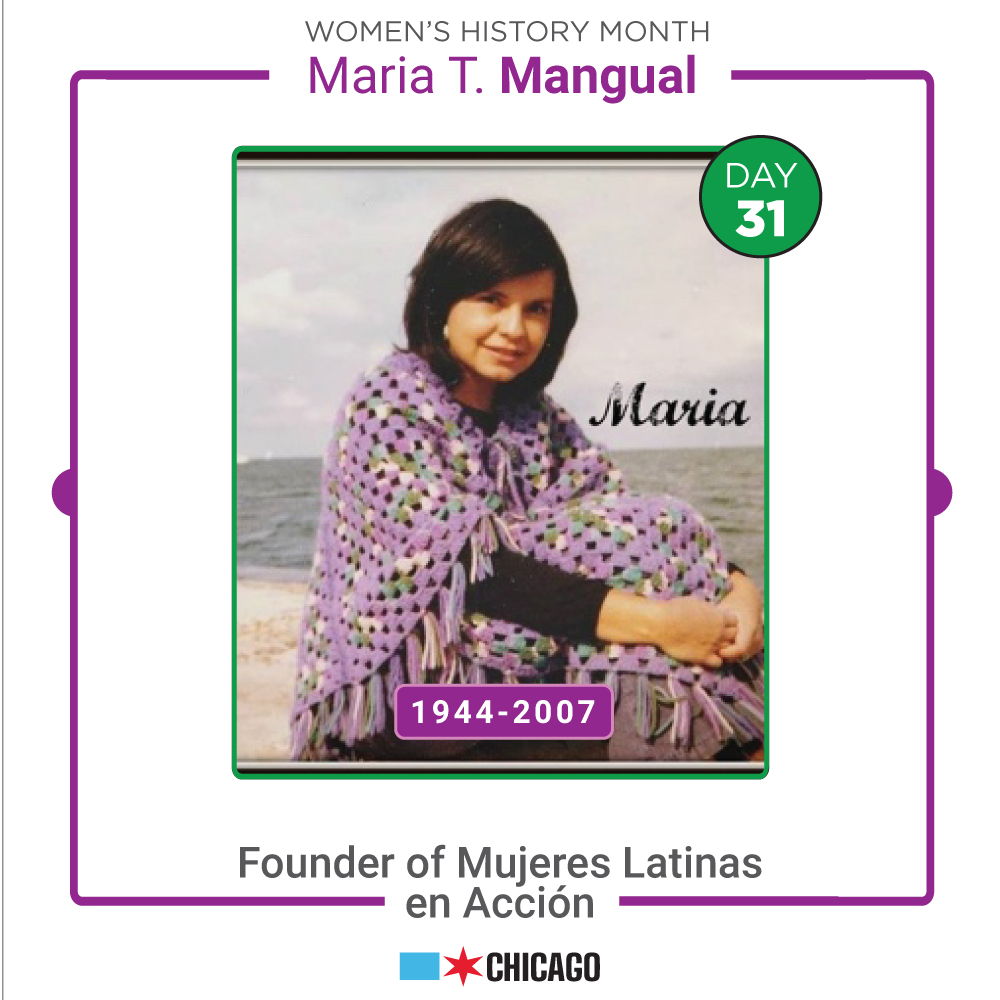 Maria T. Mangual founded Mujeres Latinas en Acción, a social agency that provides reproductive services and childcare to Latinas, while also promoting nonviolent advocacy and empowerment through initiatives to develop leadership skills. Through Mangual's leadership and vision, MLEA transformed into a pillar in the community that continues to provide resources and support to Chicagoans.
Mangual was also involved with the Chicago Foundation for Women, serving as their chairwoman from 1994–1996, and later serving as director of development. She received awards and recognition from a variety of organizations, such as Outstanding Leadership from The Women's Funding Network and Mujeres Latinas en Acción. Mangual was also included on a list in Today's Chicago Woman magazine's 100 Influential Women.