Affordable Connectivity Program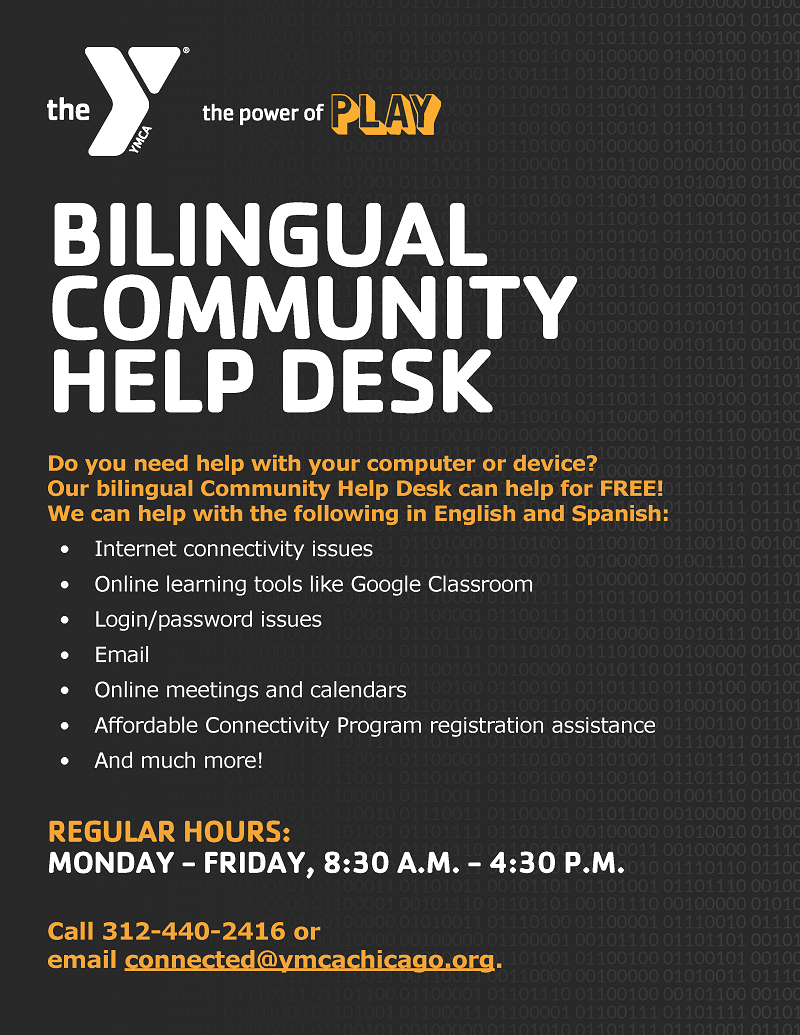 No-Cost Internet
Chicago Connected provides no-cost, high-speed internet service to Chicago Public Schools students and their families.
Students may qualify for either high-speed internet or a district-provided hotspot at no cost through the Chicago Connected program. Students who qualify for high-speed internet have been assigned an activation code. To check if you're eligible, visit cps.edu/getconnected.
For more information, visit cps.edu/chicagoconnected.
Families can take advantage of the Affordable Connectivity Program, an FCC program that helps connect families and households struggling to afford internet service. The Affordable Connectivity Program provides:
Up to $30/month discount for broadband service;
Up to $75/month discount for households on qualifying Tribal lands; and
A one-time discount of up to $100 for a laptop, desktop computer, or tablet purchased through a participating provider if the household contributes more than $10 but less than $50 toward the purchase price.
A household is eligible if a member of the household meets at least one of the criteria below:
Has an income that is at or below 200% of the Federal Poverty Guidelines;
Participates in certain assistance programs, such as SNAP, Medicaid, Federal Public Housing Assistance, SSI, WIC, or Lifeline;
Participates in one of several Tribal specific programs, such as Bureau of Indian Affairs General Assistance, Tribal Head Start (only households meeting the relevant income qualifying standard), Tribal TANF, or Food Distribution Program on Indian Reservations;
Is approved to receive benefits under the free and reduced-price school lunch program or the school breakfast program, including through the USDA Community Eligibility Provision;
Received a Federal Pell Grant during the current award year; or
Meets the eligibility criteria for a participating broadband provider's existing low-income program.
To enroll:
Go to ACPBenefit.org to submit an application or print out a mail-in application; and
Contact your preferred participating provider to select a plan and have the discount applied to your bill. For more information, call 877.384.2575 or visit fcc.gov/ACP.
Digital Learning Resources
Technology can be a gateway to opportunities, such as learning new skills, finding new jobs, and connecting with loved ones. It can also be overwhelming and hard to keep up with. Access resources to advance your digital skills and make the most of your internet service.
Visit cps.edu/digitallearning for FREE digital learning tools and resources.
If you have questions about accessing or using digital resources, please reach out to one of the following support teams. Help is available in English and Spanish.
YMCA of Chicago IT Help Desk
312.440.2416
Hours:
Monday – Friday: 8:30 am - 4:30 pm
Get help with device or connectivity issues, including answers to computer-related questions, assistance completing online tasks, and guidance on navigating Zoom, Google Classroom, and other online tools.
CPS Parent Tech Support Hotline
773.417.1060
Hours:
Monday – Friday: 7:30 am - 6:30 pm
Saturday: 9:00 am - 12:00 pm
Get technical support for issues related to your CPS-issued device, assistance with other technology-related issues, and answers to general questions related to the Chicago Connected program.
Affordable Laptops and Computers
---
Asset Map: Existing resources and community strengths
---