Corridor Ambassador Program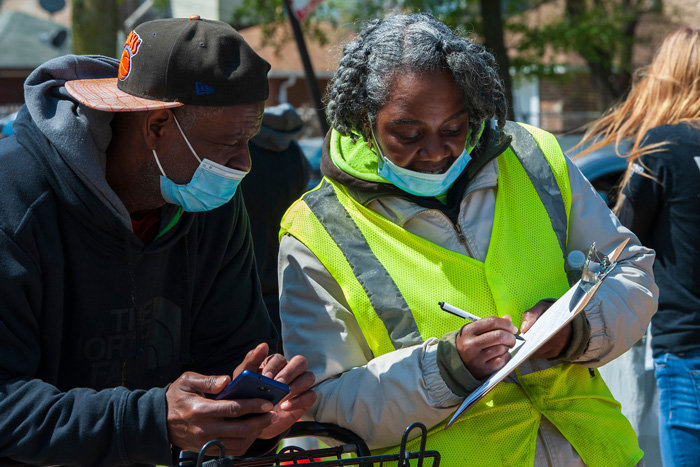 The Department of Planning and Development's Corridor Ambassador program is enabling community-based organizations to enhance their support for commercial corridors across Chicago.
The program is seeking organizations that will work with the City to hire and train community members to serve as ambassadors, creating a visible, welcoming presence at neighborhood commercial centers for residents and visitors.
In the course of their work, ambassadors are expected to:
Actively engage pedestrians by greeting people, sharing directions and providing escorts.
Discuss and address public safety priorities.
Share information on upcoming programming and activities.
Connect with public safety resources, including the Chicago Police Department, on security and safety needs.
In February 2023, DPD issued a Request for Proposals (RFP) seeking additional organizations interested in participating in the Corridor Ambassador program. Awards are anticipated up to $235,000 per commercial corridor.
Contracts with selected organizations are expected to be signed by May 1, 2023, allowing for ambassador recruiting and training prior to ambassadors being active on the corridor by June 1, 2023. The expected contract end date is December 31, 2023.
FOR MORE INFORMATION:
Download the Corridor Ambassadors RFP on the City's iSupplier portal.
(See DPD Solicitation #9337 / Specification # 1266292)
RFP RESPONSES DUE:
12:00 p.m. (CST) Friday, March 10, 2023
PRE-SUBMITTAL (VIRTUAL) CONFERENCE:
9:30 a.m. Wednesday, February 22, 2023
Watch a recording
Proposals must be submitted via an iSupplier (eProcurement) online response/application. Emailed or faxed proposals will not be accepted.
FREQUENTLY ASKED QUESTIONS:
Answers to frequently asked questions from the 2022 application cycle are posted here. Unanswered questions may be emailed to dpd@cityofchicago.org.
A virtual pre-submittal conference for the 2022 application cycle was held Tuesday, March 15th, 2022. A recording of the conference is available to watch.