Corridor Ambassador Program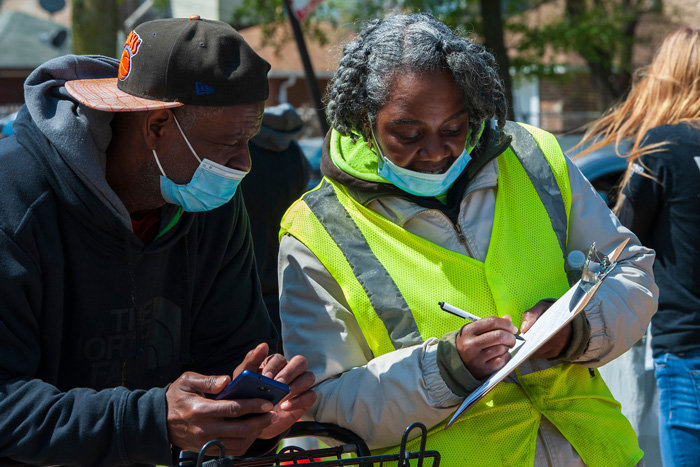 The Department of Planning and Development's Corridor Ambassador program is enabling community-based organizations to enhance their support for commercial corridors across Chicago.
The program is seeking organizations that will work with the City to hire and train community members to serve as ambassadors, creating a visible, welcoming presence at neighborhood commercial centers for residents and visitors.
In the course of their work, ambassadors are expected to:
Actively engage pedestrians by greeting people, sharing directions and providing escorts.
Discuss and address public safety priorities.
Share information on upcoming programming and activities.
Connect with public safety resources, including the Chicago Police Department, on security and safety needs.
Awards are anticipated up to $400,000 per program per year, with up to 10% used for staff costs. Selected organizations will receive a one-year award, with the potential for two one-year extensions based on project performance and funding availability. To qualify for the program, corridors must be located in low- or moderate-income community areas or community areas that experienced a 15% or greater decline in activity following the COVID-19 pandemic.
DPD issued a Request for Proposals for interested organizations on Friday, March 4, 2022.
The Corridor Ambassadors program is part of the Chicago Recovery Plan's ambitious $1.2 billion strategy for equitable economic recovery and support for thriving and safe communities.
FOR MORE INFORMATION:
Download the Corridor Ambassadors RFP on the City's iSupplier portal. (See DEPT. OF PLANNING & DEVELOPMENT, Solicitation #8535/Specification #1242024)
RFP RESPONSES DUE:
5 p.m. (CST) Friday, April 1, 2022
Proposals must be submitted via an iSupplier (eProcurement) online response/application. Emailed or faxed proposals will not be accepted.
PRE-SUBMITTAL (VIRTUAL) CONFERENCE:
A virtual pre-submittal conference was held Tuesday, March 15th, 2022. A recording of the conference is available to watch.
FREQUENTLY ASKED QUESTIONS:
Answers to frequently asked questions are posted here. Unanswered questions may be emailed to dpd@cityofchicago.org.