Connected Communities Ordinance
Connected Communities is the result of two years of engagement with over 80 community and civic stakeholders to build a truly equitable transit-oriented development (ETOD) policy.
What is in the ordinance?
The Connected Communities Ordinance advances equitable development and thriving neighborhoods near transit, developed in partnership with Elevated Chicago and over 80 stakeholders by the Mayor's Office and the Departments of Planning and Development, of Housing, and of Transportation to reflect Chicago's ETOD Policy Plan and inclusive growth goals overall.
This ordinance, adopted by City Council in July 2022, will attract reinvestment and create jobs by encouraging and creating predictable standards for equitable development near transit. It will support Chicago's economic recovery and foster thriving neighborhoods across the entire city so that every Chicagoan is able to live in a vibrant, healthy and affordable community that connects them to transit and makes it easier for them to get to what they need — from jobs and schools to services and more.
Ordinance provisions are organized into the following 3 categories:
Create jobs and allow for more homes and businesses near transit by expanding existing TOD incentives.
Improve the safety of our streets and sidewalks near transit, and encourage walking, biking, and rolling.
Increase housing opportunity, affordability and accessibility, especially near transit.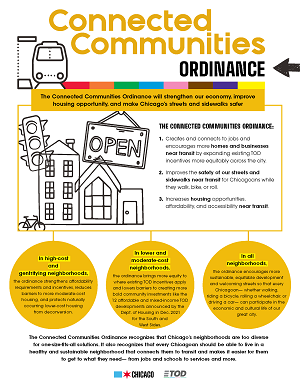 For more details, see this 1-page summary, read a presentation outlining the regulatory reforms or review the full text of the final zoning ordinance.
How was the ordinance developed?
The Connected Communities Ordinance is the product of deep collaboration and partnership across city departments, sister agencies, community-based organizations, and civic & regional experts. Key milestones include:
2018: TOD ordinance update directs administration to create an equitable TOD plan
2019-2020: Engagement with over 80 community stakeholders and experts to create a draft ETOD plan
2020-2021: Robust public engagement period on draft ETOD plan, which reached over 330 Chicagoans in 41 meetings for community feedback and included 59 total public comment letters from organizations and individuals.
June 2021: City publishes final ETOD plan revised based on public comments, then unanimously approved and adopted by Chicago Plan Commission
2022: Adoption of Connected Communities Ordinance