18th and Peoria Development Framework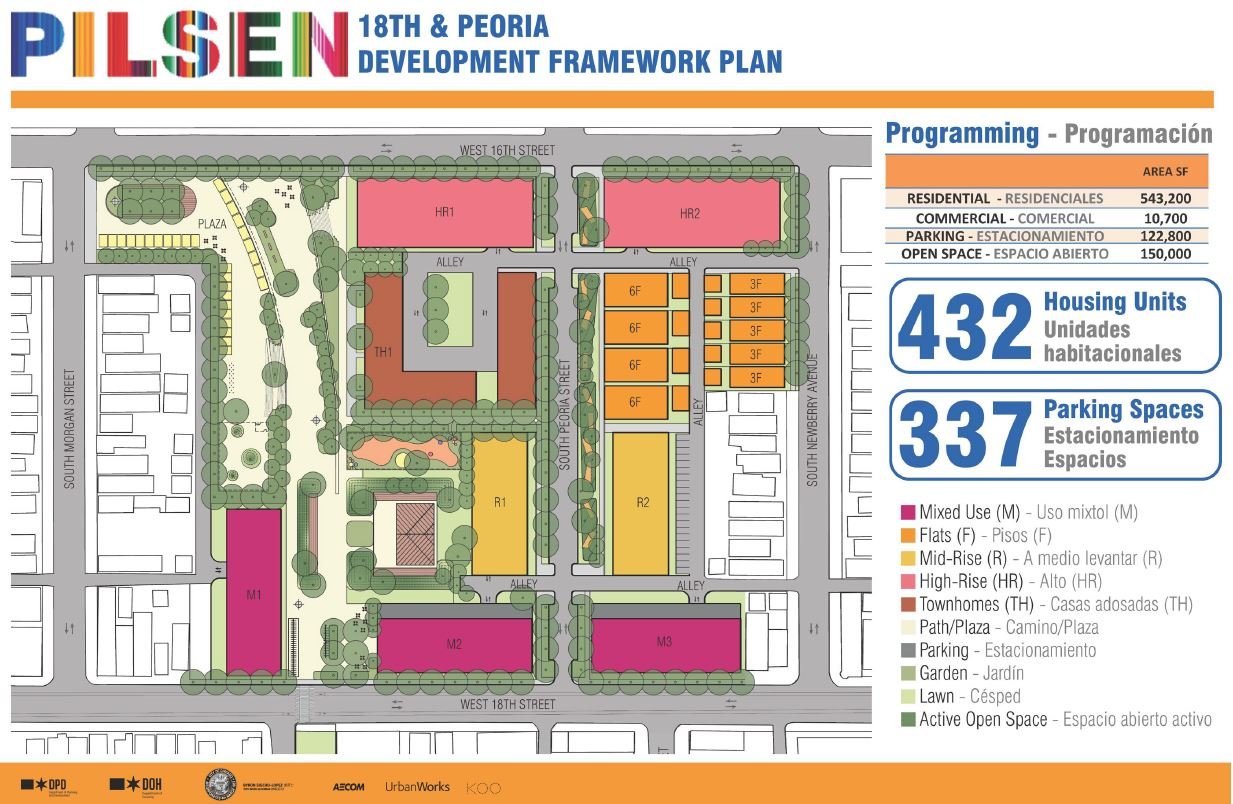 To help address housing affordability issues in the Pilsen neighborhood, the City of Chicago worked with residents, businesses and elected officials to create a development framework for approximately eight acres of vacant land at 18th and Peoria streets. The community-driven framework outlines formal goals to guide the site's future redevelopment with affordable homes and complimentary uses.
The multi-phase framework planning process began in September 2022, and the framework plan was formally adopted by Plan Commission in May 2023. The document will serve as a formal guide for redevelopment proposals for new construction that, pending community and City review, could start in approximately 2024.
Adopted plan available for review
Download the final plan
English | Spanish (draft version)
Public engagement timeline
The process has included:
Existing Conditions Analysis
A thorough review of all past plans and studies relevant to the 18th and Peoria site and the broader Pilsen neighborhood were performed to ensure established community goals are represented in the framework plan. The analysis included recent market trends and future projections involving the area's housing needs, which helped determine the appropriate size and scale of future residential construction on the site.
Financial Analysis
A financial analysis established cost estimates to redevelop the site with new housing and other uses that meet local demands. Potential funding sources were also evaluated to ensure the framework's guidelines for new construction are viable and commensurate with Pilsen's needs. Previous industrial uses on a portion of the site's 28 individual parcels are expected to require approximately $1.5 million in cleanup costs.
Community Engagement
Extensive public engagement activities ensured the framework development process was informed by Pilsen residents and stakeholders. Engagement efforts have included virtual and in-person meetings as well as self-facilitated feedback tools. Input from the public, the 25th Ward office and other Lower West Side stakeholders were documented and considered throughout the engagement process.
Development Scenarios
The planning process called for up to five potential development scenarios to be tentatively designed by framework planners for public consideration. Each conceptual scenario included cost and economic impact projections to help stakeholders to evaluate each scenario's potential benefits to Pilsen and the Lower West Side community.
Open Space Connections & Scenarios
Pedestrian connections were designed by framework planners to maximize the site's connectivity to nearby pedestrian and bicycle networks, nearby public transportation options, and an abandoned rail corridor adjacent to the site that is part of potential pedestrian trail.
Recommendations & Implementation
The framework was finalized and adopted in early 2023 to guide redevelopment proposals for the site. A development proposal could be finalized in time to apply for the City's next affordable housing funding round in summer 2023 with construction potentially starting as early as 2024, pending community review and City approval.