Nonprofit Capacity Building – Phase 1
Nonprofit organizations play a fundamental role in creating more equitable and thriving communities. The COVID-19 pandemic has left many nonprofits experiencing financial hardship. During the pandemic, nonprofits across Chicago saw an increase in the demand for their services without an increase in their financial and operational capacity to meet that higher demand. Nonprofits operating in low-to-moderate income areas and those with budgets less than $1M were disproportionately impacted, with many seeing decreased revenue and increased costs and have not yet fully recovered.
To ensure a strong recovery for our City's nonprofits, the City of Chicago has created the Nonprofit Capacity Building Program. This program will provide technical assistance and capacity building services for disproportionately impacted nonprofits, helping to stabilize and scale their operations.
Curated events and seminars will be organized, specifically with the needs of established nonprofits in mind. Topics and training will include:
How to apply for City/Government Requests for Proposals (RFPs)

Navigating iSupplier

Upcoming City RFP Opportunities

Compliance and Reporting Expectations

Small group workshops

These workshops will be facilitated by capacity-builders well oriented with the Chicagoland ecosystem (philanthropy, academia, for-profit, nonprofit, and governmental agencies).
Participant Sign Up - Register Here
The Nonprofit Capacity Building Program will offer participants direct access to partner organizations that can help with Application Assistance. The goal of Application Assistance is to provide frequent, in-depth training and one-on-one coaching on specific topics for disproportionately impacted nonprofits seeking to apply for Recovery funding and grow their organizations. This individualized aid will be crucial to nonprofits that may be new to the City's RFP system or feel overwhelmed by the application process. This programming is open to all nonprofits, but specifically geared toward established organizations that are nearly ready to enter a partnership with the City of Chicago and those that need assistance with their existing contracts (contract execution, vouchering, reporting, etc.)
This program is part of the Chicago Recovery Plan, the City's plan to amplify once-in-a-generation federal funding to create an equity-based investment strategy to catalyze a sustainable economic recovery from the COVID-19 pandemic. To learn more about this Program and BACP's Recovery Plan efforts, please visit Chicago.gov/BACPRecoveryPlan.


Program Overview:
Nonprofit Capacity Building Program includes four types of programs:
Readiness Summits:

Quarterly virtual meetings covering best practices and common mistakes when applying for City RFPs and upcoming opportunities.




Next Readiness Summit: Fall 2023
Monthly Webinars

Government Funding Readiness: This webinar will address the following objectives: Exploring common requirements in pursuing government funding; Assessing whether your organization is ready to apply for government funding and highlighting key factors in preparing a winning grant application.
Fundraising 101 Fundamentals: Fundraising 101 webinar will offer an overview of the fundamentals of fundraising and the key elements of sustainable growth for your organization. We will discuss how to build a culture of philanthropy in your organization and create opportunities for revenue in foundations, major gifts, corporate giving, and events. In this session, we will discuss how you can make an effective case for your vision, identify the tools and methods to fund your mission.
Nonprofit Operations Management: This webinar will address understanding the essentials of Working ON the Business, not just IN the Business; Examine the Ins and Outs of People Management and Explore practical tools and techniques that encourage efficiency.
Weekly Small-Group Workshops:

Held weekly on Wednesdays at 10:00 am, 11:00 am and 1:00 pm, workshops provide an opportunity to connect with your peers and subject matter experts to discuss upcoming grants and specific organizational challenges. Register below.

Cohorts: The WBDC will offer cohorts for established nonprofit organizations that are ready to apply for or are in an existing contract with the City of Chicago. Participants will receive individualized assistance to help them overcome pandemic-related challenges, manage current contracts, and continue their growth.

To determine eligibility, complete the BACP Nonprofit Capacity Building Program Intake Form and a supplemental application sent via email. Eligible organizations must complete an interview, which includes additional cohort details.


To apply, navigate to the BACP Nonprofit Capacity Building Program via the blue "Participant Sign-Up" button, fill out the form, select Workshops under Event Type, then select Cohort (WBDC) under Workshop Events.
One-on-One Assistance

Application Assistance

iSupplier Assistance

Other topics as needed

Participant Sign Up - Register Here

Schedule of Events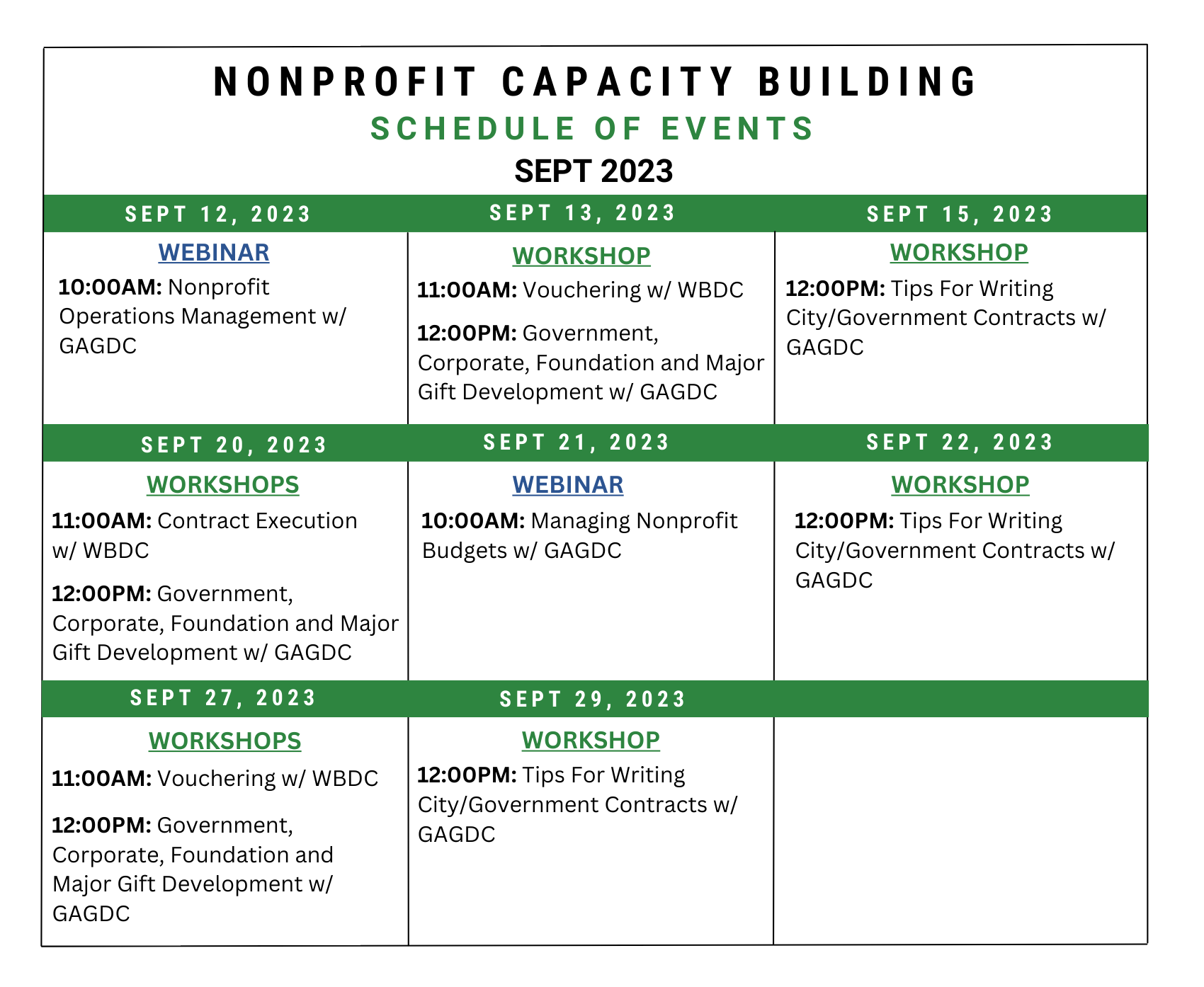 Upcoming City RFPs - Coming Soon !


List of Nonprofit Capacity Building - Phase 1 Grantees

Questions ? Contact the Women's Business Development Center at 312-500-0438 or ReadyForRecovery@wbdc.org.

Special thanks to our partners: