Frequently Asked Questions
1. General Remediation Project Questions
2. Communication and Outreach
3. Transportation and Access to Area Facilities
Two pedestrian walkways provide access to the station, one from the north (26th Street) and one from south (Vernon Avenue/Ellis Avenue). On July 26, 2021, the north walkway was permanently closed. The station is now accessible only from the south walkway. Prior to closure, pedestrian wayfinding signage was installed. These walkways are depicted in the Project Fact Sheet.
During construction, it is expected that trucks will enter and leave the site at 27th Street and Ellis Avenue and travel through the former Michael Reese Hospital site via S Cottage Grove Ave or S Lake Park Ave to access Lake Shore Drive from 31st Street. Flaggers and barriers will be provided at truck crossings to provide pedestrians with safe access to the Metra Station from the south walkway. Trucks will be decontaminated, run through a wheel wash system, and prior to leaving the site.
It is expected that one lane is always open on the 31st bridge to accommodate truck traffic. However, if the 31st Street bridge is under construction and cannot accommodate trucks, the alternative route could include 31st Street west to Dr. Martin Luther King Jr. Drive north to Interstate 55.
Our current plan (pending IEMA approval) is to transport and dispose a majority of the radioactive waste at the Waste Control Specialists (WCS) radioactive waste licensed landfill in Texas. The waste will be placed in specially constructed radioactive waste bags (IP-1 bags) that will be packaged and sealed onsite before off-site transportation. An example of an IP-1 bag from another radioactive waste remediation site in Illinois is shown in this photograph.
The bags will be stored in a protected area until they are ready for loading and transport by trucks. The sealed bags will be secured on trucks and transported to railcars at an off-site intermodal yard to WCS in Texas for disposal. Non-radioactive waste will be transported in tarped trucks to a local landfill.
Each truck will pass through an automated wheel wash and be subject to thorough inspection by the on-site transportation and disposal coordinator prior to leaving the site to ensure no loose soil is adhering to the truck. If spills occur, the contractor will clean up off-site spills or dirt tracked onto City rights-of-way or streets within an hour of notification of the spill. In addition, significant spills while transporting the material will be cleaned up by the transportation company.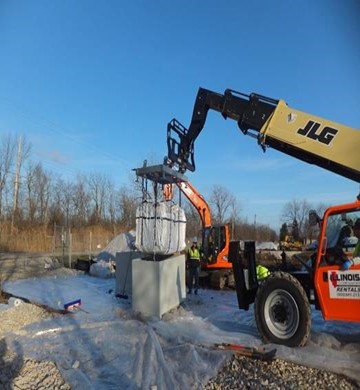 4. Safety and Monitoring Procedures
5. Drinking Water Protection and Stormwater Protection
The Contractor will be required to implement a Stormwater Pollution Prevention Plan (SWPPP). The SWPPP will include soil and erosion control measures within the work area to prevent stormwater runoff from coming into contact with disturbed areas that may be contaminated. Control measures will include silt fencing, stormwater drain inlet protection, and berms and coverings for any soil stockpiles. Stormwater that comes into contact with excavation areas will be either treated onsite in a treatment system prior to discharge to the sanitary sewer as permitted by the Metropolitan Water Reclamation District of Greater Chicago (MWRDGC) or containerized and disposed of off-site at an approved disposal facility.
Yes. The water supply mains providing drinking water from Lake Michigan are located west of the contaminated areas at the site and do not cross the contaminated areas. Water mains are also under pressure. Any cracks in the pipes will result in water exiting the pipe. The pressure inside the pipe also prevents surrounding materials (soil or groundwater) from infiltrating the pipe.
6. General Radiological Questions