The Community Safety Coordination Center (CSCC) works across City agencies and in service to community to implement a comprehensive approach to address the root causes of violence - trauma, lack of educational and job opportunity, and community blight.
Our City, Our Safety Violence Reduction Plan
Published in September 2020, "Our City, Our Safety" lays out a comprehensive plan for the City of Chicago's violence reduction work through 2023, with the goal of sustainably reducing violence and making Chicago a city where everyone is and feels safe. The City addresses violence as a preventable public health crisis which can be treated through deliberate, coordinated, and sustained efforts, acknowledging that we must focus on individuals, communities, and systems collectively in order to reduce violence. This public health approach represents a shift from a traditional criminal suppression model for addressing violence to a more holistic, prevention-based approach. Therefore, the Community Safety Coordination Center (CSCC) was established in August 2021 to coordinate a comprehensive approach for addressing the root causes of community violence by implementing near- and long-term strategies to rebuild the physical environment, create a thriving economy, and support residents in addressing their individual and family needs.
Community Safety as a Public Health Framework
The CSCC has worked with all City departments and sister agencies, many of which have existing programs or strategies to address community safety, to ensure a comprehensive and coordinated approach to violence prevention. The City developed a public health framework for community safety to implement a whole-of-city approach to violence prevention and ensure equitable investment in the communities with the highest levels of disinvestment and lack of opportunity. The framework was instrumental in understanding the wide array of violence prevention programming in the city of Chicago. In August 2022, the Community Justice Action Fund's inaugural City Violence Prevention Index and scorecard ranked Chicago among the top cities in the nation for achieving the broadest range of violence prevention programs, services, and policies.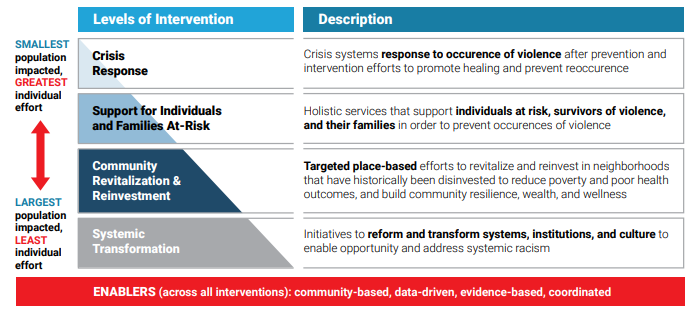 Strategy
The CSCC was created to take the lessons learned from the COVID-19 pandemic and apply them to the City's most pressing epidemic: gun violence. This means coordinating a whole of government approach that is data-informed, evidence-based, and community-driven.
We coordinate 3 pillars of government in service of our communities. The CSCC is comprised of representatives from the City's infrastructure, social services, and public safety departments, the majority of which are also Chicagoans living in the communities most impacted by violence. Our work is people-based, place-based, and crisis response focused.
PEOPLE-BASED STRATEGY

: Connecting those at the highest risk of violence with supportive services, providing service providers with mental health skills building training, and increasing opportunities directed at youth.

PLACE-BASED STRATEGY

: Supporting block clubs and neighborhood associations, creating more safe and green spaces, and coordinating funding efforts to address disinvestment.

CRISIS RESPONSE

: Addressing the needs of community members and business owners after violent incidents and working with community partners and law enforcement to prevent acts of retaliation.
---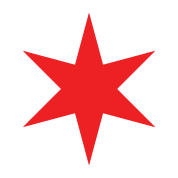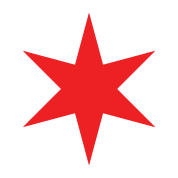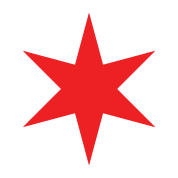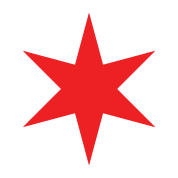 ---