Requests for Proposals (RFPs)
Through the Department of Planning and Development (DPD), the City of Chicago offers to qualified development teams and nonprofit organizations the opportunity to submit proposals for opportunity sites in the INVEST South/West neighborhoods.
Winning Development Projects
Bronzeville: 449-51 E. 47th St.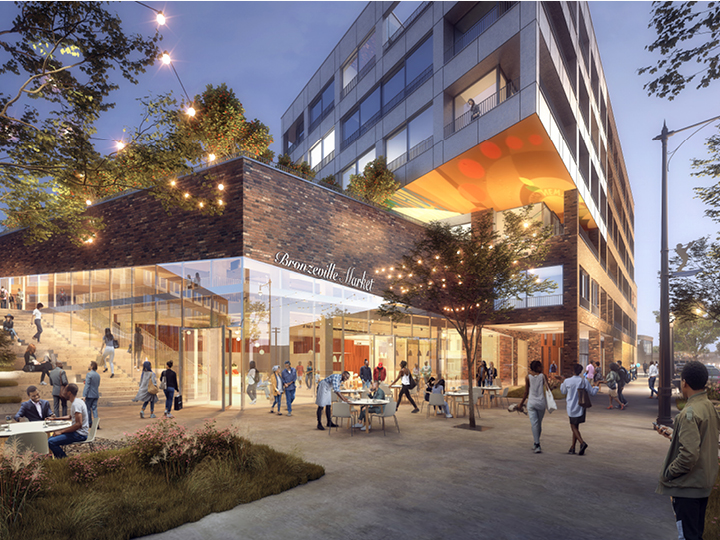 The Legacy District
The Legacy District is a $19.2 million joint venture of KMW Communities and LG Development in partnership with Bronzeville Community Partners.
Planned for 0.6 acres of vacant, City-owned land on the southwest corner of 47th Street and Vincennes Avenue, the proposed project will create a six-story building containing 12,000 square feet of commercial space and 25 mixed-income residential units. The project will create 174 permanent jobs and 140 construction jobs.
New City: 1515 W. 47th St.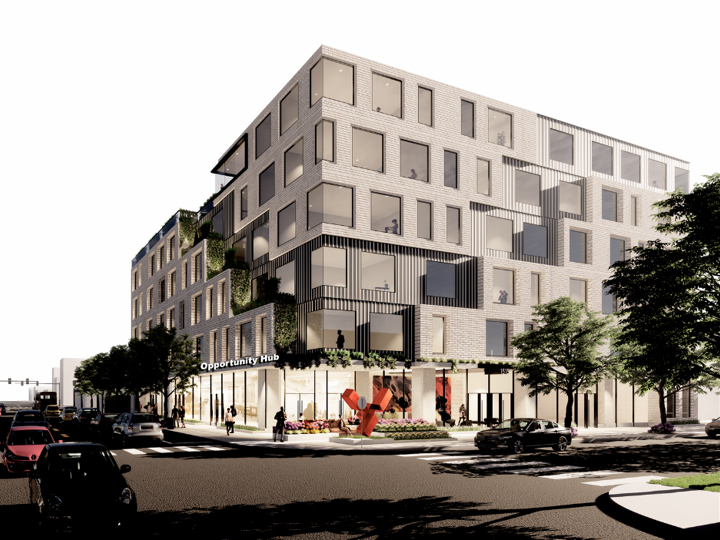 United Yards
United Yards is a $51.5 million joint venture of Celadon Partners and the Blackwood Group planned for multiple vacant and improved properties near Ashland Avenue and 47th Street. The project will redevelop a vacant, City-owned lot at 1515 W. 47th St. with a 50-unit affordable apartment building that includes a ground floor business hub and youth programming space.
Additional phases will revitalize a largely vacant, four-story commercial building at 4701 S. Ashland Ave. with 30 senior rental apartments and a ground-floor coffee shop; redevelop vacant land at 1641 W. 47th St. with a pair of affordable, three-flat buildings; and enhance an existing supportive living center at 4707 S. Marshfield Ave. with a medical clinic, dialysis center, and park space. The proposed project will create 44 permanent jobs and more than 330 construction jobs.
North Lawndale: 3400-18 W. Ogden Ave.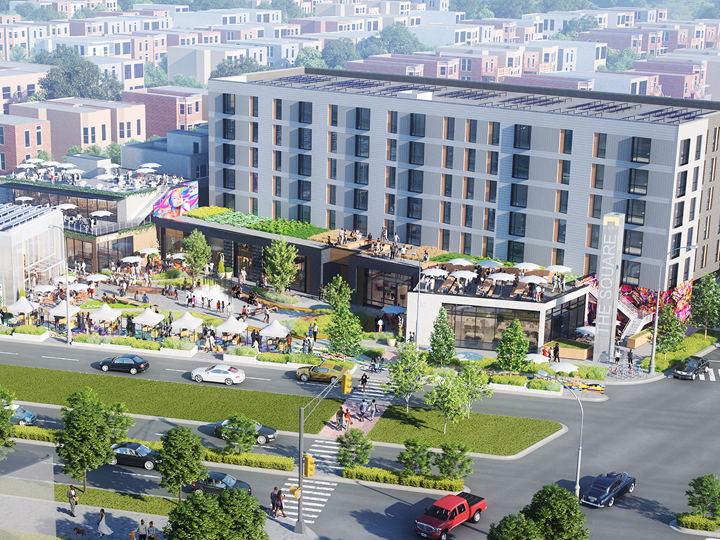 Lawndale Redefined
Lawndale Redefined is a $31.4 million joint venture from GRE Ventures, Imagine Group, and 548 Development. Planned for an acre of vacant, City-owned and private land on Ogden Avenue between Homan and Trumbull avenues, the project consists of 60 mixed-income apartments, three market-rate townhomes, retail and restaurant space, and a stand-alone community center with technology and arts programming.
Outdoor amenities include a plaza with public art and other cultural amenities. The project will create 30 permanent jobs and up to 120 construction jobs.
South Chicago: 8840-54 S. Commercial Ave.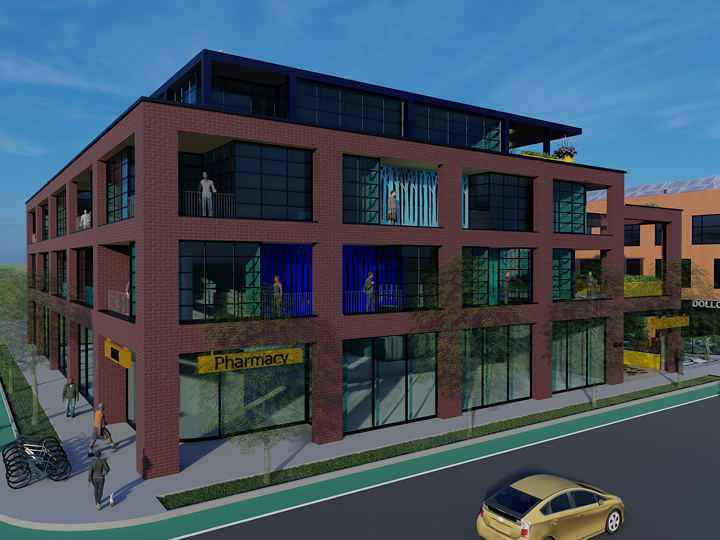 Galleria 89
Galleria 89 is a $23.5 million project from 548 Development planned for approximately .6 acres of underutilized properties on the 8800 block of South Commercial Avenue. The project will create a four-story building with 35 mix-income apartments and rehab an existing, three-story building with 10 mix-income apartments.
Approximately 12,000-square-feet of commercial space on the ground floors of both buildings will include a café, business center, and bike shop. The project will create more than 60 permanent jobs and more than 100 construction jobs.
An earlier round of projects was announced by Mayor Lightfoot and DPD in March 2021, including a mixed-use residential complex anchored by a blues museum and cafe, a 56-unit affordable rental building with tenant gardens, and a sustainable food and culinary campus.
Collectively valued at more than $65 million, the three projects were selected from 12 responses to RFPs issued in the fall of 2020 for three opportunity sites in Austin, Auburn Gresham and Englewood.
Auburn Gresham: 838-58 W. 79th St.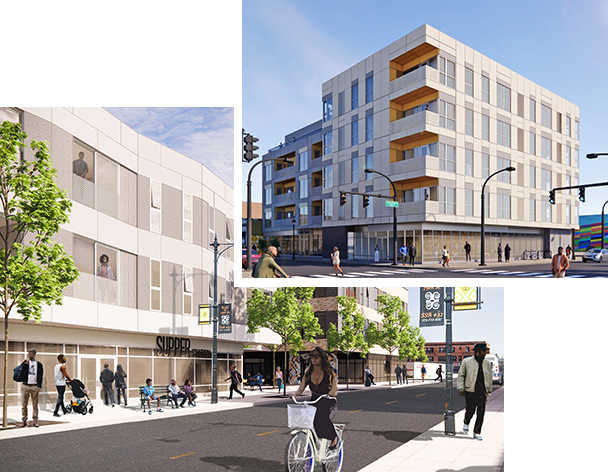 Evergreen Imagine
Evergreen Imagine is a mixed-use proposal that is being refined for two City-owned development sites in Auburn Gresham. The redevelopment of one site, at 79th and Green, is being envisioned as a three-story building containing ground floor retail and parking and residential units on the floors above.
The other site, at 79th and Halsted, is being envisioned as a four-story building with ground-floor retail and parking and residential units on the floors above. The scope of both proposed buildings is being finalized through an ongoing public engagement process.
Austin: 5200-24 W. Chicago Ave.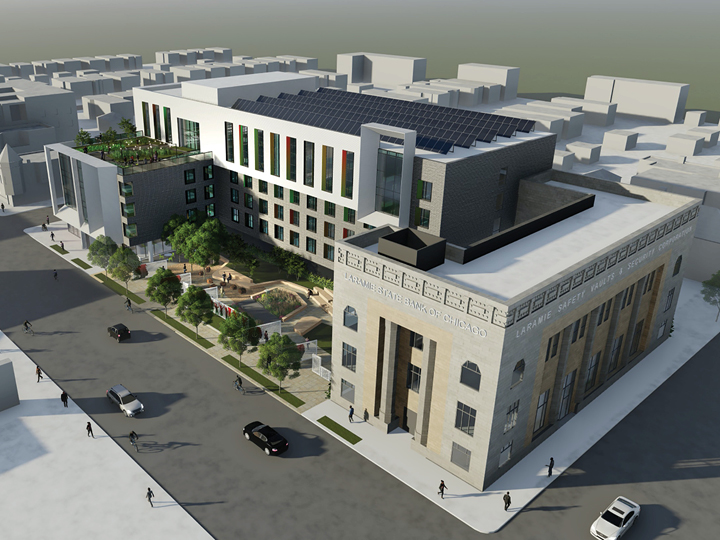 Austin United Alliance
Planned for the former Laramie Bank building and approximately 20,000 square-feet of adjacent land, the proposed $37.5 million project will renovate the landmark structure with commercial uses that include a blues museum, bank branch, café, and business incubator.
The adjacent land will be redeveloped with a mixed-income, multi-story rental building that includes a green roof, public plaza, social spaces, and outdoor art. The project is expected to generate up to 150 construction jobs and 22 full-time positions.
Englewood: 6200 S. Green St./914 W. 63rd St.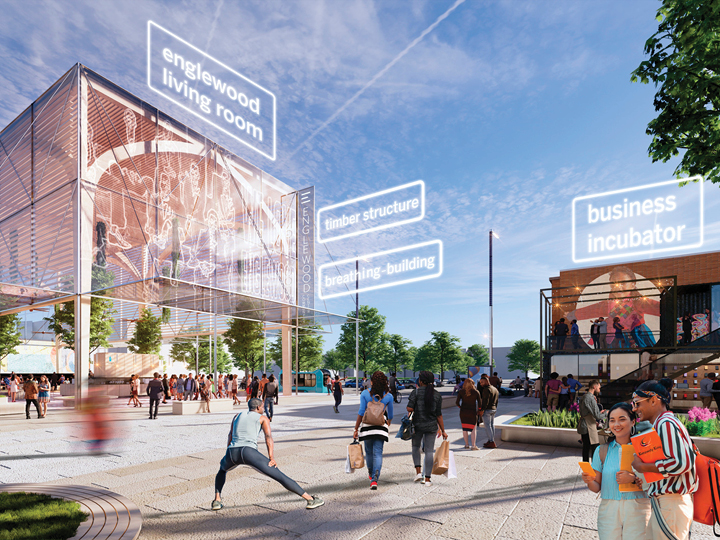 Englewood Connect
Planned as the second phase of the Englewood Square shopping center, Englewood Connect is a $10.3 million "eco-food hub" that will establish culinary-related uses that empower, employ and feed local residents. The project will adaptively reuse the landmark Green Street fire station as a commercial kitchen, establish a business incubator to train start-up businesses, create an community "living room" for local events, and repurpose vacant land with hoop houses that provide year-round farming operations.
A public plaza will serve as its focal point. Later phases will include a flexible market space and an event center. The project is expected to generate approximately 80 construction jobs and 45 permanent full-time positions.