OERJ oversees the development, coordination, and administration of racial and social equity policies and practices for the City of Chicago. This includes working to change policies and practices in city government through engaging in training and support of city staff, cultivating engagement between city stakeholders and communities of color, and integrating racial equity analysis and accountability into decision-making processes. Below are the major categories:
Support city departments in developing resources and strategies to infuse racial equity work into departments' workstreams on a permanent basis.
Integrate racial equity analysis in major policies and initiatives generating from the Mayor's Office.​
Cultivate civic engagement, participation, and access amongst communities of color and those historically disconnected from City government. ​
Build an infrastructure for tracking progress, measuring impact, and developing responsive and meaningful solutions.​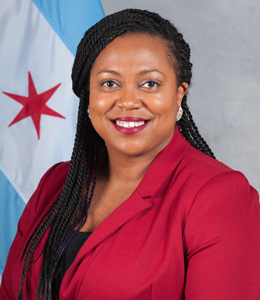 Candace Moore is the City of Chicago's first Chief Equity Officer under the Office of the Mayor. Candace is charged with building out the newly created Office of Equity and Racial Justice which will oversee the development, coordination, and administration of racial and social equity policies and practices for the City of Chicago. Prior to joining the City of Chicago, Candace Moore served as a Senior Staff Attorney at Chicago Lawyers' Committee for Civil Rights advocating for educational equity through a lens of racial and social justice. Candace is a double alum of Loyola University Chicago; she graduated from both the undergraduate program and the School of Law
The current OERJ team includes:
Marquis Miller, Chief Diversity Officer
Lauren Burdette, Senior Equity Manager
Nneka Onwuzurike, Equity Fellow
Sheila Maloney, Public Policy Fellow
Haleigh Hoskins, Executive Assistant
Our Strategies:
Develop a targeted mitigation operation that works to execute a hyper-local public health strategy in communities realizing the most adverse consequences of the CoVID-19 crisis
Build core partnerships with long-standing community leaders and existing networks that can highlight and identify critical needs and work with us toward solutions that are mutual and centered around benefitting, not burdening, Black and Brown communities, and
Marshal people, institutions, data, screening tools, testing, and resources needed to respond to community-identified barriers and needs
Our Tactics:
Education- We provide communication and updates that are relevant for residents and speak to realities of their lives.
Prevention- We work to ensure residents have the resources and information needed to protect themselves and their families.
Testing and Treatment- We work alongside our health department to ensure the expansion of testing and treatment goes to areas in greatest need and lowers and/or eliminate barriers to access
Support Services/Resources- We work to ensure people have access to supportive services and resources that sustain their livelihoods