Racial Equity Action Plans
What is a Racial Equity Action Plan?
A REAP is a multi-year strategic plan that articulates how a department will work to improve equitable outcomes in their core work (service-delivery, policy, programs, finance, HR, etc.). The Office of Equity and Racial Justice (OERJ) is the chief coordinator of the creation of these plans, the implementation processes and strategies, the public reporting, and the evaluation of progress. OERJ provides, for example, a template of the plan for departments to complete as well as capacity-building training and consultation on implementation strategies. OERJ maintains records of all departments REAPs, provides ongoing support, and leads progress reporting. Also, as required by code, OERJ reports annually to the Mayor, City Council, and the public at-large and ensures the REAPs are publicly available online. As of the FY2023 City Budget, it is now required by City of Chicago's municipal code (2-4-100) that all city departments must create and maintain REAPs "to articulate and guide strategy aimed at advancing equity and making it a permanent pillar in all departmental workstreams." Progress on all REAPs is accounted for annually as a part of the City of Chicago's budget process.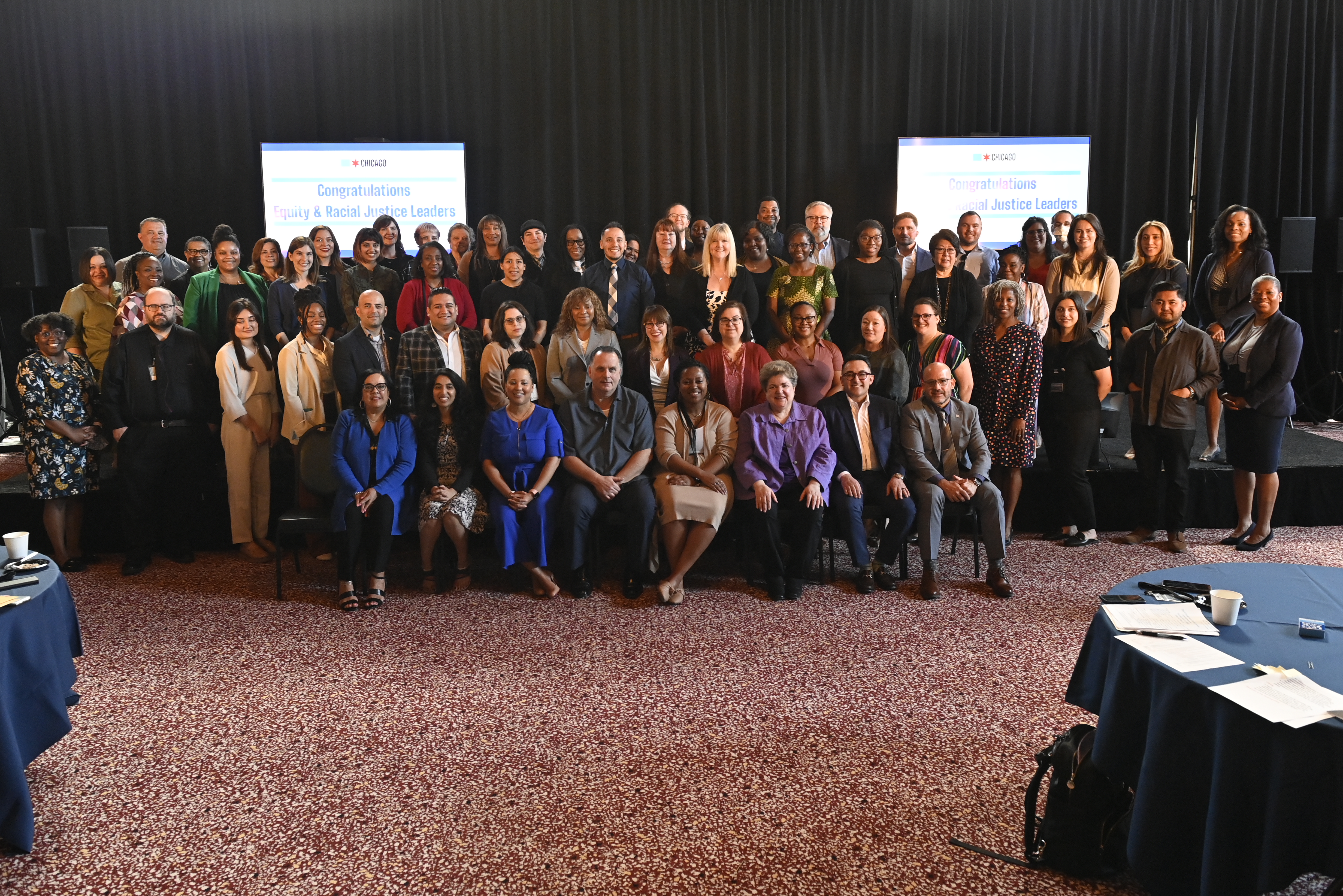 How were plans developed?
Thanks to funding from the Chicago Department of Public Health (CDPH), OERJ provided substantive training for all departments to gain deep professional development on how to operationalize equitable policies and practices and build Racial Equity Action Plans. This training was designed by the Government Alliance on Race and Equity (GARE).
Each cohort consisted of a set of departments that designated key leaders to participate in training. Cohort participants received differentiated training and technical assistance with the aim of developing a department-specific Racial Equity Action Plan and building the internal capacity of key staff members to sustain racial equity work. Departments used GARE's Racial Equity Tool, which ensures data analysis and community engagement informs plans. Each plan consists of department strategies for three citywide priority areas.
What impact are the plans trying to make?
All plans are aligned to citywide priority areas and designed to achieve citywide results for racial equity. The City of Chicago has many existing citywide plans to advance racial equity. OERJ aligned REAPs to citywide priorities in Healthy Chicago 2025, We Will Chicago, the Climate Action Plan, and Our City Our Safety to increase coordination across departments in these key areas. In addition, the City of Chicago defines equity as both an outcome and a process that results in fair and just access to opportunity and resources that provide everyone the ability to thrive. Priority areas were selected to not only ensure equitable outcomes but also the process to get there.
2023 Racial Equity Action Plans by Department
---
CLICK HERE to learn more about the process to create and evaluate Racial Equity Action Plans.
OERJ identified 9 outcome priorities and 4 process priorities based on the citywide plans above. Departments had to create three total plans that together constitute their REAP. We required them to select one plan aligned to an outcome priority, another related to a process priority, and the third was their choice. Below you can see the list of priority areas and which departments created plans in each. For example, OEMC and DHR created REAPs that align to the Public Safety priority area.
Priority Areas

Desired Results

Department Priorities

Equity in our OUTCOMES

Arts & Culture

All Chicagoans celebrate, connect with, and contribute to the City's creative and cultural ecosystem.

DCASE, DOAH

Economic Development

All Chicagoans are economically self-sufficient, can build wealth, and thrive.

DPD, BACP, DOF, DPS

Education

All Chicagoans gain meaningful knowledge and skills to thrive.

DHR, CACC, DOL, DPS, DSS, CPL

Environment, Climate & Energy

All Chicagoans breathe air free from pollutants and have resilient and sustainable communities.

AIS, DOB

Housing

All Chicagoans have healthy, accessible, and affordable homes.

MOPD, DOB, DOH

Neighborhood Planning & Development

All Chicagoans live in vibrant neighborhoods that reflect their identities and foster community belonging.

Public Health

& Services

All Chicagoans are healthy and benefit from a full range of health and human services.

CCHR, MOPD, DWM DFSS, CFD, CDPH

Public Safety

All Chicagoans are safe across the city and have trusting relationships with law enforcement and first responders.

DHR, OEMC,CACC, OIG, CPD

Transportation & Infrastructure

All Chicagoans have a safe multi-modal transportation system and broadband access.

CDOT, AIS

Equity in our PROCESSES

Community Engagement

All Chicagoans have a meaningful opportunity to influence City of Chicago programs, policies, and initiatives.

CCHR, CDA, CDOT, DCASE, DPD, OEMC, DOAH, CACC, BACP, DFSS, DOL, DSS, CPDH, CDP, CPL, DOF, DOH

Contracting

All Chicagoans benefit from and can participate in economic business with the City of Chicago.

AIS, CDA, BACP, DFSS, DOF, DPS

Data

All Chicagoans can obtain, view, or use public-facing data from the City of Chicago.

CCHR, DCASE, DPD, DWM, MOPD, OIG, DSS, CFD, CPL, DOH

Workforce

The City of Chicago's workforce reflects the demographics of the City, and all employees are connected to training and advancement opportunities.

CDA, CDOT, DHR, DWM, OEMC, DOAH, DOB, OIG, CFD, CPD, CDPH
2023 Racial Equity Action Plans Evaluation
---
Racial Equity Action Plans were evaluated on a scale of transactional to transformative.
CLICK HERE to view a chart of department ratings for each priority area and their overall Racial Equity Action Plan.