---

Protect Chicago
Chicago's Ongoing Equity Strategy

---
Our Strategy
Equity is not only part of our COVID-19 vaccination strategy, equity is our strategy. From the moment the COVID-19 vaccine arrived in the city, equity has and will continue to drive all distribution.
Our Goals
Consistency: Provide consistent access to vaccine for Chicagoans, especially those in low vaccinated area
Convenience: Make vaccine available where people live, work, and play
Equity: Focus energy and resources on the lowest vaccinated communities
Join the Protect Chicago Team
Get Vaccinated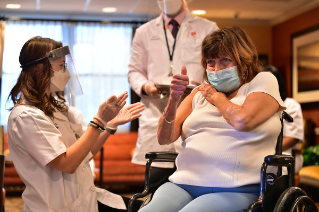 All Chicagoans can play a role to 'Protect Chicago' by getting vaccinated today! Find your vaccine at chicago.gov/COVIDvax.
Vaccine Ambassadors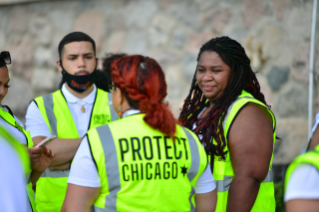 Complete this free online course from City Colleges and become a trusted messenger of COVID-19 vaccine education. Learn more here.
Join the Canvassing Team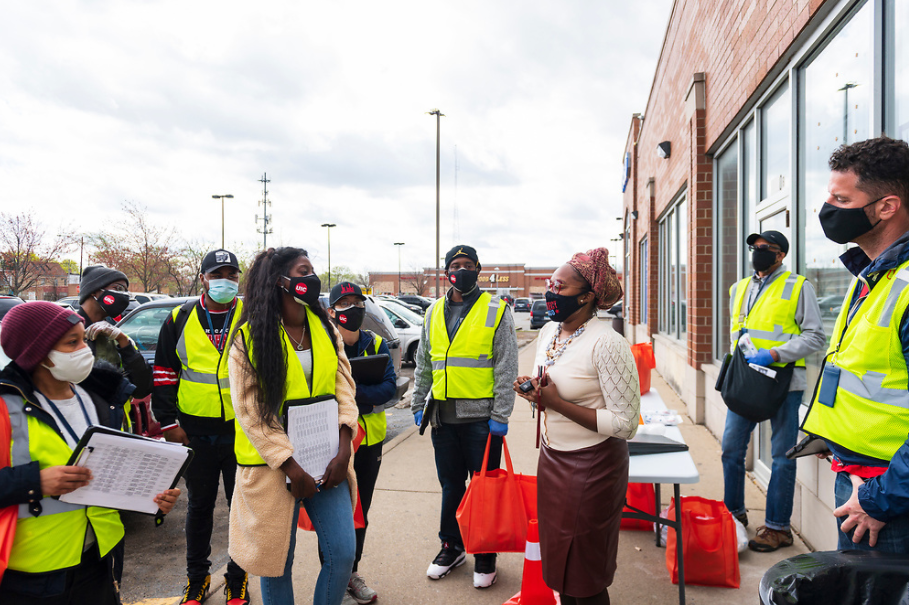 Protect Chicago Plus was a targeted vaccine distribution program launched in February 2021 designed to best reach the individuals and communities most impacted by the COVID-19 pandemic and connect them with vaccine. It dedicated vaccine and additional resources to these communities, especially Black and Latinx residents, and partnered with local community stakeholders to develop tailored vaccination and engagement strategies to help community residents get vaccinated. Building upon the program's success, CDPH launched the Healthy Chicago Equity Zones initiative that works with trusted community partners to deploy hyper-local strategies to confront the social and environmental factors that contribute to health and racial inequity – with the ultimate goal of closing Chicago's racial life expectancy gap.
Changing The Map Block-by-Block, Neighborhood-by-Neighborhood
Protect Chicago Plus kicked off in early February 2021, focusing on 15 highly impacted communities based on the City's COVID vulnerability index. During the early stages of Chicago's COVID-19 vaccine rollout, many providers in these communities weren't enrolled yet or hadn't expanded to include the capacity needed to support the community. Protect Chicago Plus allowed the City to move quickly and provide access to vaccine where it was needed most.
The City dedicated vaccine supply and additional resources to get these communities at or above the Citywide vaccination rate. In these neighborhoods, the City partnered with community stakeholders to open dedicated community vaccine clinics, mobilize outreach teams, and host special events to reach deep into the communities and touch those who may be disconnected from more traditional vaccine administration channels.
In Archer Heights, Austin, Back of the Yards, Belmont Cragin, Chicago Lawn, Englewood, Gage Park, Humboldt Park, Little Village, Montclare, North Lawndale, Roseland, South Deering, Washington Heights, and West Englewood, this included setting up 11 temporary clinics, phone and text banking, and canvasing nearby to share information about the vaccine. Groups went into communities to sign people up at grocery stores, taquerias, currency exchanges, health fairs, and more. In addition, 27 special events over three months – such as pop-up events for seniors, essential workers, immigrants and non-English speakers – gave residents even more ways to find their COVID-19 vaccine.
As a result of this work, from early February through early May, individuals with at least one dose of a COVID-19 vaccine in the 15 initial communities went from 6 percent to nearly 50 percent – made possible in part by more than 124,000 doses allocated at the City's temporary clinics and at special events. In all 15 initial communities we saw a higher rate of growth in first doses coverage compared to citywide.
In the summer of 2021, the City ramped up hyperlocal vaccine outreach, including door-to-door canvassing, in a data-driven effort to continue pushing COVID-19 vaccine to the communities with the lowest vaccination rates. In partnership with community organizations, canvassing teams trained through the City's online Vaccine Ambassador program went door-to-door to encourage residents to get vaccinated against COVID-19, starting with 13 targeted communities identified as having the lowest vaccination rates.
Canvassing teams were assigned to visit every home in these communities to discuss vaccine options, share information about vaccination locations nearby, and engage in conversations and answer questions about the vaccine. Data captured by the canvassing teams was used to continue to schedule hyperlocal and pop-up vaccination events in areas of greatest need and demand, and identify those in need of at-home vaccination.
This work continues through the Healthy Chicago Equity Zones (HCEZ) initiative. The focus of the HCEZ initiative continues to evolve to confront factors that contribute to health and racial disparities, including healthcare and social service access, food access, housing conditions, community safety, and the physical and built neighborhood environment.
The Impact of Protect Chicago Plus - Initial 15 Communities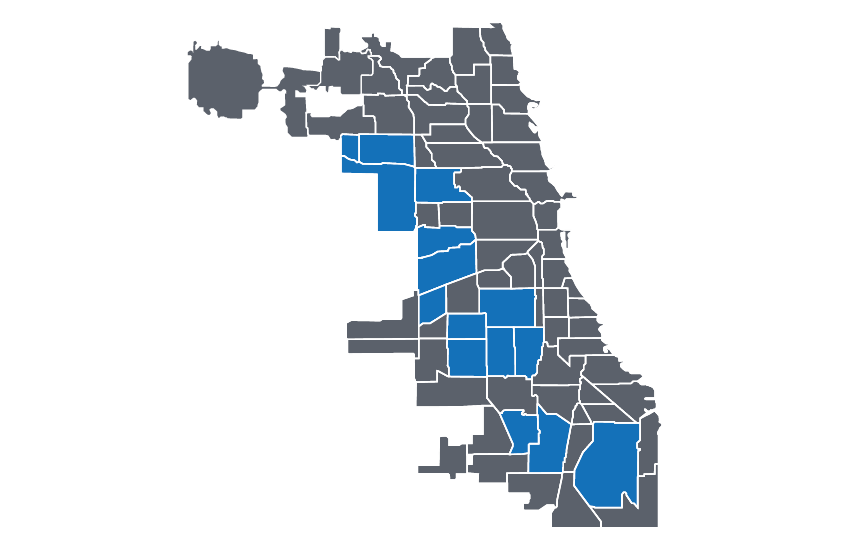 The first 13 communities targeted for block-by-block canvassing were: Auburn Gresham, Austin, Chatham, East Garfield Park, Englewood, Hegewisch, Montclare, Riverdale, Roseland, South Deering, South Shore, West Englewood, and West Garfield Park.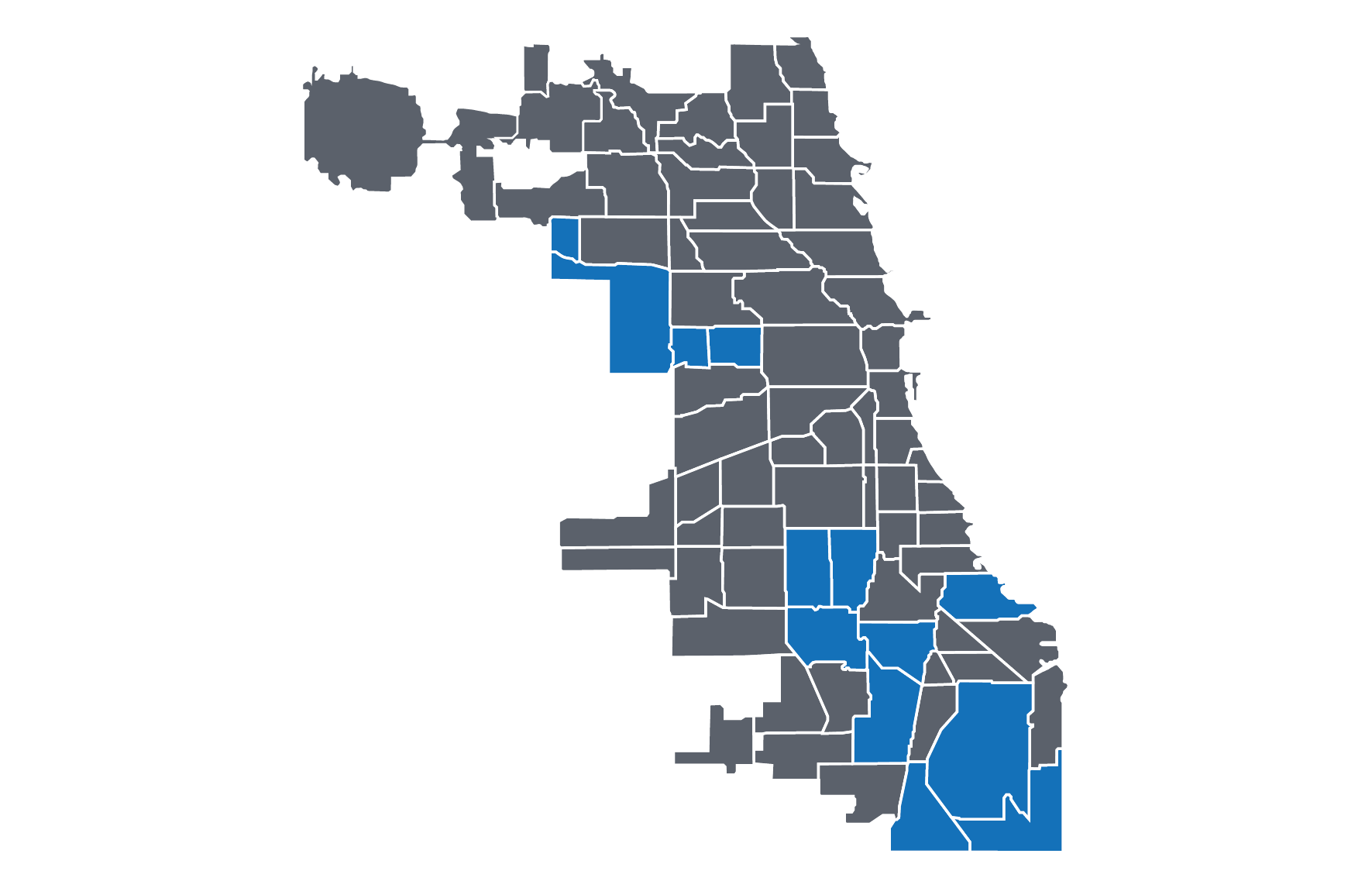 ---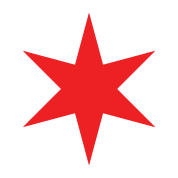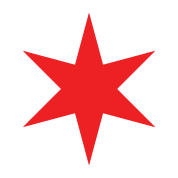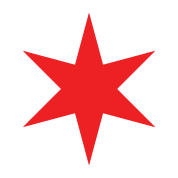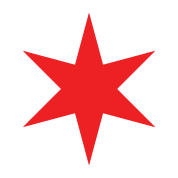 ---